Best Pressing Shootout: Yo La Tengo, Painful — 1993 Matador First Pressing vs. 2011 Reissue
Bit of a deep cut, here — not sure how many people are debating between these two particular copies of this record. But hey, I love this record, and I have two copies of it, and I want to know which one to keep. So: Best Pressing Shootout!
Since installing the Mober DC power kit on my turntable this weekend, I've been pulling all my favourite records off the shelves, eager to hear how good they can sound. In some cases (Twin Peaks soundtrack! Young Marble Giants!) the results have been really exciting. In others, I can see I've been hearing them pretty much as good as they're going to sound (70s Japanese pressing on Mingus, Oh Yeah). Let's see which category these discs belong to!
The pressings
It is no secret that I'm a huge Yo La Tengo fan; you can see my "Test Tracks, Test Albums" page for more of my thoughts on them. It's also no secret that I like how their records sound on vinyl. Indeed, it was one of their Roger Moutenot-produced albums that saved my analogue setup from oblivion. If And Then Nothing Turning Itself Inside Out hadn't sounded better than its digital counterpart on a hastily arranged A-B test last summer, I'd be all-digital right now.
After exploring every period of YLT's expansive discography, and going through periods when my favourite records were Fakebook or New Wave Hotdogs or Ride the Tiger, I've eventually come around to agreeing with the usual consensus on the band: that their peak began in 1993 with Painful and continued through And Then Nothing in 2001.
A lot of people like Painful best of all. I'll stick with I Can Hear the Heart Beating as One — the first YLT album I heard, back in grade 11 or so, and the one that made me fall in love with the band — but Painful is right up there for me, too. I have a lot of memories of driving my parents' green 1992 Ford Taurus around late at night in high school with one of the two versions of "Big Day Coming" playing through the stereo, attached to my Minidisc player via a cassette adaptor.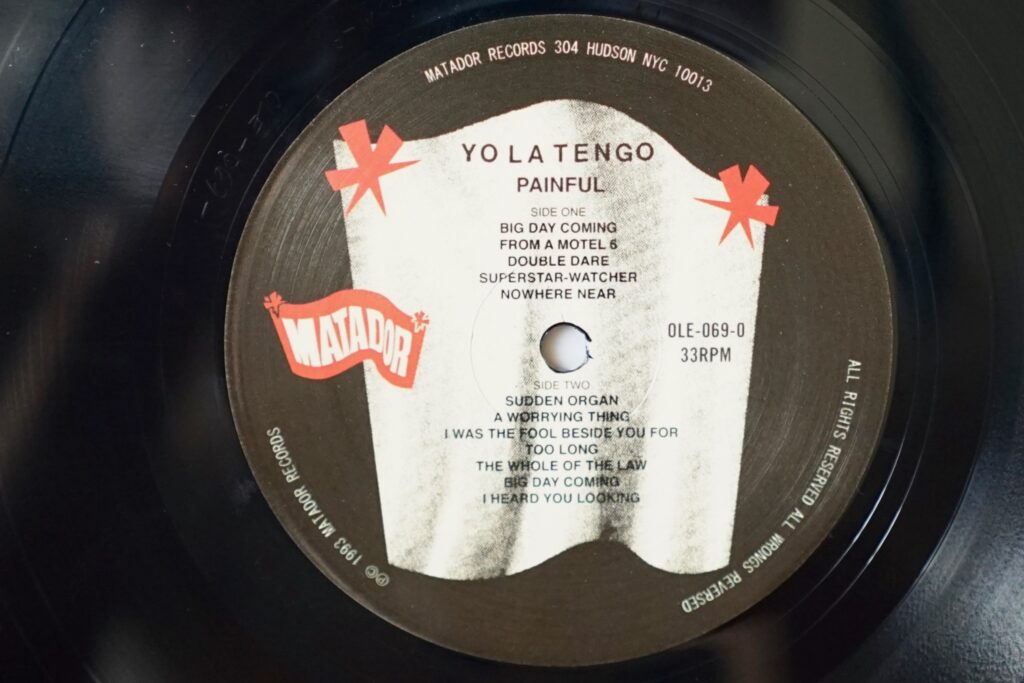 I was twelve years old in 1993, so I definitely wasn't waiting in line at the record store for a first pressing. Indeed, I didn't buy a copy until 2011, when I picked up the reissue pictured above from Sonic Boom, which at that time was located in the Honest Ed's building (now demolished) a few blocks from my apartment. It's pressed on heavier vinyl than the 1993 first pressing, but is not one of the 180g, RTI-pressed reissues Matador was experimenting with around this time. I own first pressings of I Can Hear and And Then Nothing and have always been impressed with them. This one has always struck me as pretty underwhelming. (Discogs lists two separate 2011 pressings. Assuming that's not an error and there really are two 2011 pressings, my remarks only apply to the one linked above.)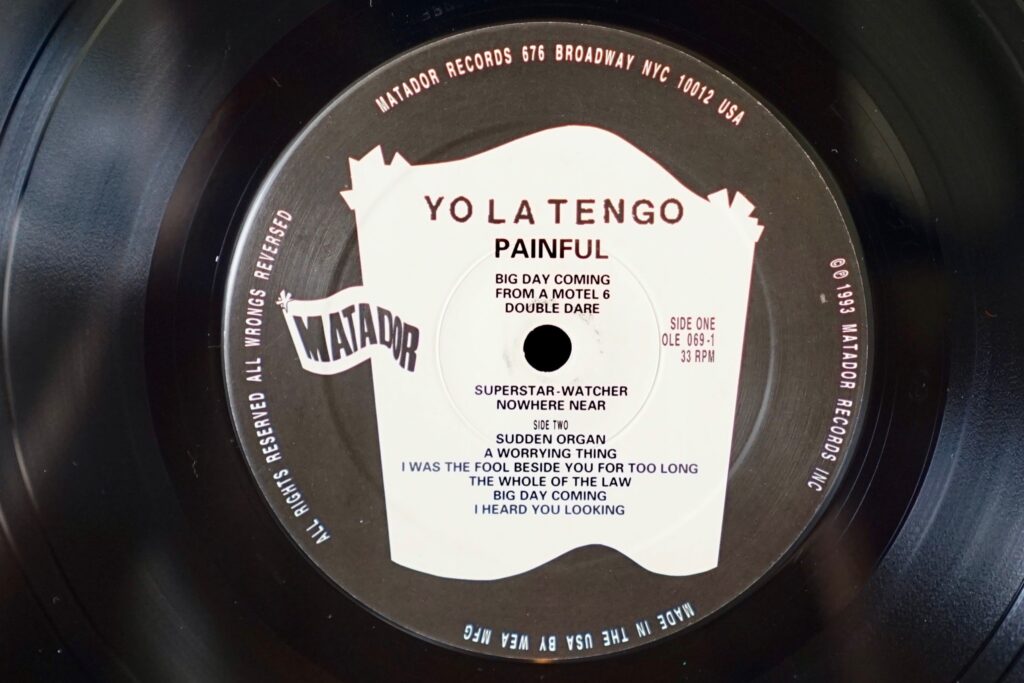 And so, when I saw a first pressing of Painful for sale on Discogs earlier this year, in NM condition for $20 from a seller in Greece (with very reasonable shipping, too), I couldn't resist. The labels are pretty similar, but the original is monochrome and has "Made in the USA by WEA Mfg" written on the bottom. Let's see if WEA did a good job with it…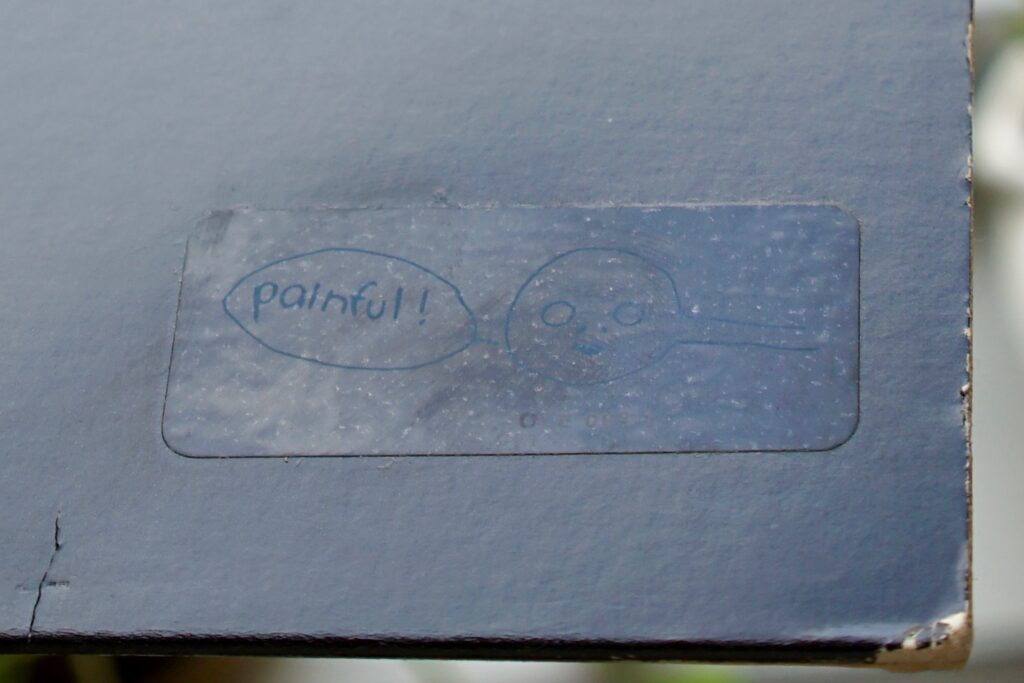 The 1993 first pressing came with this barely-visible see-through sketch sticker stuck on the front cover. This was probably stuck right onto the cover like this; I would have thought it would be on the shrink, but this record came to me in its original shrink-wrap, and the little sticker was where you see it pictured.
My digital comparator was the CD-quality Tidal version.
Verdict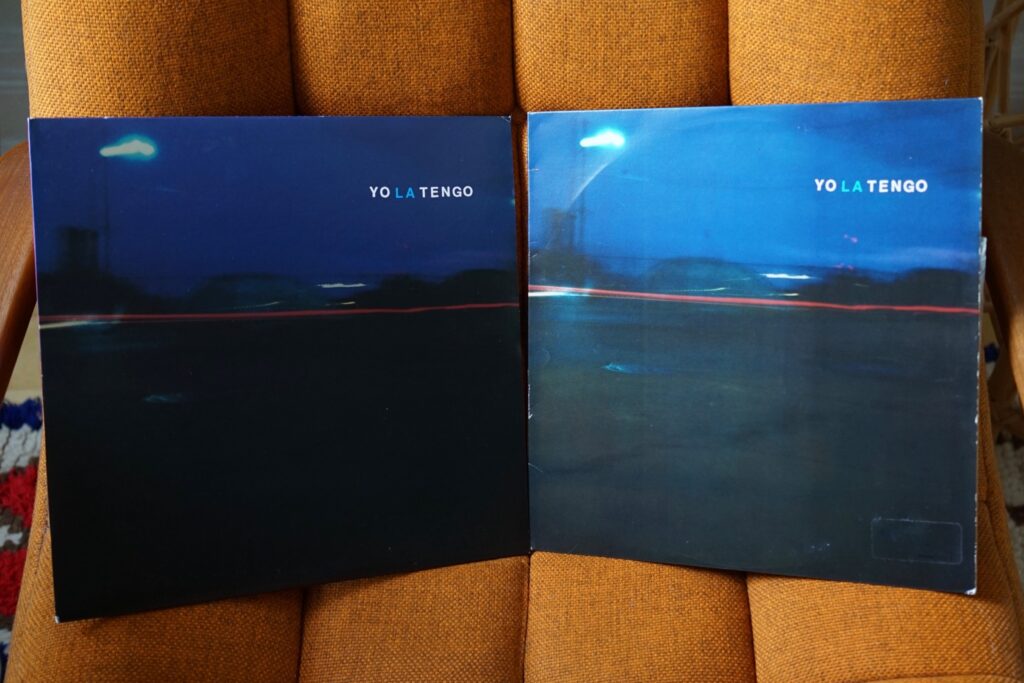 In the first Best Pressing Shootout of the DC Power Era, the results could not have been clearer. The 2011 pressing sounds like shit. It's disgracefully bad. It's a dishonor to the vinyl medium. It is [reaches for lazy pun] truly painful. Although "Big Day Coming" sounds okay, that song sounds great on anything. In general, the tones are hard and flat. And there's a ton of surface noise despite a glossy, scratch-free surface.
The 1993 first pressing, while not absolutely thrilling, is way, way better, miles ahead of the 2011 and a lot better than the CD-quality version on Tidal. Lots of detail, lots of impact, excellent textures. As a guitar nerd and a student of Ira's gear, I could tell when he was playing a Jazzmaster through a Rat into a Vibrolux (okay, that's most of the time — but the tones were just absolutely right). "Big Day Coming" is a positively psychedelic experience on this pressing.
It's very possible that the more recent reissues, which I've not heard, are better. But this much is for sure: the 2011 is a dud. Hold out for the first pressing. It probably won't even cost you more than a reissue.
Listening notes
Current setup: LP12 (Mober DC motor and PSU, Cirkus bearing, SSP12 subplatter, Mober subchassis, Ekos 2 tonearm w/ stock cable, Dynavector XX-2 MkII cartridge), Dynavector P75 MkI, Linn Silver RCA, Schiit Mjolnir w/ Telefunken E88CC, Hifiman HE1000v2 w/ stock balanced cable. (See here for my digital setup.)
Side 2
2011. Having just installed the Mober DC motor and PSU yesterday, and having been bowled over by everything I've listened to since then, I'm definitely not bowled over by this. "Sudden Organ" sounds really flat, which it shouldn't. "A Worrying Thing," a much sparer track, sounds much better: wide, with lovely tone on Ira's voice, great sense of dreamy space when background vocals come in, and a really nice bass tone throughout. There's a hardness on the drums, though. Not especially thrilling. Also, plenty of surface noise despite looking immaculate, and a bit of a wobble on the disc. "I Was the Fool" should really come crashing in, and it sounds okay, but I'm left definitely underwhelmed. "The Whole of the Law" — an Only Ones cover that betters the original, and I love that band — is once again okay but not mind-blowing, plagued by hardness and lots of surface noise. "Big Day Coming" sounds pretty awesome. God, that tremolo effect is just huge. I'm sure it could sound even better based on how meh the other songs are, but I'm really enjoying this… "I Heard You Looking" is my partner's favourite YLT song, which is saying something, as she's a huge fan like me. Nothing special at all happening on this rendering of it.
First pressing. Right from the first "sudden" organ blast, much, much better. Lots of detail, impact, space, texture. Still a bit of surface noise on this pressing, but actually better than the reissue, despite looking a little worse for wear visually. I'm not blown away by this pressing or anything — I think it sounds much better that the 2011, but it's not an astounding experience. "A Worrying Thing" sounds beautiful — and not getting that sense of hardness on the drums on this pressing. "I Was the Fool" sounds way, way better: lots of slam and impact on the distorted bass, the tremolo guitar sounds springy and appropriately Fender-like (that's a Jazzmaster!). "The Whole of the Law": delicate, wide, Ira and Georgia's voice's beautifully rendered and precisely locatable in space. Good Lord, after that "Big Day Coming" sounds absolutely massive — and loud. More of everything compared with the 2011, I think: crisp maracas, punchier drums, especially the bass drum. The "tremolo madness" instrumental break is genuinely psychedelic. As someone who has spent a lot of time in my life thinking about the tone of electric guitars, amps, and effects pedals, I can tell you that the guitar at the start of "I Heard You Looking" sounds exactly like a Jazzmaster through a Rat into a Vibrolux. This sounds much better than on the 2011. Not an audiophile recording, but really nice, with juicy bass, decent if somewhat brittle drums, and a nice sense of echoing space.
"Big Day Coming" (the second one; penultimate track)
Full digital. Time to see what the Tidal CD-quality one sounds like. Not a lot to like about this. Very unexciting presentation. Boxy, with clunky, chalky drums and really flat maracas and cymbals. Pretty gross — and not at all fitting for a song about being excited about a "big day coming." The "tremolo madness" section is just boring.
S-2-s digital vs. 2011. More bass on the vinyl version. Clearer cymbals and shakers on digital. Unfocused, muddled on vinyl. Only advantage I can see of the vinyl over the digital is a bit more impact from the kick drum. The "tremolo madness" section is a little screechy on digital, but still better than the vinyl rendering. Digital is 10% better here.
S-2-s digital vs. 1993. Yowzer, that's a huge difference. Now it's the digital that sounds pathetically flat, veiled, dead, chalky. All the treble — cymbals, maracas — is just fizzy mush. Kick drum is juicy, round, powerful on vinyl. Ira's voice is much clearer, rounder, better defined on vinyl. So much more life and madness on the "tremolo madness" section on vinyl. Wellllllll beyond gross here switching from vinyl to digital. 30% difference at least. It would be so sad if someone bought the 2011 pressing of Painful as their first record and judged the medium based on it. It's horrible.
I do want to emphasize that even the 1993 pressing isn't anything very special in terms of sound quality. Right after putting it away, I put on The Go-Betweens' Bright Yellow, Bright Orange, which arrived in the mail today after I'd ordered it about two months ago — Covid shipping delay — and it's in another league in terms of sound quality. But even a meh recording like Painful can sound way better than its digital counterpart on a good system! (Hmm, this makes me wonder if the more recent reissues of Painful sound even better!)