Things are all in place now to get started on my LP12 Modification Frenzy (as I'm calling it). I've got three subchassis (Mober, Linn Kore, Greenstreet), two tonearms (Linn Ekos 2 and Naim Aro), a top plate (Tiger Paw Khan), and two cartridges (Linn Troika and Dynavector XX-2). That's a lot to play with. But to keep track of what difference each of them makes, I need some tracks and albums to test them on.
Test Tracks
These need to be tracks I know well; that I love (because I'll be listening to them a lot); that I know to be well-recorded; and that I own in good pressings. Despite these restrictions, there were about a million tracks I wanted to pick. I've finally managed to get it down to twelve, which together take about an hour to listen to. Here they are, in no particular order. (A Tidal playlist version this list is available here.)
1. The Beach Boys, "I Know There's an Answer," Pet Sounds (1966)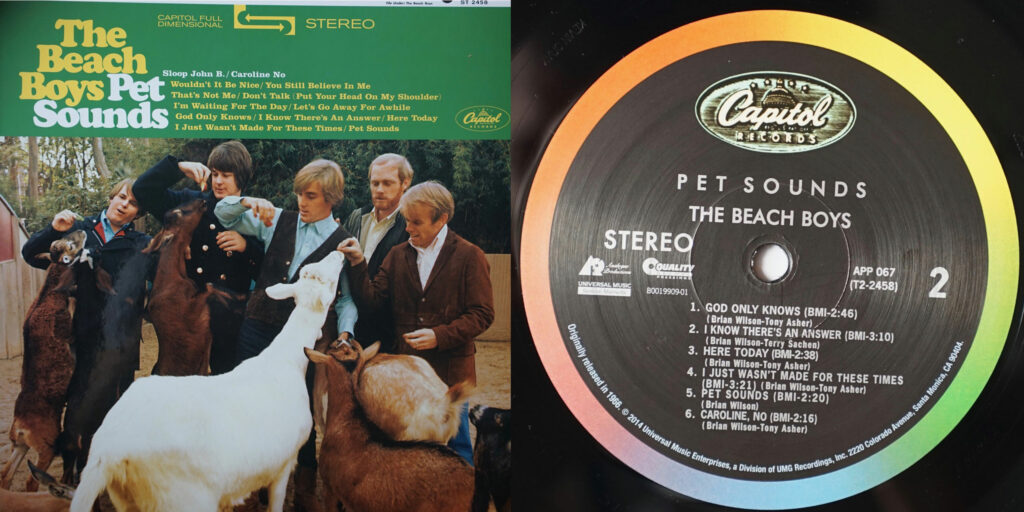 This is true of every song on this list: but oh my God do I love this song (no pun intended on track 1, side 2). I came late to Pet Sounds, not really getting into it until I moved to Southern California in 2015. But since then it's become one of my top 5 all-time records. I truly love most of the songs, but this has to be my fave: the mildly antisocial lyrics, the wacky mix of instruments, the strange loose structure, the harmonies. It's weird and lush and cool and surprising, all the things that draw me to Pet Sounds.
This is the track I used to test out DACs when I was looking at them back in 2017, and it's the track that taught me how amazing the Telefunken tubes sound in my Mjolnir 2 headphone amp/preamp. For me, this is a texture track — and the textures are all pretty "plosive" (literally, in the case of the "pbbblt" that comes in around 0:20). I'm looking for the soft blasts of the bass harmonica over the tack piano and shakers in the introduction. I'm looking for a sour, metallic timpani in the chorus. I want the bass harmonica to shake and startle during its solo, and the plucked upright bass to be nice and percussive.
Digital: 2009 Remaster, CD, Tidal
Analogue: 2017, Analogue Productions, APP 067.
2. Charles Mingus, "Track B — Duet Solo Dancers," The Black Saint and the Sinner Lady (1963)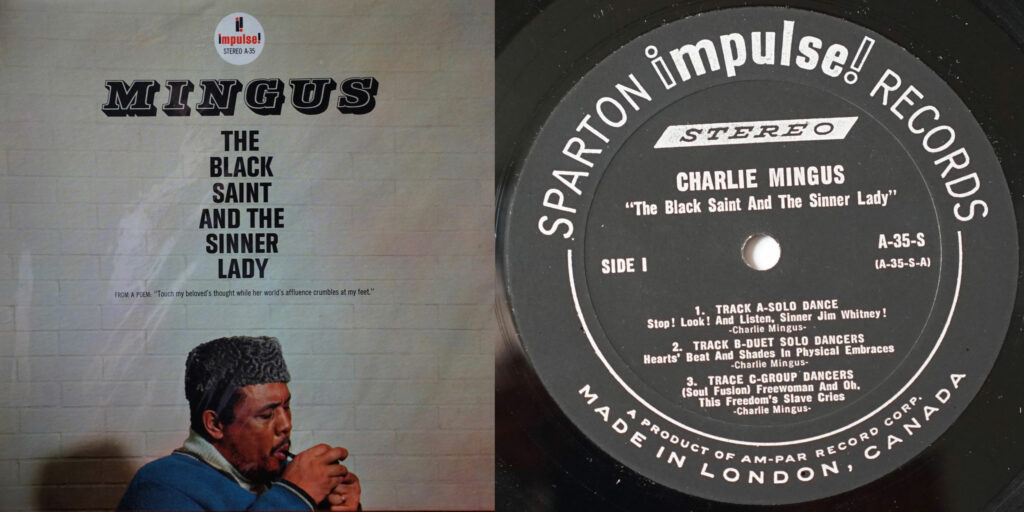 It took me such a long time to get into jazz. A few years back, I made my most recent attempt, asking my good friend Jared — someone with whom I share a lot of tastes, but who's all in on jazz — to send a list of albums he thought I might like. Black Saint was on the list and OH MY GOD did it ever hook me. For a long time there, it was pretty much the only jazz album I truly loved, and it's still far and away my favourite. I've expanded my range a bit over the last years, but this album still does something no other jazz album I've found does. Partly, it's that it coheres: rather than a bunch of songs that go on until they stop, every moment is a carefully choreographed element of a psychodrama (I got that before even reading the liner notes!).
Sound-wise: texture again… and slam. It was hard to pick one track from Black Saint, but I picked this one because of all the contrasting textures: the low, helicopter-sounding tuba barely perceptible in the opening; the powerful rattling descending attack of the brass (DUH-DUH-DUH-DUH-DUUUH) at 1:20; the raunchy call and response of tuba against saxophone and trumpets at 2:15; the lively, vivid drums that lead into the pause around 4:45. Most of the textures accompany big, dramatic blasts — but there are subtler ones, too: especially brushed snares and lightly struck cymbals.
Digital: MQA, Tidal.
Analogue: 1963, Sparton Impulse! (Canada), A-35-S and 2019 Vital Vinyl reissue.
3. The Pentangle, "Let No Man Steal Your Thyme," The Pentangle (1968)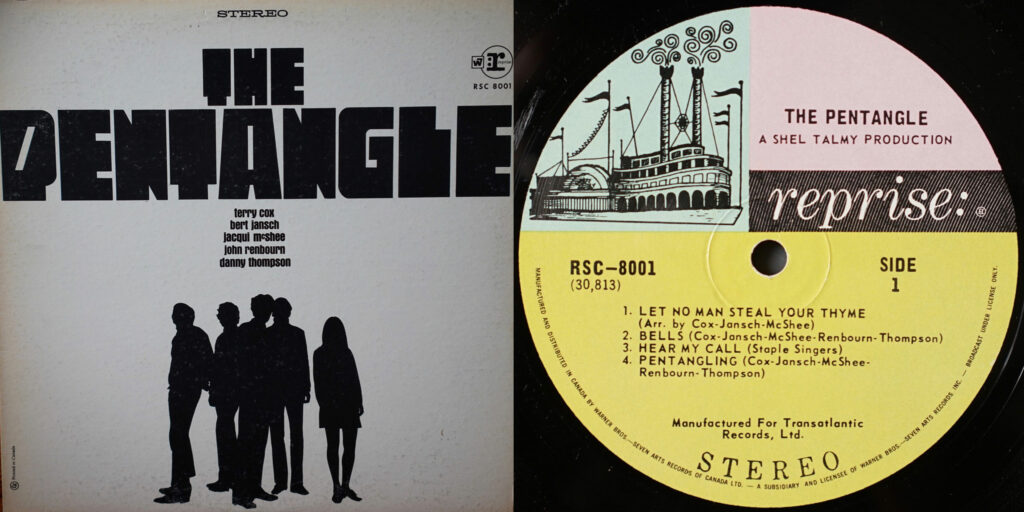 Why do The Pentangle feel like a guilty pleasure? Partly because no one else I know likes them even a bit. Whenever I make my case to a friend, I never hear another word. I was a big Bert Jansch fan for years (still am, of course) but stayed away from Pentangle from a vague sense that it was a schmaltzy potboiler — something he had to do to pay the rent. Then I read Johnny Marr's autobiography and saw that although he too was a Jansch fan, it was the Pentangle stuff he favoured, not the solo work. When I finally checked it out, I found I totally dug it: jazzy rhythm section, folky dueling lead guitars, crystal-clear vocals. The early albums were incredibly well-produced, too. Shel Talmy of Kinks fame claimed to have invented a whole new way of micing acoustic guitars, and I don't doubt it — they snap and sparkle like crazy.
Once again, it was hard to pick a single track or album. I actually bought two copies of Sweet Child trying to find the right pressing (and I did), but no one song on that album captures the vibe and the palette quite like this one, from their 1968 debut. (It doesn't hurt that the title of this track is an epic pun.) This is another texture track and a dynamics one, too. The madly-panning bowed bass is wooly and tight all at once, the acoustic guitars are bright and sparkly, the rim-hits and bells in the breakdown are clear and tactile, and you can hear the bass unwind into flaccidity at the end.
Digital: CD, Tidal.
Analogue: 1968, Reprise Canada, RSC 8001.
4. Mariah, "Shinzo No Tobira," Utakata No Hibi (1983)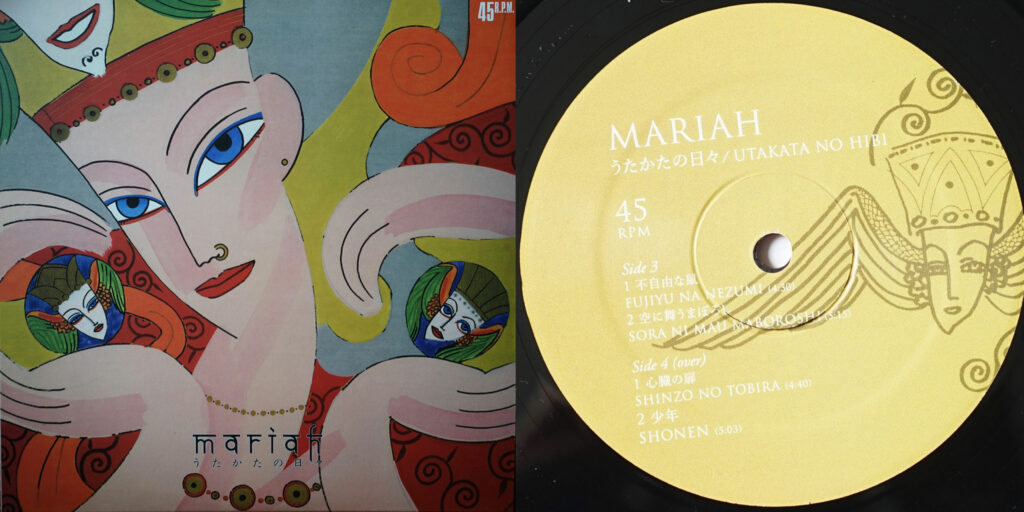 In late December 2017, I was in the Rough Trade NYC store in Brooklyn and heard the strangest, most exciting saxophone sound come over the speakers. It sounded like Can or Neu being taken over by Charles Mingus. It turned out to be "Sui Ren," the opening track of Yasuaki Shimizu's unbelievably strange and wonderful album Kakashi, which had just been reissued by Palto Flats. I was so into it that I bought it on CD and LP and bought a tote bag (amazing cat cover!) and took a tip from the salesperson and grabbed a copy of Mariah's Utakata No Hibi, which Shimizu was also behind, and which Palto Flats had also just reissued. I then spent the whole winter of 2018 just totally obsessed with Shimizu and especially with the label he released his best work on, Better Days. It seems that some strange alchemy involving a booming economy, a weak yen, record profits in the Japanese music industry, and a plethora of musical geniuses resulted in a series of out-there avant-garde records being released on an imprint of a major label. All of them stunningly and expensively produced — super glossy, pure-80s as shoulder pads, but not at all cheesy. Never before has so much money been thrown at such weird music. What a gift!
I'll be listening to Kakashi a lot, too, but "Shinzo No Tobira" has to be the most beautiful single track to come out of Better Days. This is a goosebumps song — if everything's going well with my rig, it'll make me shiver. The main thing I'm listening for on this one is the cool kind of "secondary rattle" on the drums — like a main strike sets off a somewhat unpredictable set of complementary shakes in the background. It's a cool effect that I feel much more strongly on good headphones than meh ones (my HE1000s vs. my Focal earbuds, for instance), and a good source should make a difference, too. The rattling percussion creates a constrained space that the heavily reverbed lead female vocal, delivered in haunting Armenian by Seta Evanian, should call out of but not escape — a soaring voice calling out from a wicker cage. This is one of the few test tracks in my set with electronic instruments; the synth-bass should go really low, and the analog synths in the breakdown should be nice and crispy.
Digital: CD, Tidal.
Analogue: 2015, Palto Flats, PFLP 003 (2 x 45rpm).
5. Joy Division, "Atmosphere," 12″ single (1980)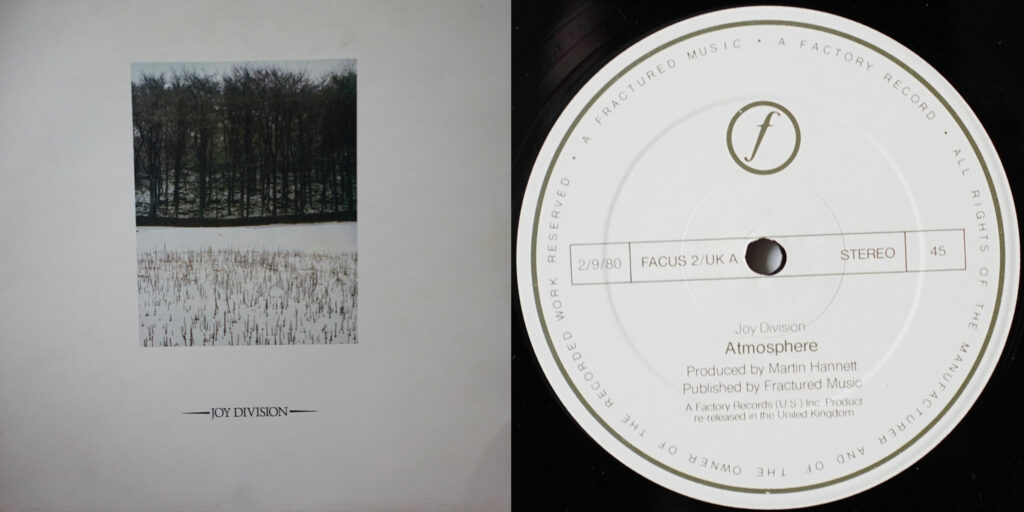 Is there a more goosebumps-inducing song than this one? I spent my twenties totally obsessed with post-punk (I'm still obsessed) and Joy Division is one of the few bands from that obsession whose music is really well produced. If you're seen 24 Hour Party People, you know all about Martin Hannett and his own obsession with recording drum sounds. "Atmosphere" has got to be his masterpiece in this regard, with huge, round, juicy floor toms and bass drums throughout. They should really slam. The "shower-synth" effect throughout should be like a bunch of tiny icicles landing in your ears, and should serve to reset and broaden the somewhat narrow drums-only soundstage. Of course Ian Curtis should sound like a desperate man walking determinedly into his grave.
Digital: 2010 remaster, CD, Tidal.
Analogue: 1980, Factory Records, FACUS 2/UK (45pm)
6. Low, "Just Make It Stop," The Invisible Way (2013)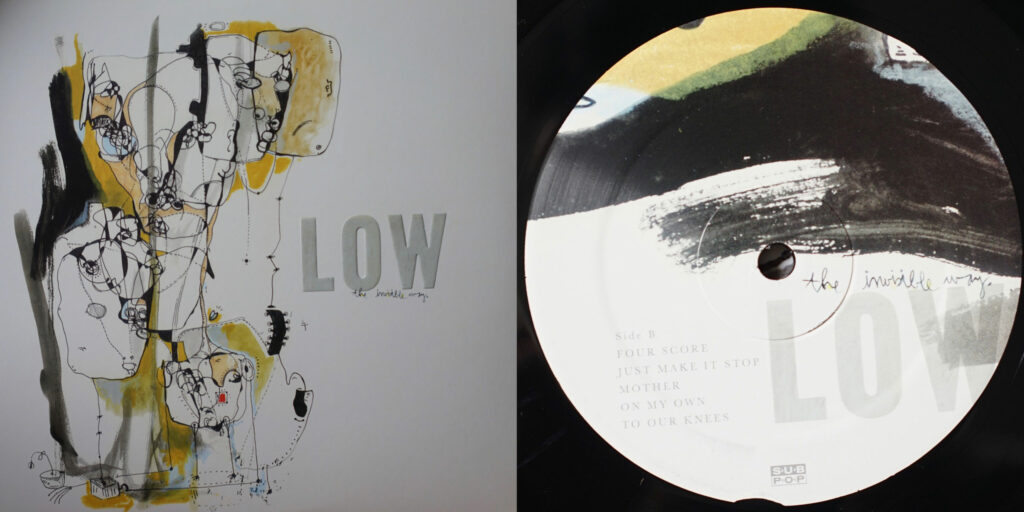 In the winter of 2016, I took a vacation to the Grand Canyon that started and finished in Las Vegas. I'm not a Vegas-y kind of person, and on my inbound visit I spent a night at the Golden Nugget. My attempt to walk down the strip lasted about ten minutes before I turned around for the quiet, boring confines of my room. But when I turned on the TV I had an experience. I happened to flip to MTV, which was showing an old episode of the Jools Holland show, on which Low performed a totally mesmerizing version of their song "Just Make It Stop." I'd been aware of Low for years — I was obsessed with their cover of Joy Division's (yep, it all connects) "Transmission" in high school — but hadn't been following them. But this song made my jaw drop and got stuck in my head for months.
Luckily, like a lot of Low stuff, the recorded version is beautifully produced. Maybe even moreso than "Shinzo No Tobira," this is a goosebumps song. This one is all about space: it should sound big, echo-laden, and deep. Mimi Parker's vocals (including the bits where she harmonizes with herself) should be clear and moving. Allan Sparhawk's Les Paul should go deep and really rattle in the middle parts. There's a ton of bass coming from the piano at the end of the song; it should stay controlled.
Digital: CD, Tidal.
Analogue: 2013, Sub Pop, SP 1030.
7. Yo La Tengo, "Stockholm Syndrome," I Can Feel the Heart Beating as One (1997)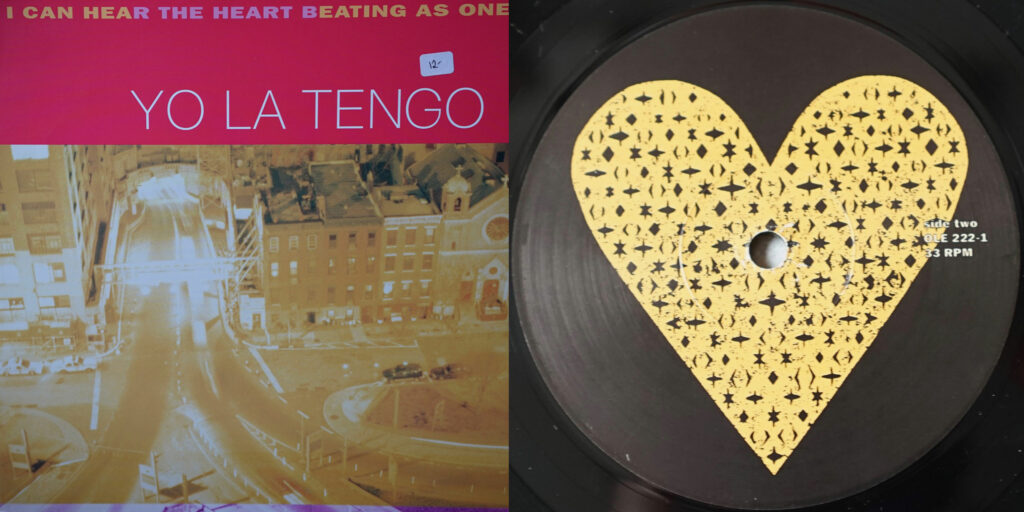 YLT are one of my favourite bands ever. I've bought every one of their records as soon as it came out since I got into them in about grade 11. Since I got a record player in university, I've bought all the new albums on vinyl and done my best to collect all the older stuff on vinyl as well. For some bands, having the stuff on vinyl is just about beautiful packaging and something substantial to hold on to. But Yo La Tengo's great records — the sequence from Painful to And Then Nothing Turned Itself Inside Out — have always sounded better to me on vinyl. Partly that's because their producer, Richard Moutenot, is an analog die-hard. I'm a little sad that YLT moved away from him in their recent albums; I think the Moutenot-produced YLT albums are some of the best-sounding records in any genre.
"Stockholm Syndrome" definitely isn't the most "hi-fi" YLT track or the most spectacular from a production standpoint — side two of And Then Nothing or even the songs immediately around "Stockholm Syndrome" like "Autumn Sweater" better fit the bill — but I just love this song. Along with "Sugarcube," it's the song that hooked me on YLT way back in my teens. There aren't a lot of production fireworks here, but it still sounds really good. It's a less-obvious texture song, with a lot of that texture coming from the acoustic guitar, the bouncy bass, and the little woodblock hidden in the background during the choruses. When it comes, the crunchy, narrow (and awesome!) guitar solo should really stand out from the lush, spacious surroundings.
Digital: CD, Tidal.
Analogue: 1997, Matador, OLE 222-1.
8. The Beatles, "While My Guitar Gently Weeps," The White Album (1968)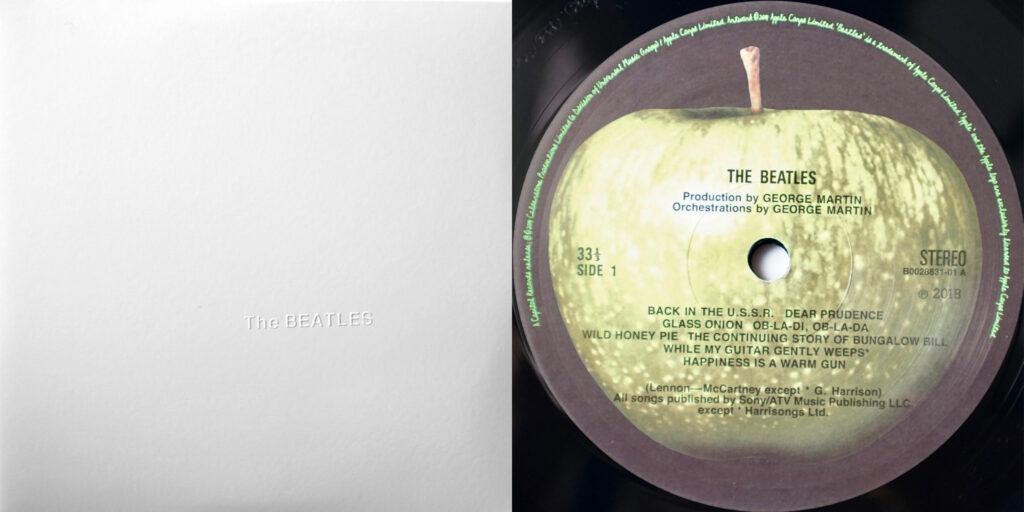 I wanted a Beatles track on here, because I love them (duh) and because I wanted to use at least a few tracks that everyone reading this blog would know. But I had a hell of a time deciding on a single Beatles song. That's mainly because the Beatles songs I like best aren't the best-produced. My favourite record is probably Live at the BBC and my favourite track "Shot of Rhythm and Blues" (or, if I'm picking an original, maybe "The Night Before" from Hard Day's Night). In any case, definitely not their best-sounding stuff. I love all the later, better-produced albums, but it's tricky to isolate a single song that's brilliantly produced and that I'll want to listen to again and again. I thought about the mini-opera on the back side of Abbey Road, but it's just a little too long (and it's more than just one track).
So I decided on "While My Guitar Gentle Weeps," a great song, a George track (my fave Beatle), and an extraordinarily great-sounding one. This track is (ironically, given its title) all about the bass sound — that lively, complex, deep-yet-sharp, smacky bass. There's a wee bit of texture to look for from the clipetty-clop in the left channel, but the main thing is the slam of that bass.
Digital: 2018 Giles Martin remix, MQA, Tidal.
Analogue: 2018 Giles Martin remix, Apple B0028831-01.
9. Dungen, "Panda," Ta Det Lugnt (2004)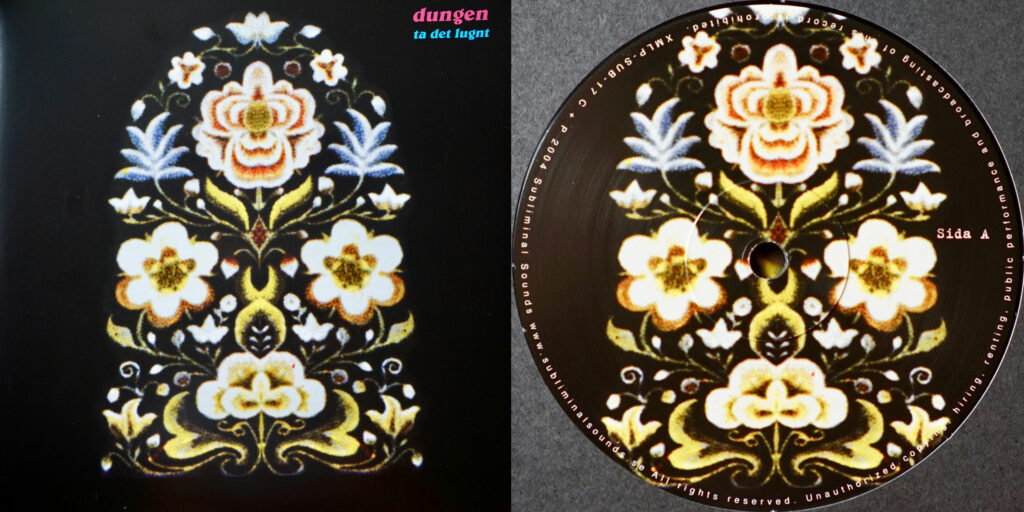 This track was not hard to pick! Since the first time I heard it, back in 2004 — the height of my Pitchfork-reading days, when I knew all the new stuff and listened to everything — I've been amazed by it. So much happens in such a short song — so many parts, so many sounds, so many catchy melodies. The fact that the lyrics are in Swedish — it might as well be fairy language, and that's actually sort of how it feels — only adds to the otherworldly charm of the song. The fact that Knausgaard puts this CD on at one point in My Struggle doesn't hurt, either. I love psychedelic rock, from 5th Dimension to Tame Impala, but in my books this is the best psych rock song from the best psych rock album of all time.
I seriously feel like this should be a test track for every music reviewer. It has so much going on. First and foremost, it's definitely a slam song — it's loud and full of energy and hits really hard. But there are also dynamics and textures aplenty to listen for. It starts with huge, bouncy drum sounds. Then a vicious, loud, sharp, distorted Strat cuts in. Then things soften a bit — soft wah-wah guitar, soft cymbals, round bass — and the space widens, before the chorus absolutely crashes into the foreground. The space widens and contracts, widens and contracts, for the rest of the track before petering out in one of the great anticlimaxes in rock history. What a song!
Digital: CD, Tidal.
Analogue: 2016, Subliminal Sounds, XMLP SUB 17. For years I only ever had this on CD, despite actively looking for it on vinyl. It looks like it's a good thing I never tracked it down: apparently the original pressings were quite poor. I bought this new French pressing last week (October 2019); I heard it was the best yet, and yep, sure enough, it's absolutely stunning.
10. Julee Cruise, "Rocking Back Inside My Heart," Floating Into the Night (1989)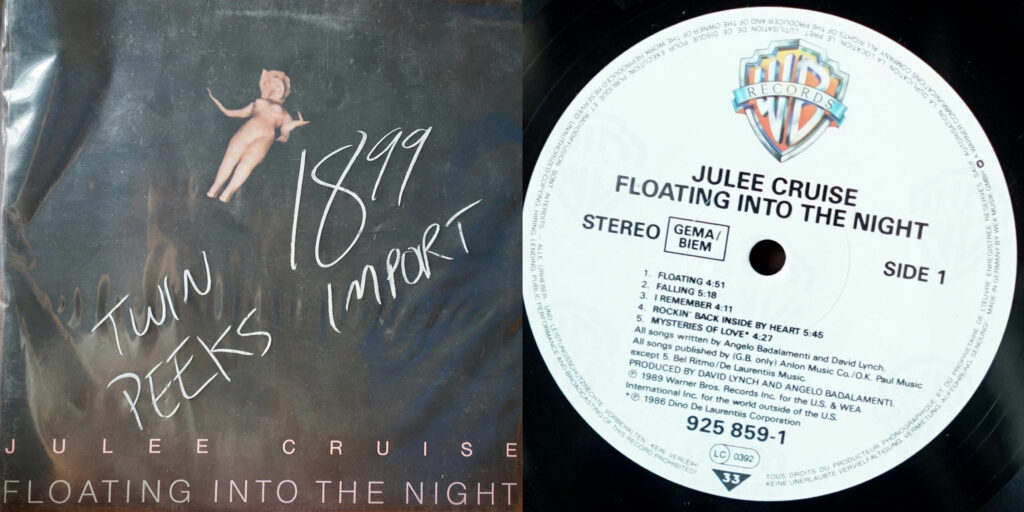 I vaguely remember watching Twin Peaks with my parents when I was a little kid. But boy was I unprepared for the impact it would have on me when I re-watched it in 2014 or 2015. It was total aesthetic bliss. I loved the visuals, the plot, the characters… the fact that somehow this brilliant show managed to combine avant-garde weirdness with soap-opera conventionality in a way that wasn't awkward or condescending, and that ordinary people (like my parents) and snobs (like me) could enjoy together.
Also: the music. I could listen to that that weird bass-synth "duh-DUH" from the theme song all day every day. I'd never heard of Antonio Badalamenti before getting into Twin Peaks, but I know all about him now, and I'm convinced he's a genuis. So is David Lynch, of course — as a lyricist and musician too, it seems. So when I learned that they had not only released soundtracks for Blue Velvet and Twin Peaks and Fire: Walk With Me but ALSO written an entire pop record for Julee Cruise (the woman whose band often plays at the Roadhouse in the TV series) I needed to hear it. Of course it's become one of my favourite records of all time. It's a total miracle that this thing exists. Even moreso than "Panda," it sounds like something from another planet — or another universe — or like something I dreamed.
"Rocking Back Inside My Heart" is definitely my favourite song from the album. It's a soft song, all atmosphere and space — but of course, since it's a David Lynch song, dissonance is always lying just beneath the soft, sweet surface, threatening to spoil all the innocent fun. Sonically, it's all about those contrasts, that tension. The solid, bouncy deep bass and clear Fender guitar notes against the percussive, mildly jarring palm muting — then the saxophones and synths rising up from below, quietly at first, very jarringly at points, never quite taking over but making it clear that the sunshine world of the song's surface won't last forever and isn't the whole picture…
Digital: CD, Tidal.
Analogue: 1989, Warner Bros. Europe, 925 859-1
11. Can, "Halleluwah," Tago Mago (1971)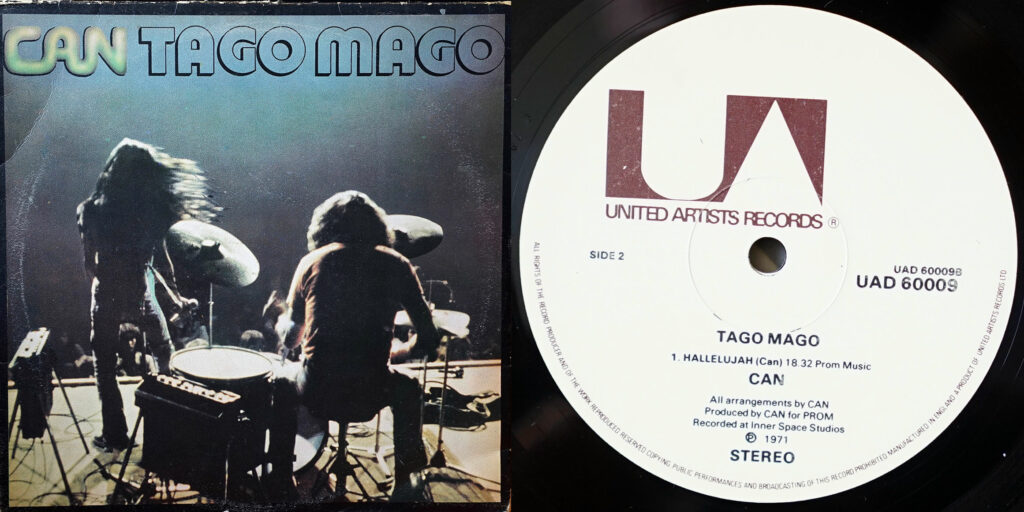 This is another one that lots of people will hopefully know, and doesn't require much introduction. This album blew my mind when a friend introduced it to me in undergrad — I couldn't believe it had been recorded in 1971! — and I love it as much today as I did then.
Obviously, this is my groove track. Bass, drums, slam, boogie. Beyond pure visceral pleasure, there are a few fun textures and "tickle sounds" to look out for — strange percussion sounds like brushes on the sides of a snare, and then sounds like a knob being tightened too far, the kind that give you a funny feeling in your stomach.
I haven't written much about it, but it's by far the longest song in the group, occupying a whole LP side, about eighteen and a half minutes.
Digital: 2011 remaster, CD, Tidal.
Analogue: 1971 (1973?), United Artists UK, UAD 60009/60010
12. Bill Callahan, "Javelin Unlanding," Dream River (2013)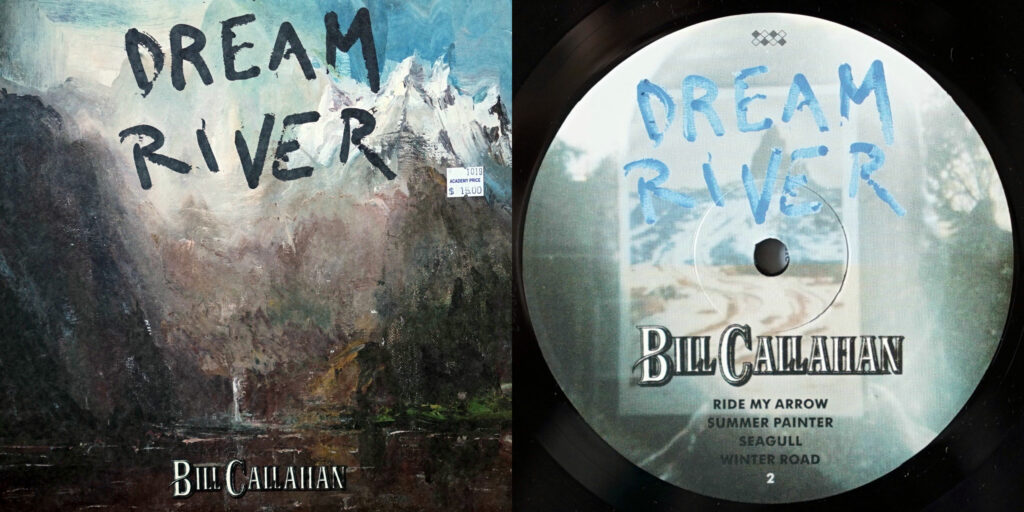 Did I just pick this album because it has two songs named after tonearms? I'm pretty sure I didn't. I mean, if I had, I probably would have picked the song "Ride My Arrow" — or should I say Aro — given that I have a Naim Aro to test, not a Tiger Paw Javelin. (If I do decide to keep my Aro, you better believe "Ride my Aro" will get a lot of play time around here).
I think I picked it because of how absolutely gorgeous it sounds. Smooth and spacious, with every instrument given its space and time to do its thing — and every instrument so relaxed and happy and comfortable that it's sounding its absolute best (wow, I love the guitar sounds here). Most beautiful of all is Callahan's deep, rich voice, sitting massive in the mix, dead-centre and loud. I'm looking for the wry hint of humour when he says "You scare me," and for the complex overlapping textures in the clippety-clop brush-scratching on the left channel after the first chorus.
Callahan said of Dream River that he wanted it to be "the last record you could listen to at the end of the day, before you go to bed, around midnight — smooth and relaxing, the perfect end to a person's day." And so it ends my list of tracks.
Digital: CD, Tidal.
Analogue: 2013, Drag City, DC553
Test albums
These are a set of albums that I like and own in nice-sounding pressings. I intend to listen to all of these records at each step of the upgrade frenzy, but in a less systematic way than the above test tracks. I'm not planning to A-B test them against digital counterparts, for instance (in some cases, because I don't own or have access to digital versions), and I'll more likely have them playing in the background when I'm doing other things than listen to them really intently. I also reserve the right to add a few albums to this list if I find some really nice-sounding records along the way…
Angelo Badalamenti, Soundtrack from Twin Peaks (1990, Warner Bros, 7599-26316-1)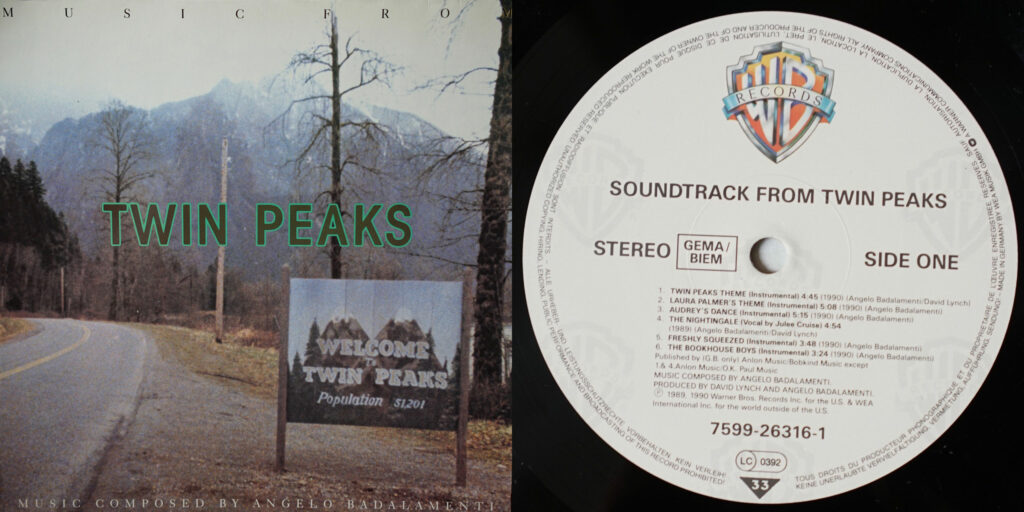 Angelo Badalamenti, Twin Peaks: Fire Walk With Me (1992, Warner Bros; 2017, Rhino reissue)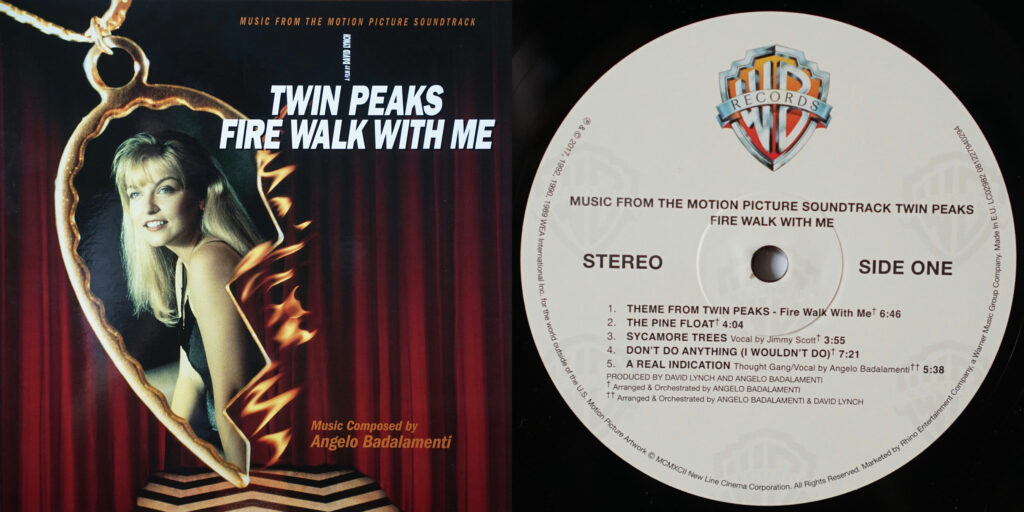 Yep, I've already got Julee Cruise in my test tracks, but my love for Angelo Badalamenti is such that I still want to hear how both these sound on every setup. Particularly important to me is the distorted bowed bass on "Pink Room" from Fire Walk With Me (sadly, I have a reissue of that record, not the original.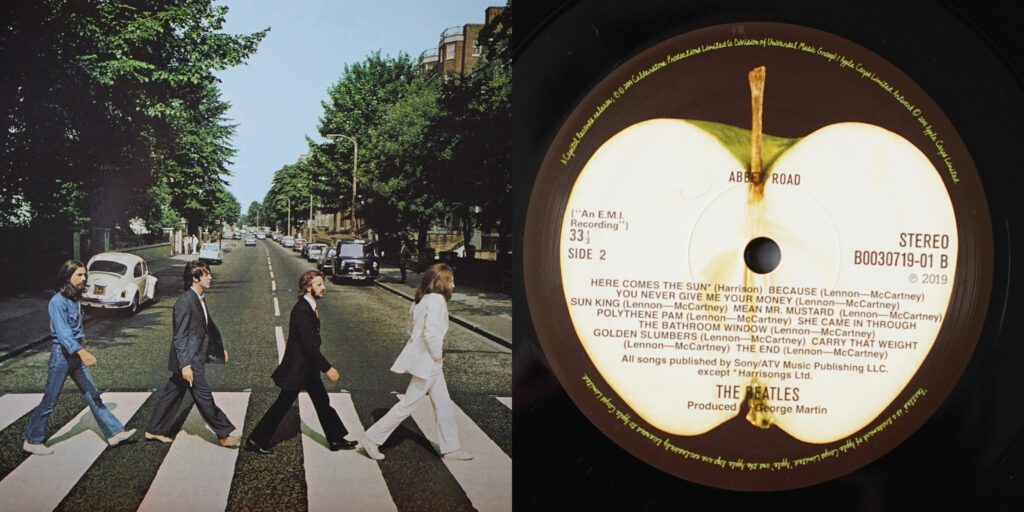 I didn't pick it as a test track, but I'll definitely be listening to Side B of Abbey Road a lot, because I love it, and because it sounds good. I picked up the Giles Martin remaster as soon as it came out, and it has an annoying pressing error that causes a sshhhh sshhhhh throughout the disc. (I returned one copy to Rotate This but they gave me such a hard time that I didn't have the nerve to return the second defective copy.) I'm curious to see if other cartridges are less sensitive to whatever is causing this annoying sound…
The Blue Nile, A Walk Across the Rooftops (1983, Linn Records, LKH 1)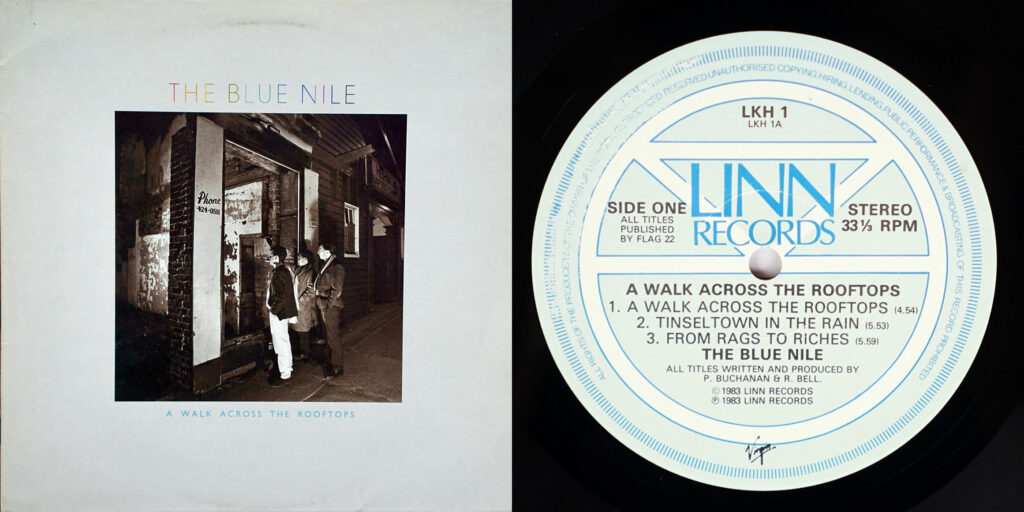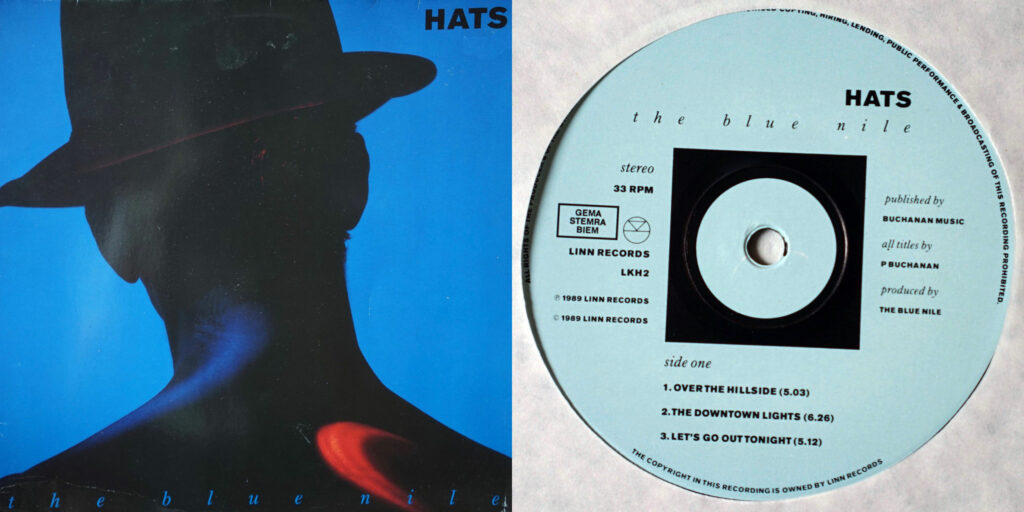 Oh man, how can I thank my friend Laurel for introducing me to the Blue Nile? On first listen, both these records feel like throwaway 80s schmaltz… but then you realize how earnest it is, and you want to give it a try… and then you realize how beautiful it is… and then the melodies get stuck in your head, and you see that it is not only terribly sincere and absolutely beautiful but also totally catchy. When I was training for the Boston Marathon in the winter of 2018, I did so on every single training run with "The Downtown Lights" in my head (and I don't run with headphones… the songs were just stuck in there on their own).
Another irresistible thing about these albums: They were put out by Linn Records! Yes, the same Linn that made my LP12. In fact, these were the first two records put out by Linn Records — and although the history is a little contentious, it seems likely that Linn Records was founded specifically to put out Blue Nile records. I paid way more than I should have for Hats (my favourite of the two), and an unscrupulous Discogs seller listed it as Mint (Mint!!!) when it had all kinds of signs of play wear and obvious creases and wear marks on the sleeve… But I do now have my very own copy of this unbelievably special record. And I got A Walk Across the Rooftops in genuinely Mint condition for a very good price, so it all evened out.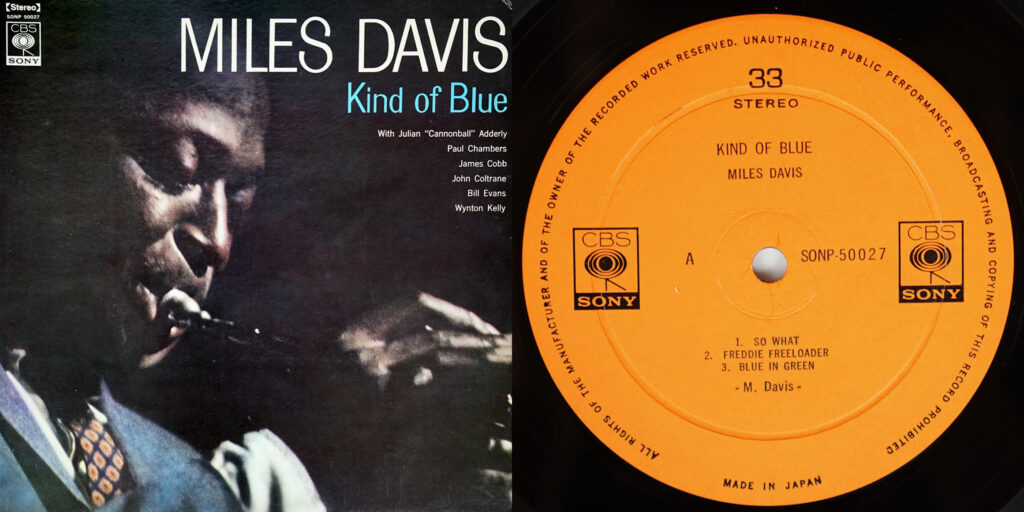 Maybe you've heard of this one? This is a nice NOS Japanese pressing that I got from Cosmos Records here in Toronto. This is so some of you will know what I'm talking about, which won't be the case for everyone when I'm going on and on about Hats…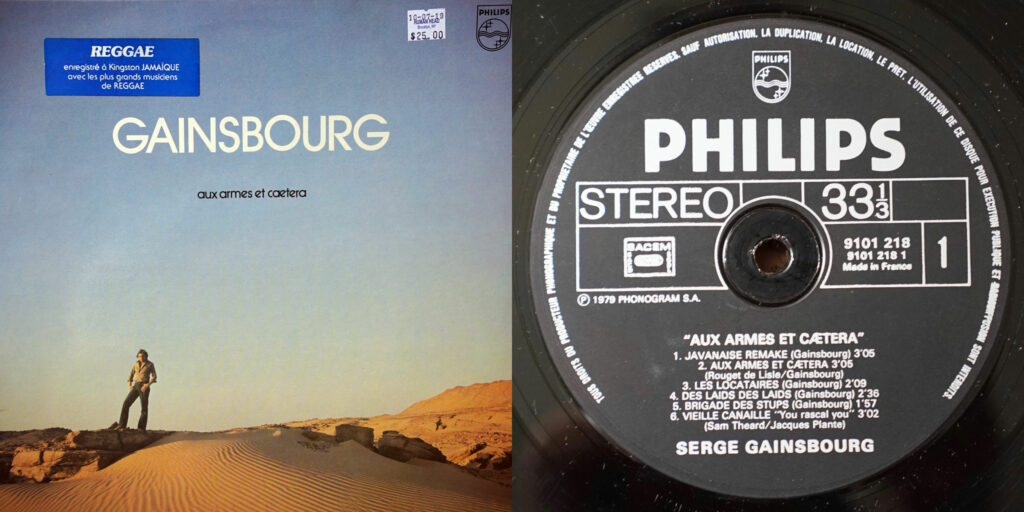 Is this my favourite Serge album? Not by a long shot. But I can't afford original pressings of Confidentiel or No. 4 or Melody Nelson or L'Homme à Tête de Choux. I did, however, come across this one in perfect shape at Human Head in Brooklyn last week. It's a really good record, and excellent-sounding. As a REGGAE record (see the sticker on the sleeve if you're unsure) it should give my system a bit of a bass workout.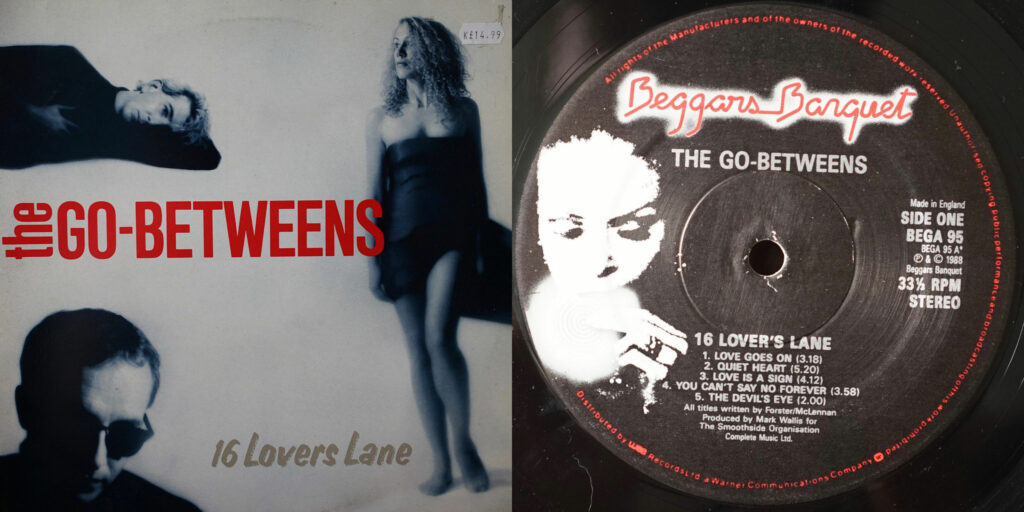 The Go-Betweens, The Friends of Rachel Worth (2000, Clearspot, CS 035)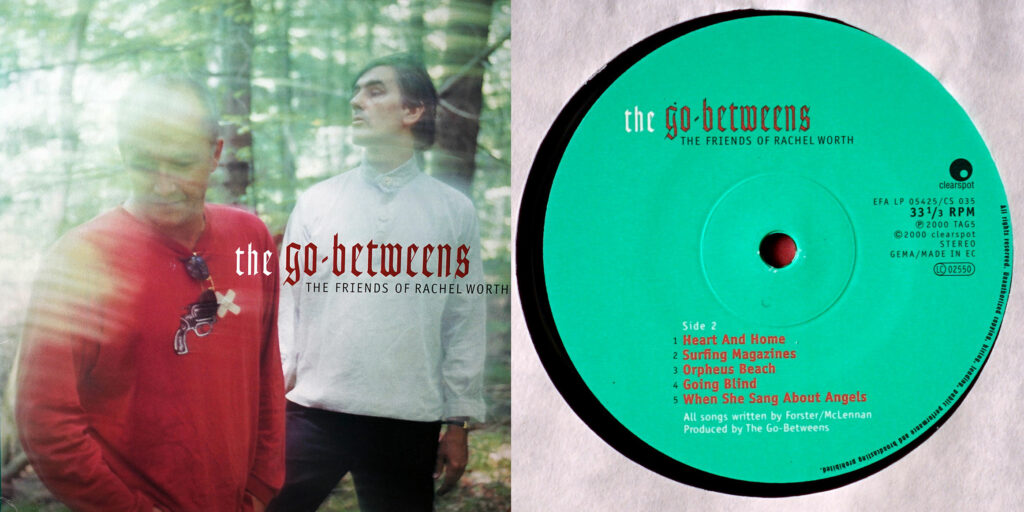 The Go-Betweens are probably my favourite band ever. I love them the way love works in the real world, for their imperfections as well as their brilliance. One thing I love about them is how bad they are at being punk. Although they came out of Brisbane's punk scene in the late 70s, they were always a little too nerdy, too pop, too funny to really fit in. Their main influences were Creedence and the Monkees, for Christ's sake. Along with Orange Juice and Television, they're the punk bands that never really fit in.
16 Lovers Lane is definitely a thoroughly un-punk record. It is glossy and shiny and 80s-uber-produced, it's earnest, it's hopeful, it's sad — it's all the things punk isn't. But it's a gorgeous-sounding record — so many glistening acoustic guitars! — and it's on the list.
I had to include The Friends of Rachel Worth, too. It's my favourite Go-Betweens album (I'm pretty sure this isn't the usual choice among the fanbase). I could talk about this album forever, but I won't (some day I would like to write a 33 1/3 about it). For now: the moment I first heard "Surfing Magazines," on a car ride back from a hike in Olympic National Park with Nick and Erin, was one of the most profound musical experiences in my life. The part where Robert breaks meter to deliver the line "Be the kind of person the authorities can't reach" — thus not only talking about but also demonstrating his defiance of rules! — was an extreme moment of love at first hear. I needed to learn everything about this band — and I did, over several glorious years. I love a lot of songs by the Go-Betweens, especially the Robert songs, but "Surfing Magazines" remains my overall favourite. Other things that are nice about this album: it was recorded at Jackpot! Studios in Portland by Larry Crane, who also engineered some Stephen Malkmus, Sleater-Kinney, and Elliott Smith records I love. Like those records, this one sounds amazing. And this LP is one of the rarer discs in my collection: I got the incredibly rare German pressing years ago when it wasn't worth much… Now, it is.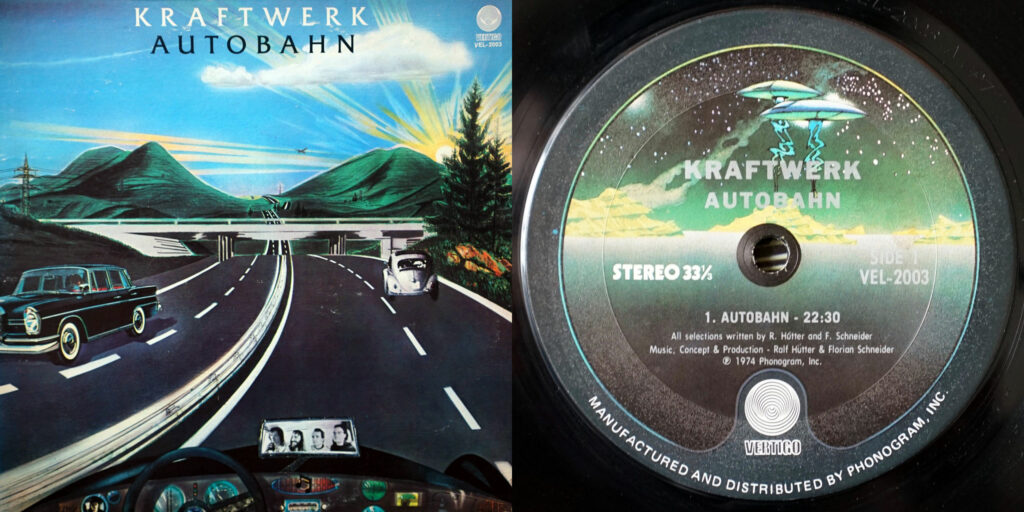 I'll never forget the day I found this US first pressing in the new arrivals section at the old Rotate This location at Bathurst and Bloor that's now a Dollarama. Jared was off in the 7″ singles and came away with two incredibly rare Pavement discs, but I got this beautiful record (check out those labels!) in incredible condition. It sounds amazing. When I was contemplating selling my vinyl a few months back and needed to re-convince myself of the format's merits, listening to this disc provided one of the oh-shit moments that convinced me of the error of my ways.
Stephen Malkmus, Face the Truth (2005, Matador, OLE 650-1)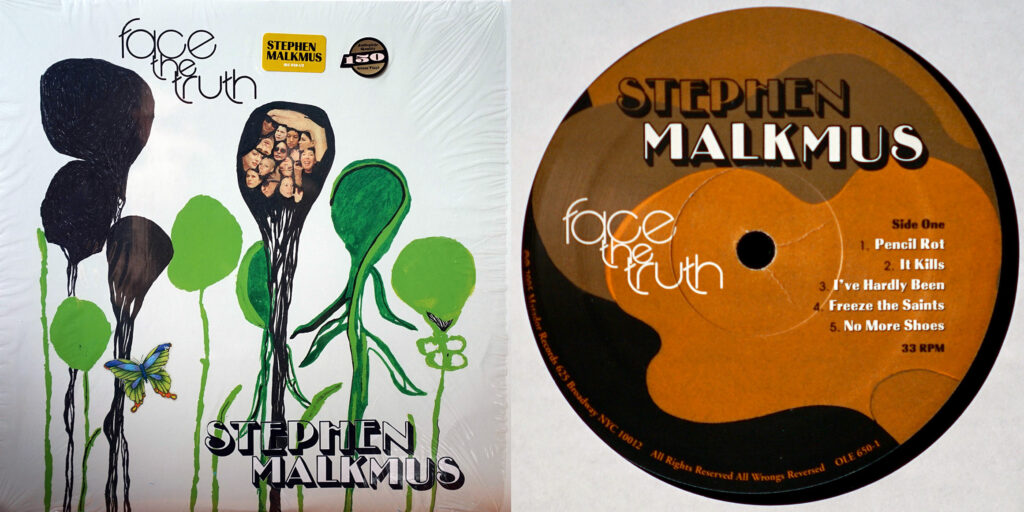 This is one of the last records I thought to add to this list. I really like this record — I've been a massive Pavement fan since high school, but I didn't follow the solo stuff too closely until about ten years ago when I fell hard for it, especially the first four from s/t to Pure Emotional Trash. And I really like this record — for years, this was my white whale, the record I could never find at a reasonable price, until I snagged this one (still in its shrink-wrap) for $20 on eBay while I was living in San Diego.
But I didn't realize how well-produced it is until I put it on the other day, totally by chance. I'd mostly listened to it in crappy mp3 form on my so-so mobile headphones, and it hadn't stood out. But on a decent system, it's got a lot to offer. Searing analog synths, well-miced acoustic guitars, psych-y electric guitars with millions of effects, and all kinds of freaky left-right panning. I liked it so much that I thought about making "No More Shoes" one of my test tracks. But that would have bumped me up to thirteen, and obviously that's trouble.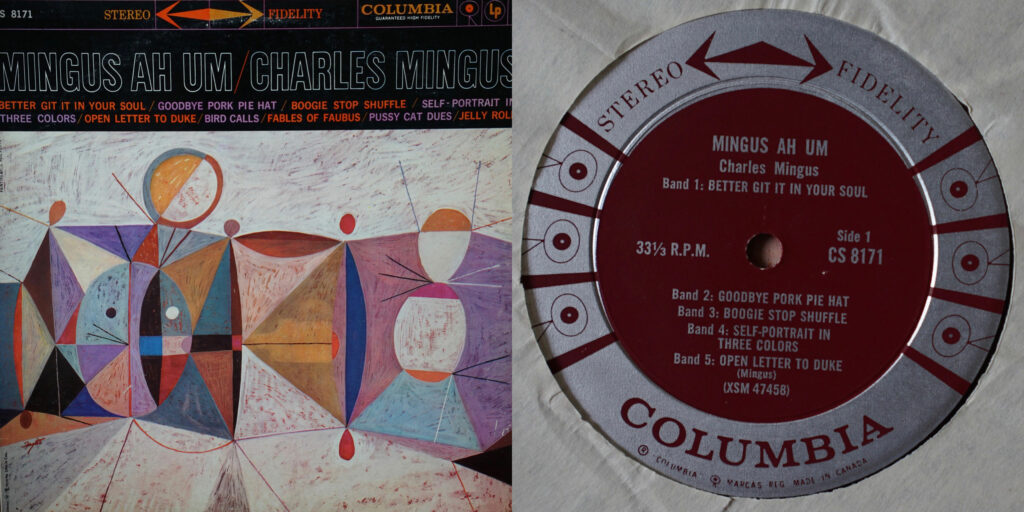 Charles Mingus, Mingus Mingus Mingus Mingus Mingus (1964, Impulse; 1968 Impulse/ABC reissue, AS-54)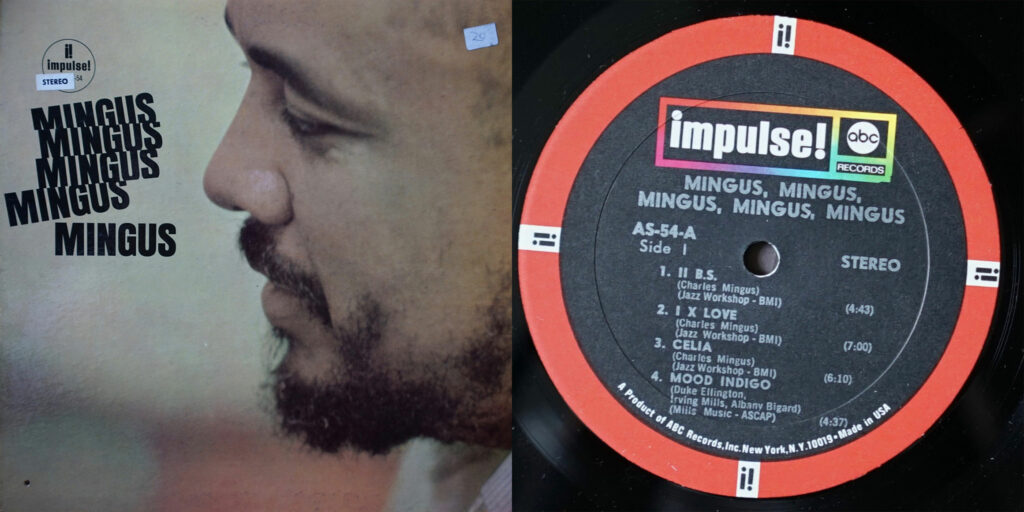 As I mentioned, I am obsessed with Charles Mingus. Besides Black Saint, these are my two favourites of his. Together, they're probably my three favourite jazz records. Ah Um is a Columbia Canadian first pressing on loan from my friend Ruby; it's a bit beat up, so will be a good test of surface noise. Mingus x5 is a terrific-sounding red-label Impulse! that I picked up at Academy on a recent trip to NYC. (Note: my later Best Pressing Shootout revealed that a cheap late-70s MCA Japan pressing sounds better!)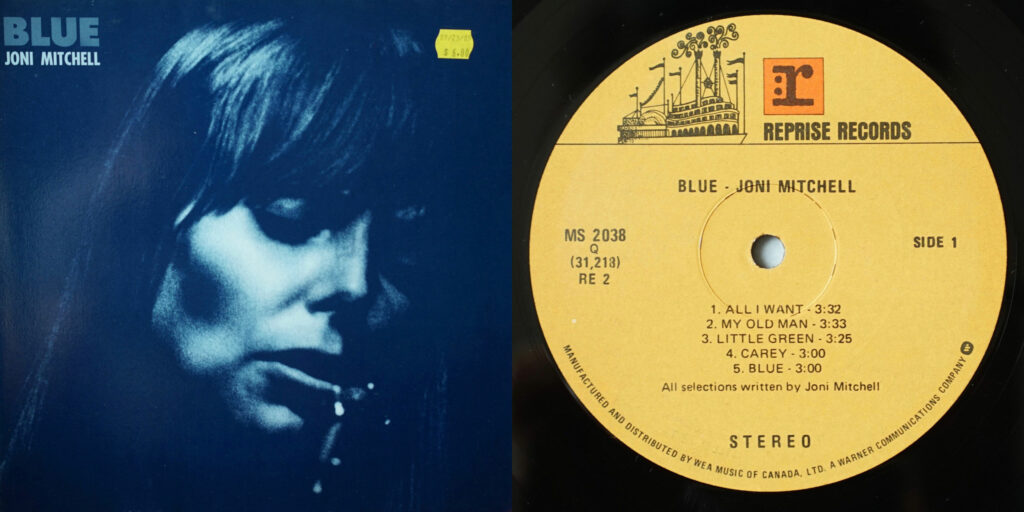 This is another of my all-time favourites — a hard one to listen to, given the emotional toll it can take if you really let yourself get into it. This is a nice late-1970s Canadian pressing. I have my Mom's first pressing downstairs, too, but this one sounds better.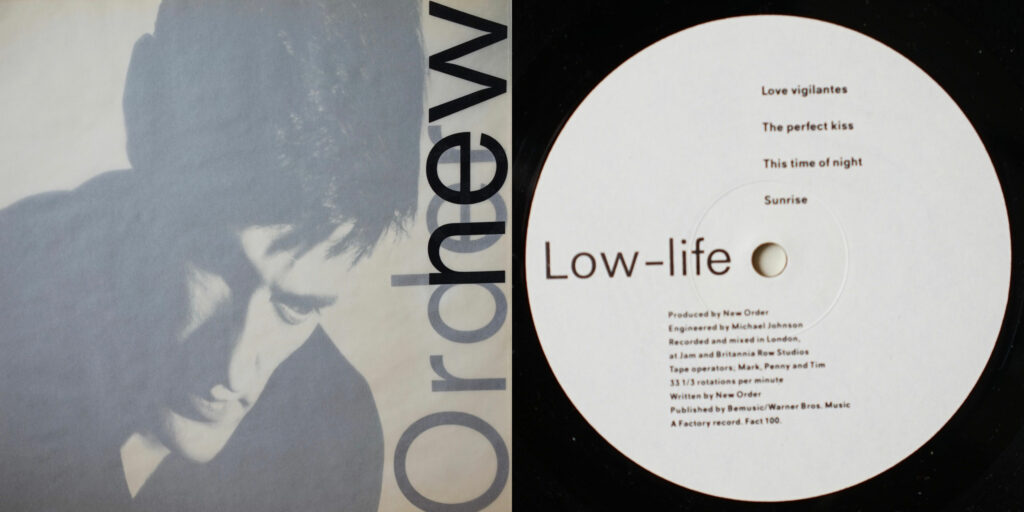 My favourite New Order record and the only thing like a "dance" record on this list. The hard left-right panning at the start of "The Perfect Kiss" is the best example of that effect anywhere. Also, the onionskin cover is right up there with the zipper on Sticky Fingers in my books. This album came to me courtesy of my brother-in-law Dave, who also gave me the "Atmosphere" 12″ single above, along with a lot of other amazing punk and post-punk records, when I was just getting into vinyl.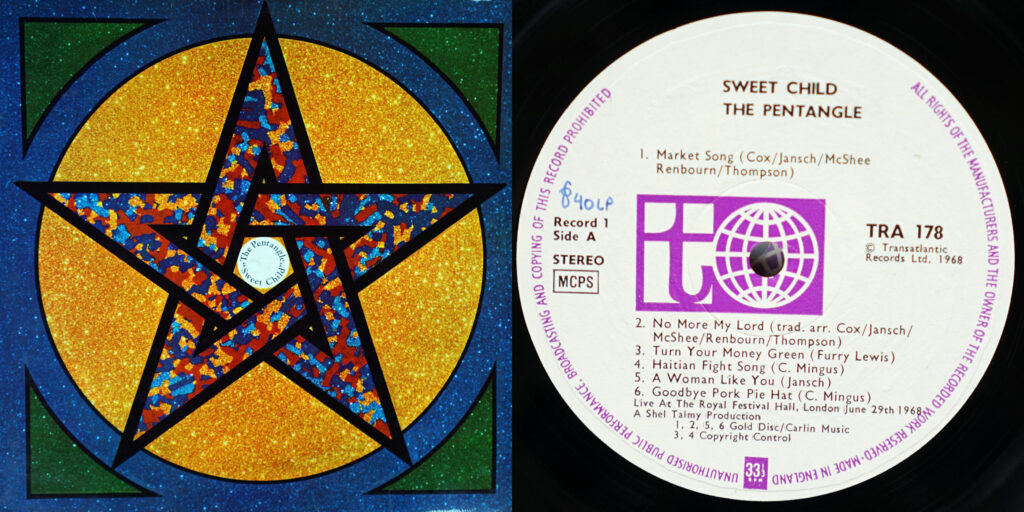 What a record. Everything said above about "Let No Man Steal Your Thyme" applies everywhere here. Its total unhipness just makes it more hip — this is musical normcore. I do miss some of the bonus tracks from the CD version (especially "Traveling Song"), but there are still many classics here. "The Time Has Come" is the one I would have picked if I'd picked a test track from here. This is the first pressing with the flipback sleeve and the purple logo. I paid an arm and a leg for this on Discogs; it was sold to me as NM but has plenty of surface wear, and doesn't sound noticeably better from the $10 Reprise US third pressing I also own. But at least it doesn't have the infuriating 1-4, 2-3 side arrangement of the US pressing…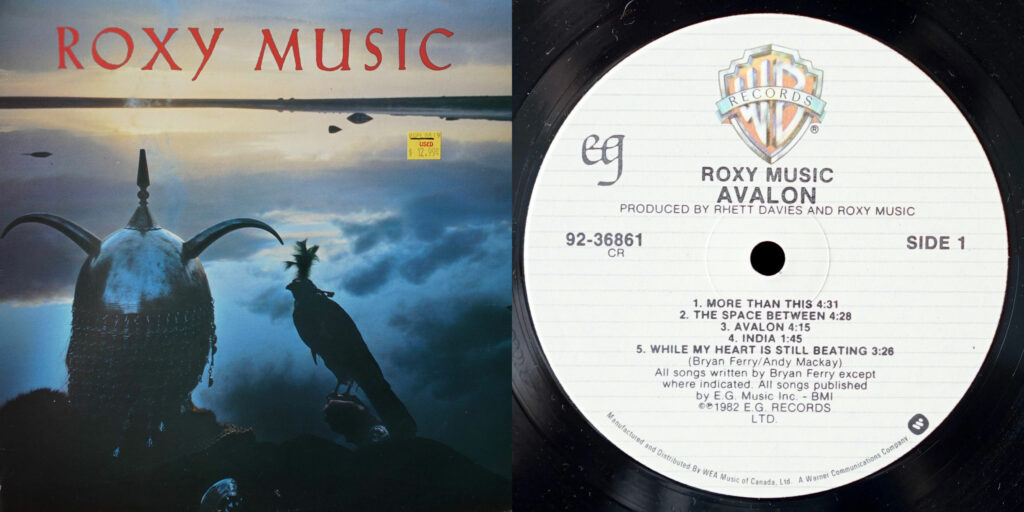 When it comes to soaring, slickly-produced 80s records (a genre I love) this one has to be at the top. Synths, sax, gigantic drums, Brian Ferry at his crooney best… I love early Eno-era Roxy Music too, don't get me wrong, but in my heart of hearts, it's Avalon all the way. (This is a kind of meh early Canadian pressing I recently bought for $7. I might look around for a slightly better-sounding pressing. But it's useful to have a couple of just-okay discs in the roster.)
Yasuaki Shimizu, Kakashi (1982, Better Days; 2017, Palto Flats, PFLP 007)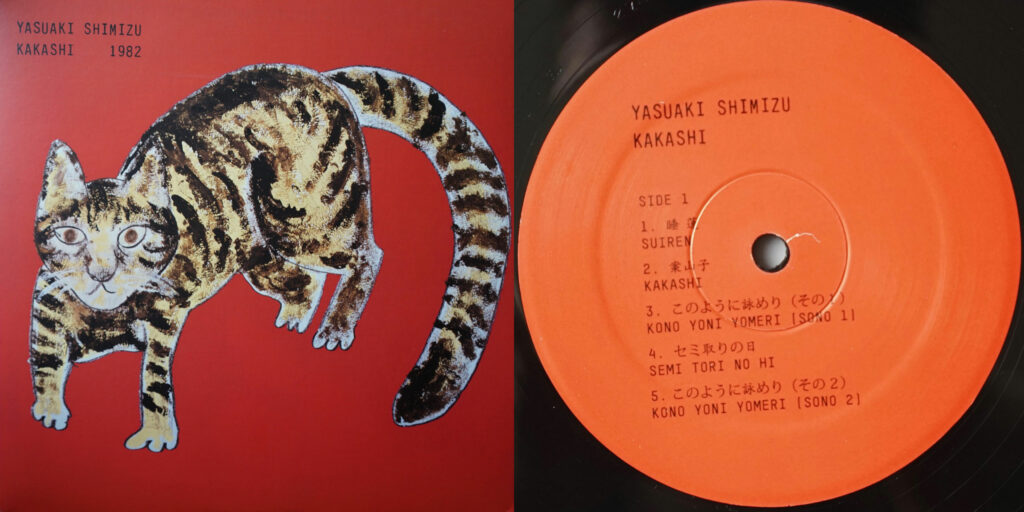 As described above in the bit about Mariah, I love this record. I would really like to get my hands on a Better Days original pressing some day, but those cost around a thousand dollars. For now, this Palto Flats disc sounds really good.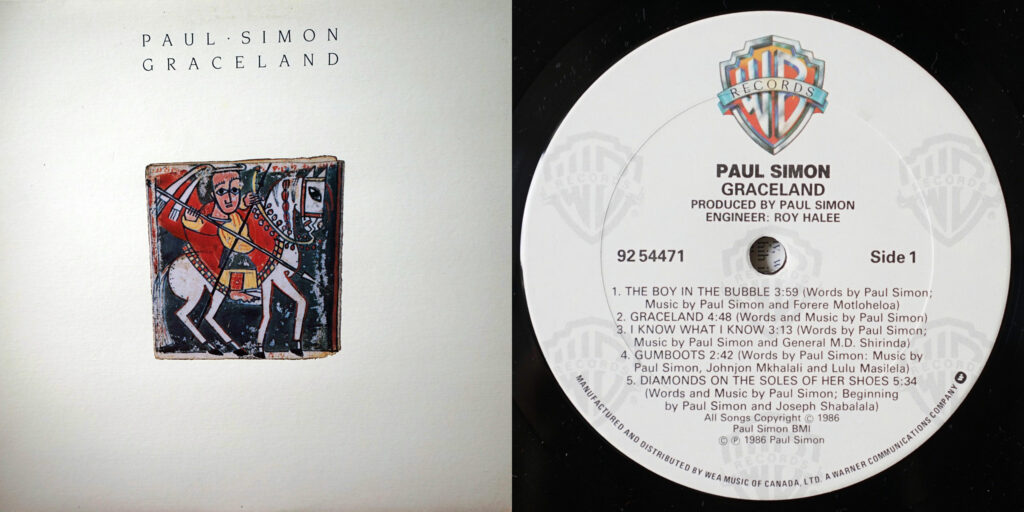 I sort of hate Paul Simon, to be honest, and I know I ought to hate this monument to cultural appropriation… but man this is a gorgeous-sounding record, and so much of the music here is just so beautiful, regardless of the questionable way it's reaching our ears. Lots of childhood memories, too. I believe this disc was recorded and edited digitally in the studio, but for some reason this old vinyl pressing (which I got for 50 cents at a church sale around 2005) is one of the best-sounding records I own.
Sleater-Kinney, The Woods (2015, Sub Pop, SP 670)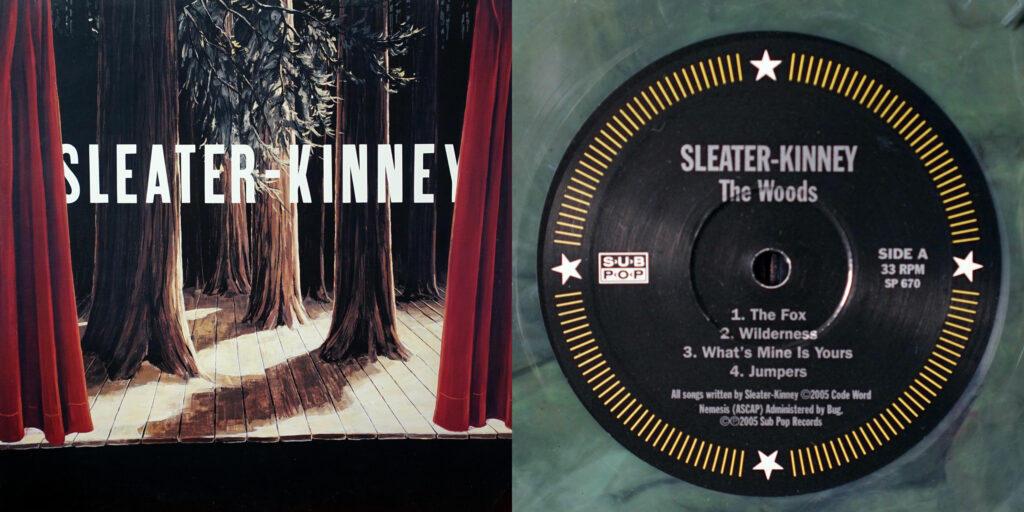 I'm a massive fan of a lot of the bands that came out of Olympia, Washington (Beat Happening, Bikini Kill, etc.). But I've never been all-in on S-K. The exception is The Woods, which I adore, especially Side A, which contains some of the best — and best-produced — pure rock n' roll anywhere. "Wildnerness" was going to be my all-out rock n' roll test-track until I tracked down my nice vinyl copy of Ta Det Lugnt.
The Style Council, Introducing: the Style Council (1983, Polydor Canada, PEP 320)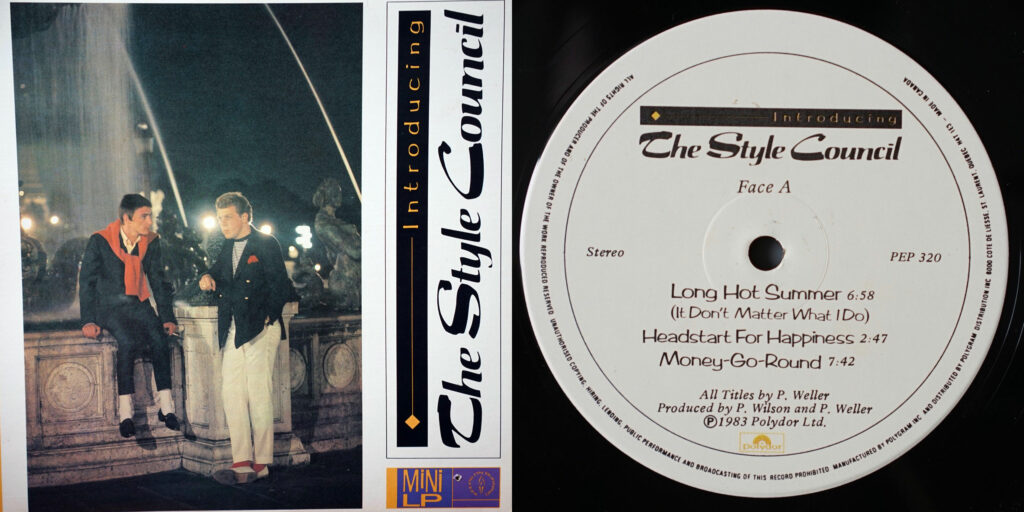 Not until I put this list together did I realize how much 80s music I listen to. I always thought of myself more as a 90s guy. Maybe it's just that I have a thing for 80s production… Anyway, this is another one of those incredibly cheesy 80s records that I just can't get enough of. The Jam were one of my favorites groups of the 2000s (I realize they recorded in the 70s, but that's when I got in to them), and although I continue to enjoy their Kinks-inflected Mod-revival stuff from that period (especially Setting Sons and the Snap! compilation), for some reason I find myself listening more to Paul Weller's much-reviled follow-up project, Style Council. Is my love for Introducing: The Style Council semi-ironic? Probably. Those little fancy-lad outfits Paul and Mick are wearing on the cover are definitely ridiculous. But I do love a lot of the tracks here (the exception is the interminable and grating "Money Go-Round"; social commentary with a neatly pressed V-neck hanging over your shoulders just doesn't work for me) and it's beautifully produced. (By the way, at the time of writing you can buy this for $3 in NM condition. I got mine sealed in shrink-wrap for about the same. Maybe I should order a backup…)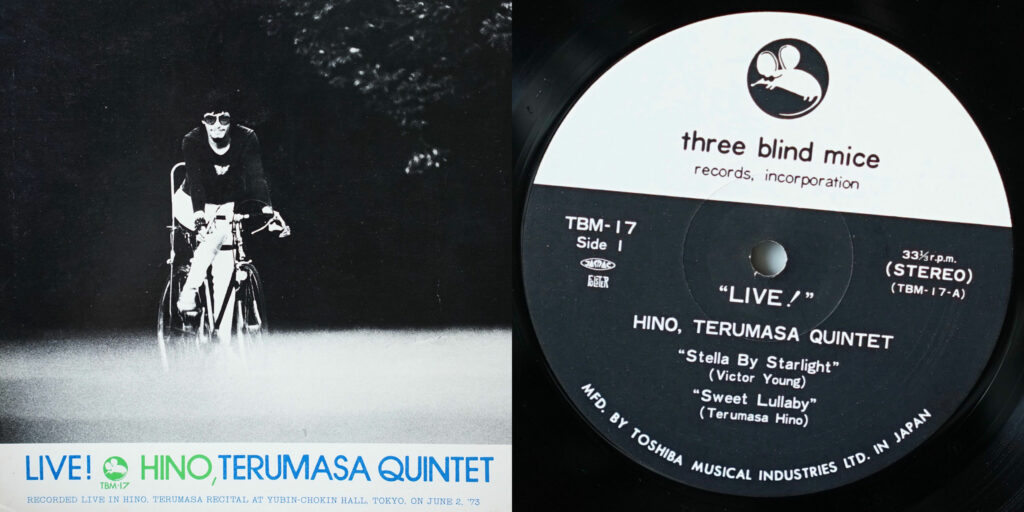 In September of this year, my good friend Jared lent me a bunch of his best-sounding jazz records so that I could give my stereo a real workout (lots of 50s/60s Blue Note, Impulse!, etc.). Many of these are awesome and sound amazing, but the biggest revelation of the bunch so far has been this disc, which might be the single best-sounding record I've heard. Even on my current rig, the detail and the groove on Side B are totally overwhelming; listening to it the first time, I had to do a bunch of those "wait, is that sound coming from inside the room??" double-takes). I have since learned that Three Blind Mice have a reputation as an audiophile label — well earned, clearly. I haven't yet fully internalized the music here, but so far I'm really enjoying it. I have a thing for Japanese jazz, it seems.
Yo La Tengo, And then nothing turned itself inside out (2000, Matador, OLE 371-1)
If it wasn't for this record, I might have sold my LP12 and liquidated my vinyl collection. Fortuitously, this is the record I decided to A/B test against my digital rig a few months ago when I was thinking of selling the farm. I was fully expecting my Gungnir to blow it out of the water, and was genuinely surprised when I found that my LP12 could do things with the "texture" of Ira's voice that the Gungnir just couldn't. I thought about putting something from Side B into the test tracks, but there just isn't a song I like as much as "Stockholm Syndrome," and the two records sound equally good.
Young Marble Giants, Colossal Youth (1980, Rough Trade, ROUGH 8)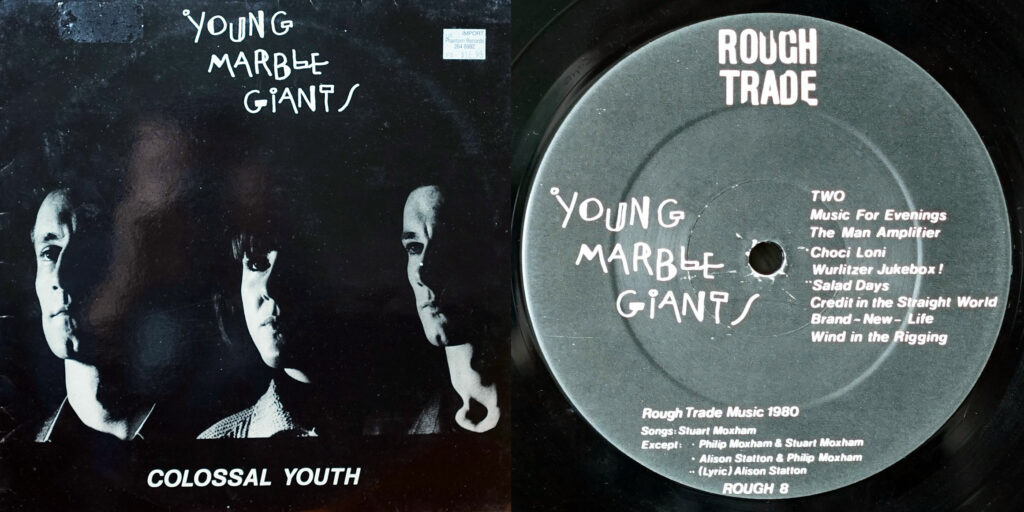 I discovered Young Marble Giants on Rough Trade America's Wanna Buy a Bridge compilation, which my brother-in-law Dave gave me as a gift when I was in undergrad. That disc had a huge impact on me. I fell in love with each track, slowly and individually, over a period of about a year, listening to the song, then looking for more stuff by them, then reading about them, learning about their peers and influences, listening to them. By the time I was done discovering all that I needed to discover, I knew an immense amount about the late-70s early-80s post-punk and lo-fi scenes, which are still, if I had to pick, my favorite musical eras.
Not a lot of the music coming out of them are suitable for a fussy, boring, sound quality-obsessed project like LP12MF. But this is one. The arrangement on all the songs in minimalist: an electric bass, a mostly palm-muted electric guitar, a drum machine, a beautiful singing voice, sometimes a Wurlitzer electric piano. But all the instruments sound beautiful on this disc. The bass, in particular, is lively and trebly with wonderful attack — just the way I like bass to sound.
I picked this record up at a record fair in Sydney when I was on vacation there back in 2015. It always sounded a little noisy, but I've been able to get rid of most of that with my new Spin Clean record cleaner. There's still some surface noise, but the music sounds beautiful.
Also: what a cover.