Record Shopping in Los Angeles, San Diego, and Palm Springs
In case anyone wondered whether I'm one of those people whose equipment is worth more than their record collection… I wish! I am, for better or (probably) worse, even more obsessed with records than with gear.
Case in point: my recent two-week trip to Southern California. I used to live in San Diego, but I chose (because of my disinclination to live there longterm + the extreme cost of shipping thousands of heavy records) not to bring my turntable or vinyl with me. So I didn't spend much time shopping for records while living there. I sought to rectify that on this trip, by stopping at as many record stores as possible.
What was I looking for? My iPhone note titled "Vinyl to look for" contained the names Can, Neu, Gainsbourg, Jansch, Ornette, Dolphy, Mingus, Prince Lasha, Jackie McLean. I was especially hoping to score some cheap early-70s Hollywood-era Blue Note and well-priced 60s Atlantic jazz reissues — which, spoiler, didn't end up happening.
I present my impressions of each store I visited below, in order from best to worst, as well as a list of all the records I bought and how much I paid.
Mail order
Every Canadian will understand the urge to order stuff online when in America. It's expensive to ship stuff across the border — It costs a minimum of $17 USD to ship a record to Canada, the cost of a very good record, whereas the domestic rate starts around $4 — and you often get nailed with customs fees. Since I was going to be in an Airbnb in LA for 10 days, I decided to order some records I was dying to have on Discogs and have them shipped there.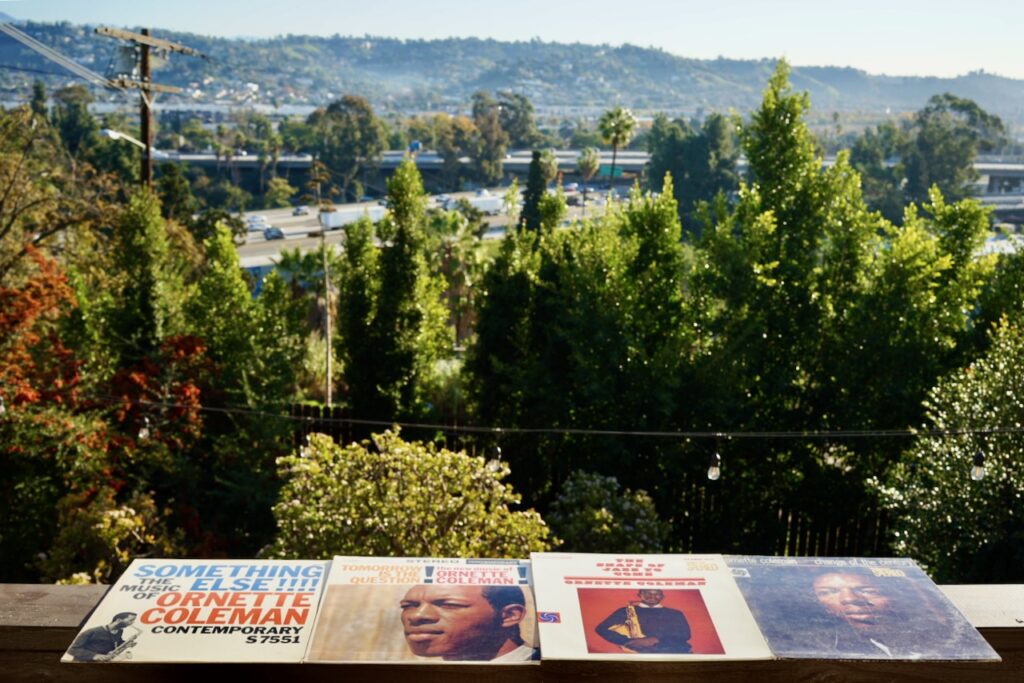 All of them were very LA-appropriate. I got Ornette Coleman's first four studio records, all recorded in LA. These were: a late-sixties Contemporary reissue of Something Else!!! with "H" stamps (pressed in Hollywood; $25), a 1959 first pressing of Tomorrow is the Question! ($50), and early-60s green/blue label Atlantic reissues of The Shape of Jazz to Come ($50) and Change of the Century ($75). All four of these records sound incredible: Contemporary records were ridiculously well-produced, and the reissues sound amazing and are incredible bargains. I don't think it's worth paying extras for "D1" first pressings; the later pressings with the "H" stamp sound equally good to my ears. I've never heard first pressings of either of those Atlantic albums, but these green/blue reissues sound insanely good. The start of "Lonely Woman" in this pressing is one of my favourite hifi moments, as well as one of my favourite musical ones.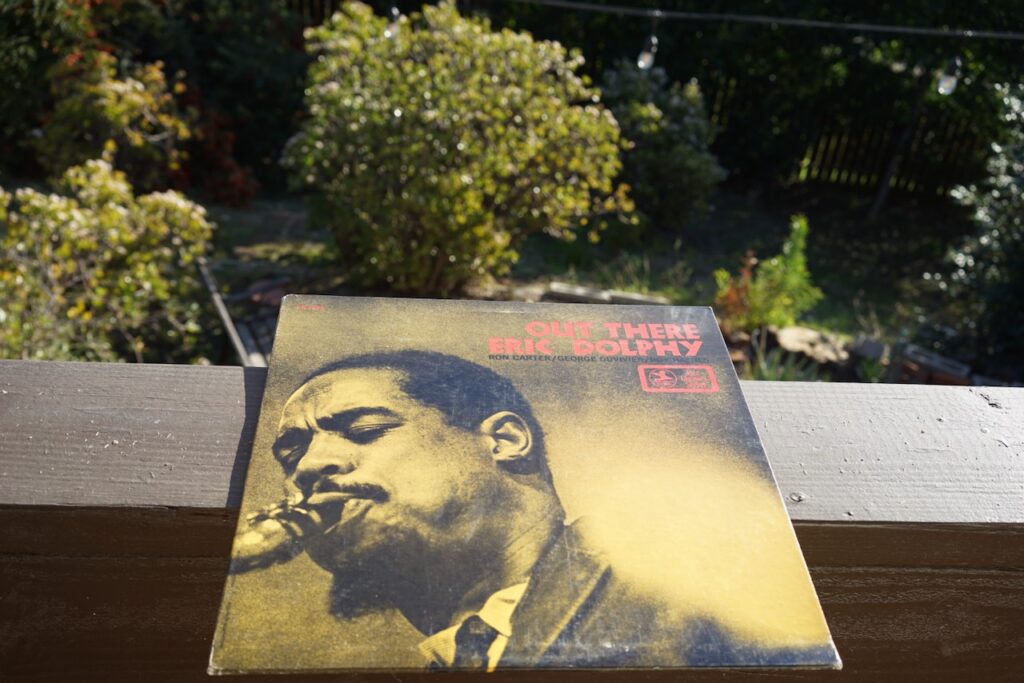 I also picked up a copy of my favourite album by LA native Eric Dolphy, Out There. It's taken me a while to find a decent copy of this record. In the fall, I ordered a Dolphy lot on eBay that included a mono first pressing. The price was amazing — too good to be true, as it turned out, as the vinyl was either "burned" (heat damage) or made of the notorious early-60s New Jazz recycled impure vinyl. Anyway, it sounded horrible, and I returned it. I prefer stereo records anyway. The one pictured above is the first US stereo issue, a blue-label Prestige from 1969 with Van Gelder stamps. I paid $75 in NM condition, which felt pretty reasonable considering the insane prices that decent mono originals fetch. It sounds good — though definitely not as good as the Ornette records above.
Los Angeles
I was in LA for 10 days, and visited at least one record store per day — which I think is a fun way to explore a city, although my partner and mother (along for the trip) might disagree. I read as many "best used record stores" lists as I could and put together the list below, and I fit every one on my list. All the stores were good, since I was not (as I would later in Palm Springs) visiting all the record stores, just the best ones. Here are all the stores I visited, ranked in order of my preference…
1. Amoeba Music (6400 Sunset Blvd, Los Angeles, CA 90028)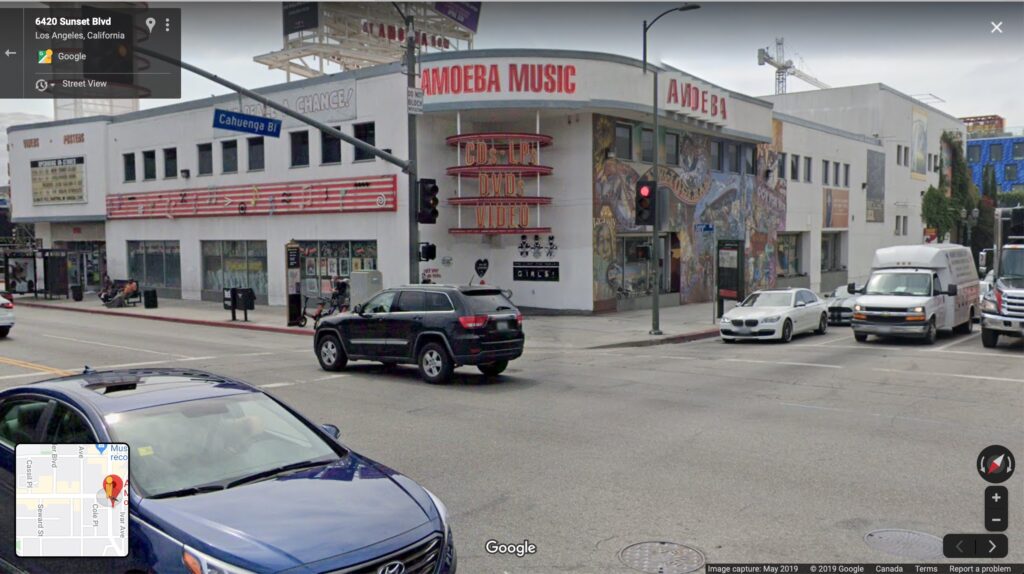 I've had nothing but positive experiences with Amoeba over the years. When I first visited LA in 2004, Amoeba was one of the main factors in converting me from an LAskeptic to an LAphile. On that trip, I picked up a bunch of Wire records I'd never seen with my own eyes — at incredibly reasonable prices. I've never since had a bad visit to Amoeba, which is huge and filled with incredibly rare, cheap records. As you'll see, this trip was no exception.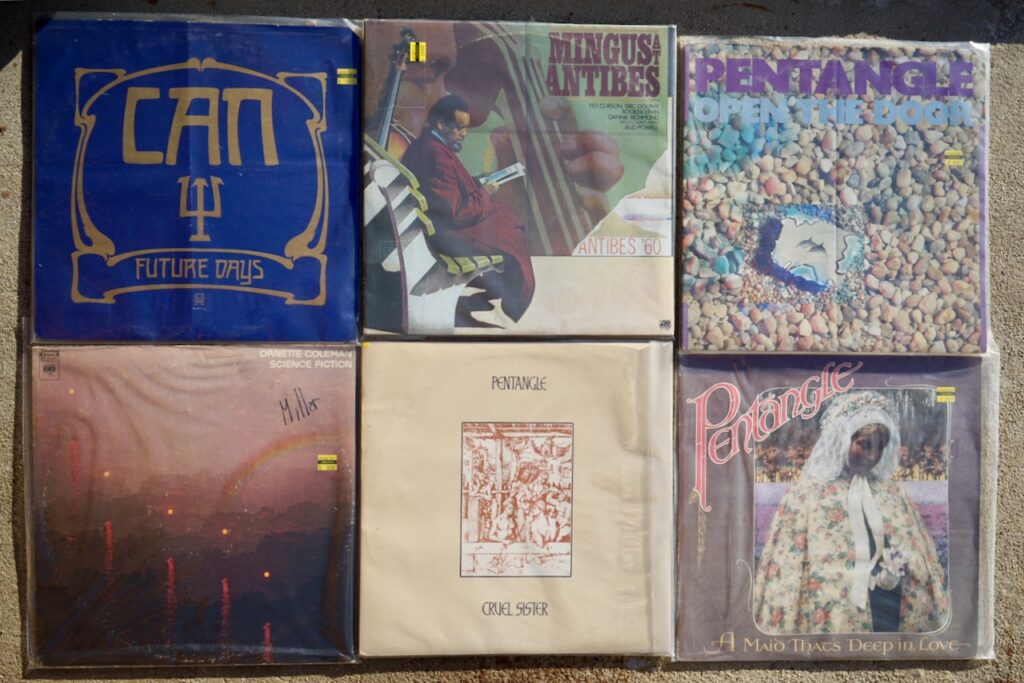 I visited Amoeba twice on this trip (there are a bunch of different New Arrival bins, and the turnover is ridiculous) and scored by far my best bargains of the journey. I got a beautiful NM copy of Mingus at Antibes for $17.99 (I saw it several other places for no less than $30), a rough-looking but great-playing first pressing of Ornette's Science Fiction for $9.99, two Pentangle curiosities for $7 and $3 (the cover of A Maid that's Deep in Love, an 80s comp, is perhaps the ugliest thing I've ever seen, but kind of so horrible it's amazing) — and then the real scores.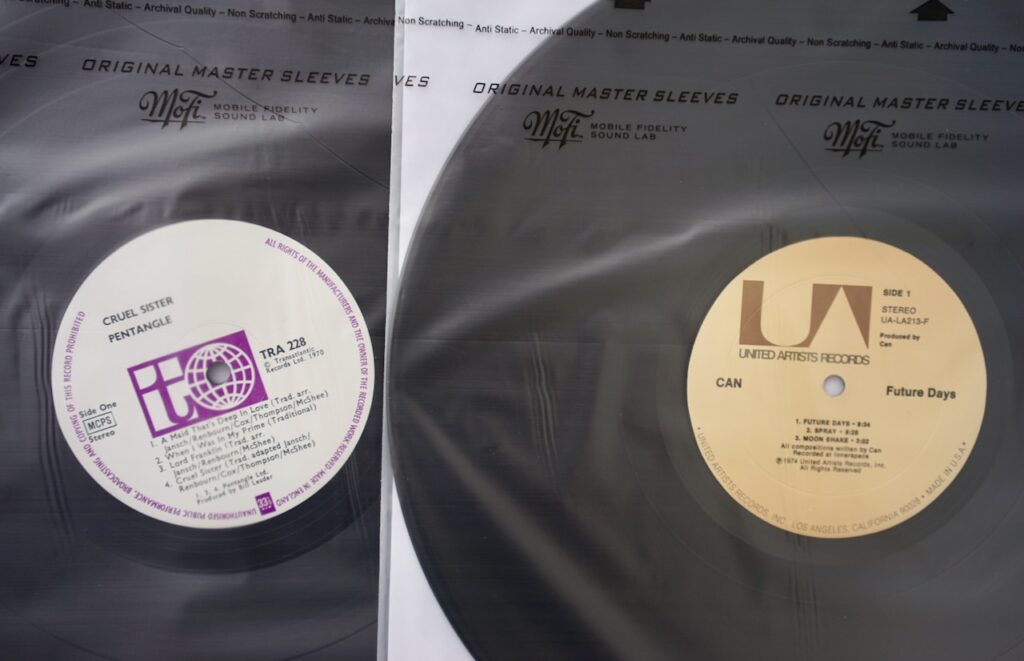 The first was a first-UK-pressing, purple-label, Transatlantic copy of Pentangle's Cruel Sister. At $11.99, it was a great deal — and also just a surprising find in LA. It's in NM condition and sounds amazing. (I'm listening to it right now — not my favrourite Pentangle by any means, but totally worth $12.)
The much bigger score was a first US (United Artists) pressing of Can's Future Days. This was a total dream find: a record I'm actively looking for, in amazing shape, for a ridiculous price. This disc is worth at least $100, and was priced at $9.99. Amazingly, it was just sitting there in the Can section — and according to the date on the price tag, had been there for about a month. It has some superficial scuffing but appears unplayed. It sounds incredible. And, rather perfectly, it was produced right down the street from Amoeba — the store and the label share the zip code of 90028. This is one of my best used vinyl scores of all time.
2. Record Jungle (2459 W Whittier Blvd, Montebello, CA 90640)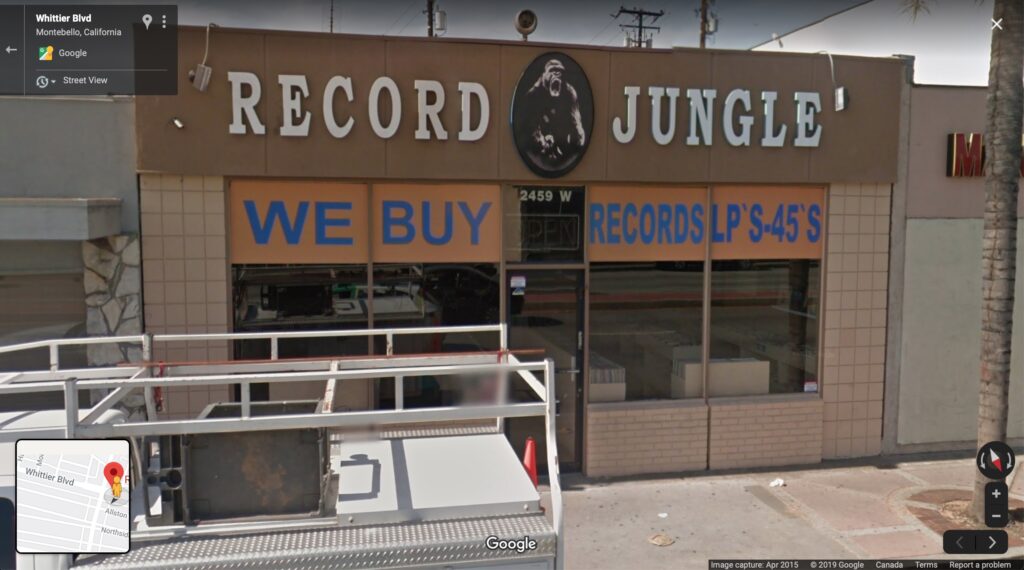 This place was recommended to me by Aki, owner of Cosmos in Toronto. It's a bit in the middle of nowhere — a bland suburb east of downtown — and a bit of a chore to navigate. They've got a million "new arrivals" bins, which (based on my two visits a week apart) don't seem to change very often. Within sections, nothing is alphabetized. The shelves are packed tight, making flipping through annoyingly difficult. But the prices are really good.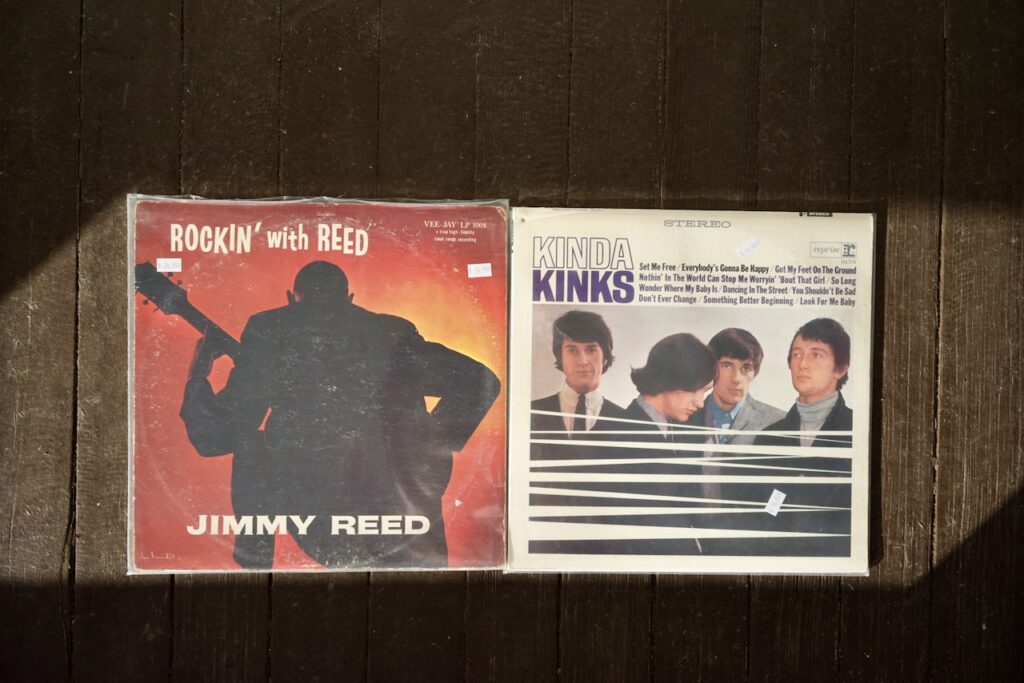 I picked up an absolutely mint first US pressing of Kinda Kinks (stereo, sadly, though I personally find simulated stereo sort of charming) for $15 and a somewhat beat up 1959 first pressing of Rockin' with Reed for $25. I don't have a data plan in the US, so I wasn't able to evaluate these as deals until I got home, but both are pretty decent, and I love both records. I regret not picking up a first UK pressing of The Fall's Bend Sinister for $25 — I went back for it, and it was gone. There were also lots of cheap US mono Beatles records. This is one of the bin-diggers.
3. Rockaway Records (2395 Glendale Blvd., Los Angeles CA 90039)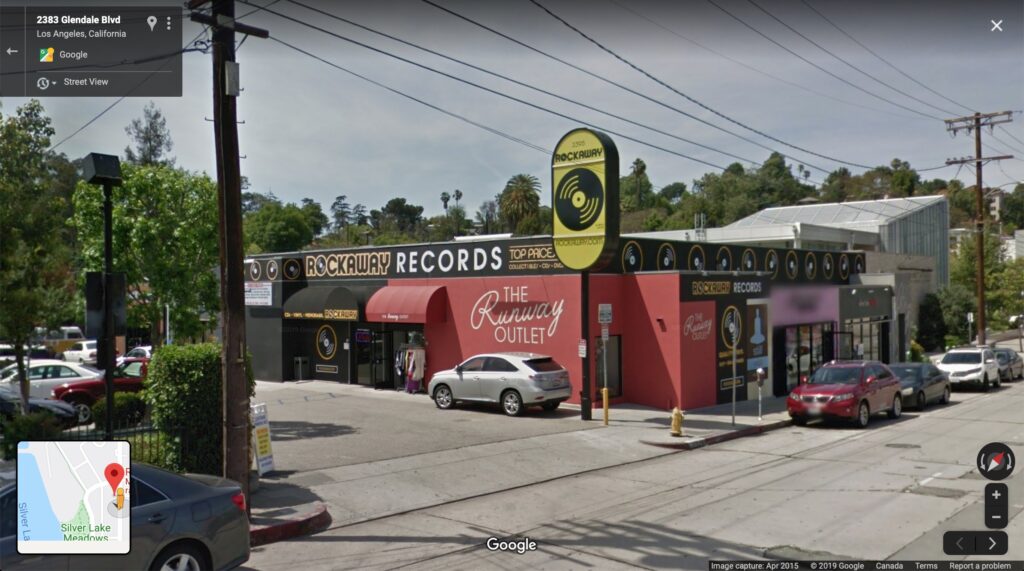 This place, dangerously, was a mere couple of blocks from my Airbnb. I had heard they had a great jazz section and lots of great rock records. I didn't find all that much — some Ornette and Mingus — but I did buy one record.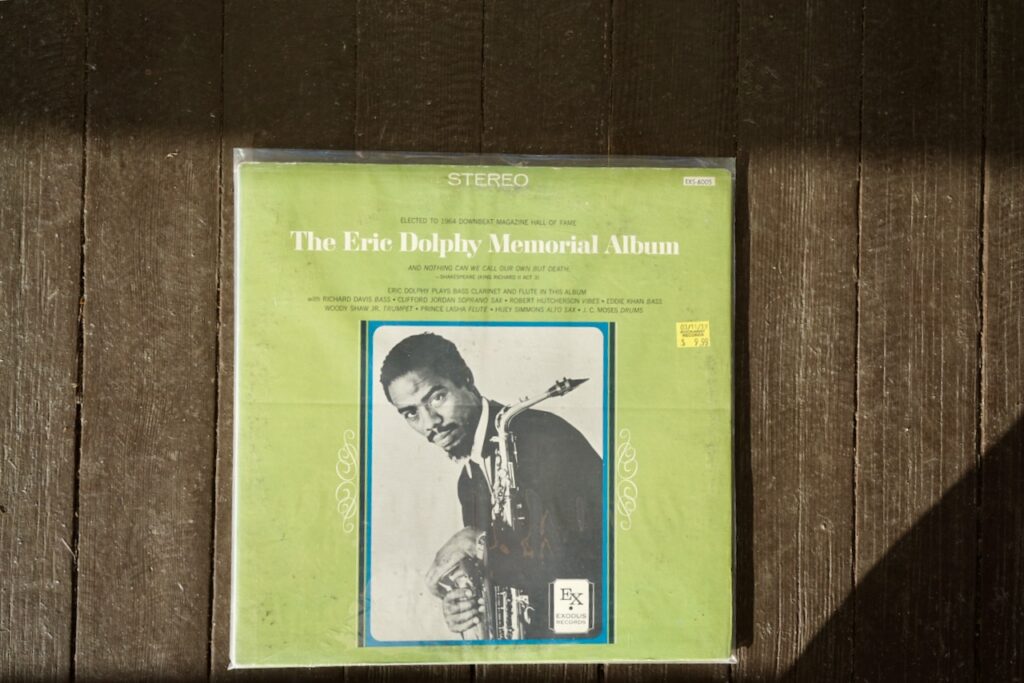 I happened to visit on the day of a big Christmas sale, and snagged this immaculate late-60s issue of the Eric Dolphy Memorial Album (aka Conversations) at 50% off for $5. Sadly, despite the great condition, the record sounds pretty awful: tinny and distant.
4. The Last Bookstore (453 S Spring St, Los Angeles, CA 90013)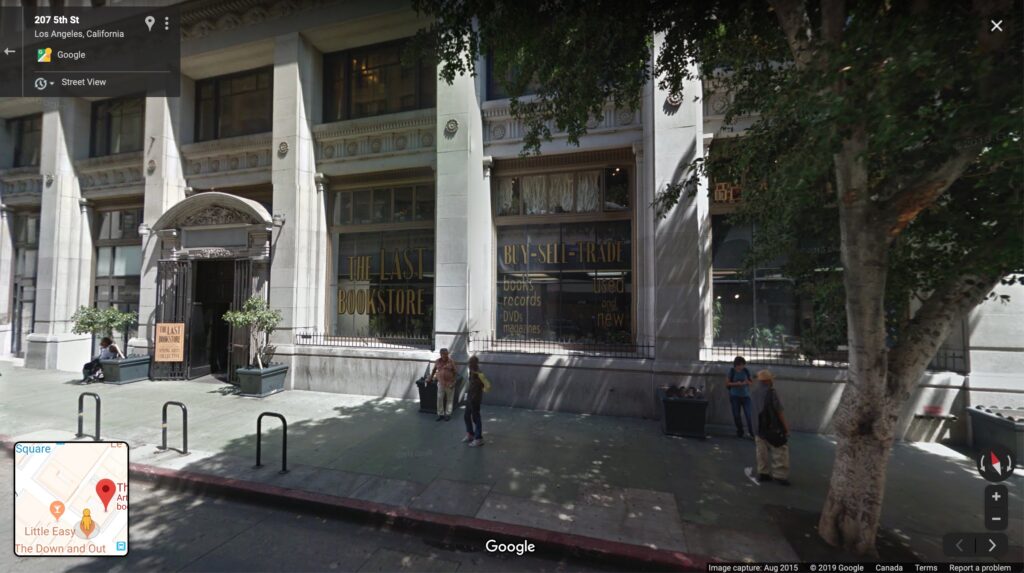 I didn't buy anything here, but I came really close. At one point, I had a first US pressing of Let It Be ($35), an early copy of the Byrds' Fifth Dimension ($15), and some Cannonball Adderly records in my hands. I also spotted some beat-up Blue Note records, all Libery-era, for reasonable prices. My impression: lots of stuff, some good prices, good for jazz as well as rock. All the good stuff I found was in the New Arrivals, so assume it's well picked-over. (Parking's a little tricky, but I got lucky with street parking.)
5. Angel City Books & Records (218 Pier Ave, Santa Monica, CA 90405)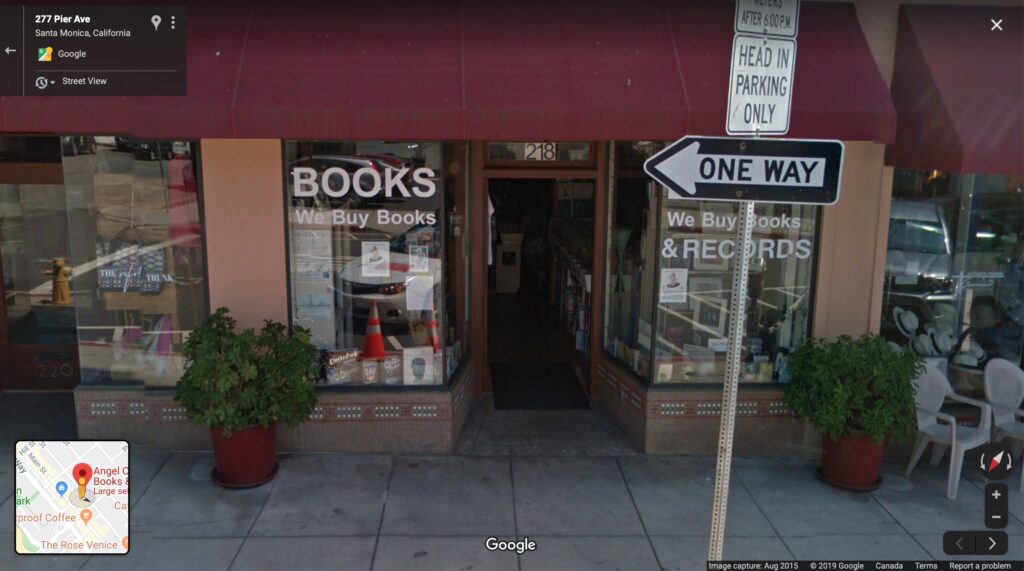 Cute store near the beach in Santa Monica ("Hey, guys, let's go to the beach! Oh, what! — there's a record store just around the corner!"). The family were waiting in the car, so I was in a bit of a hurry, but there was lots of good stuff, including lots of first-pressing Miles Davis. No bargains that I could see, though. Very friendly and helpful owner.
6. Poo-Bah Record Shop (2636 E Colorado Blvd, Pasadena, CA 91107)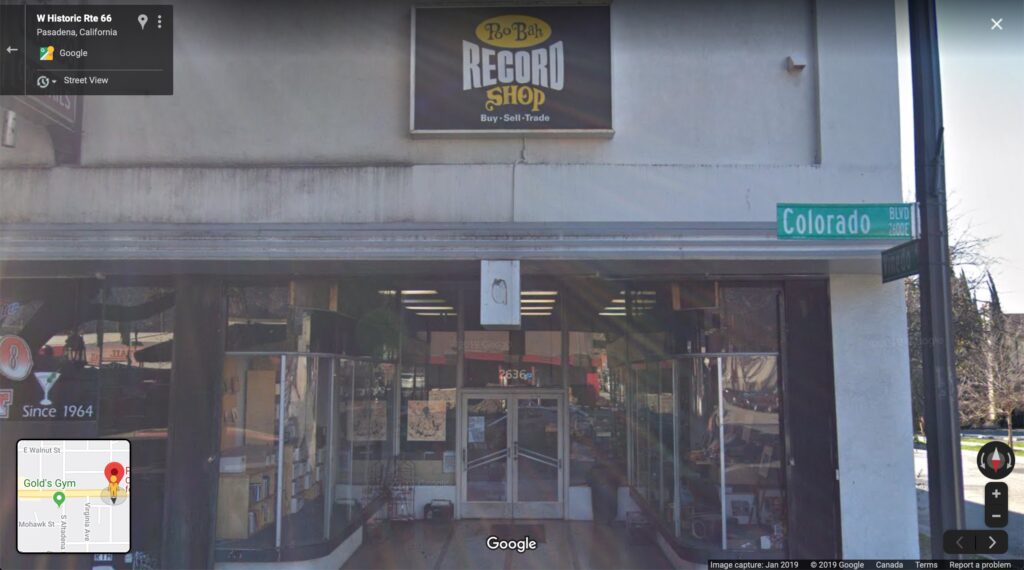 Beautiful shop in Pasadena, a short drive from the must-see 90210 Walsh residence, which is actually in Altadena. I must have caught them on an off day, for there was nothing even remotely interesting in stock, despite all the good stuff I've read about it. One employee asked me if I was looking for anything in particular. I replied, "Just good jazz," to which he returned, "You and me both." Maybe he'd bought all the good stuff for himself.
7. Record Surplus (12436 Santa Monica Blvd, Los Angeles, CA 90025)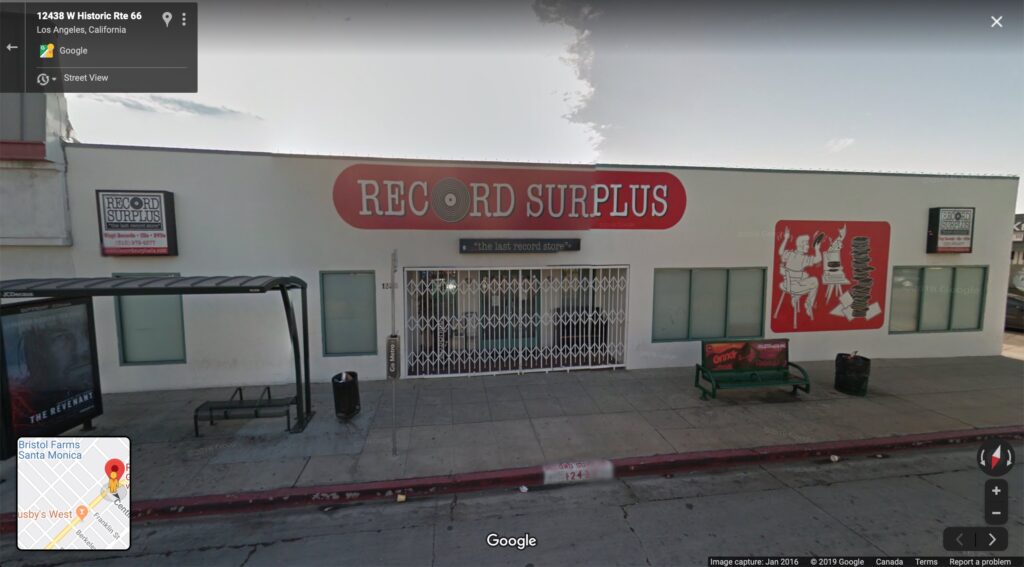 I had high hopes for this one — it's big, it's unpretentious, it's been around for a while — but didn't end up finding anything too interesting. There was a sealed copy of Ornette's Science Fiction for $20 (the next day I got my $10 copy) and a mono Kinks Village Green for $40, which, on closer inspection, had a massive scratch. For some reason I was sure I'd find an early pressing of This is Our Music here, and was unreasonably disappointed when I didn't. Anyway, maybe just a bad day…
8. Freakbeat (3700, 13616 Ventura Blvd, Sherman Oaks, CA 91423)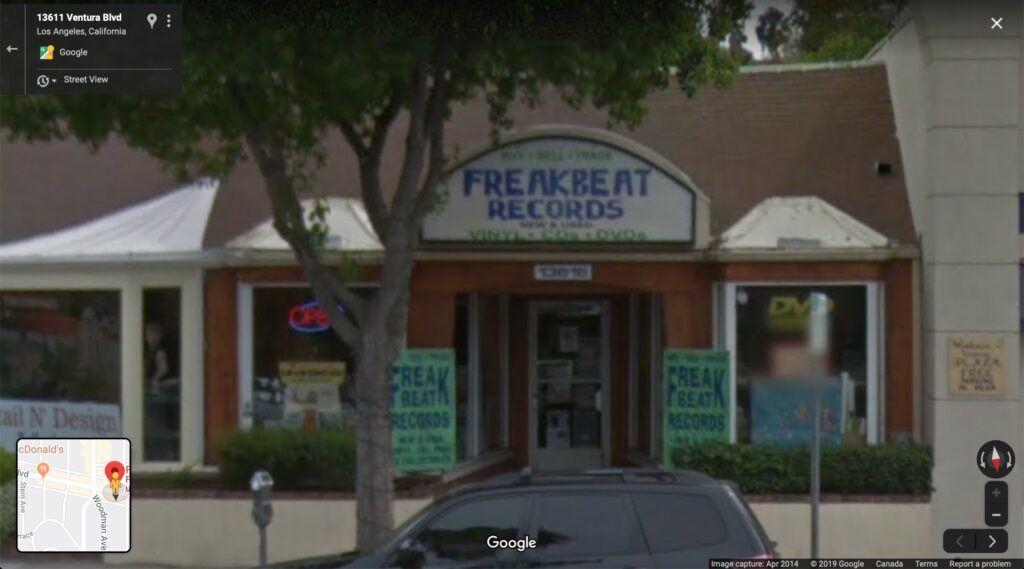 Drove all the way to the valley and came up empty-handed. They seem to specialize in classic rock, psych, metal, etc. Not much of a jazz section. High prices.
9. The Record Parlour (6408 Selma Ave, Los Angeles, CA 90028)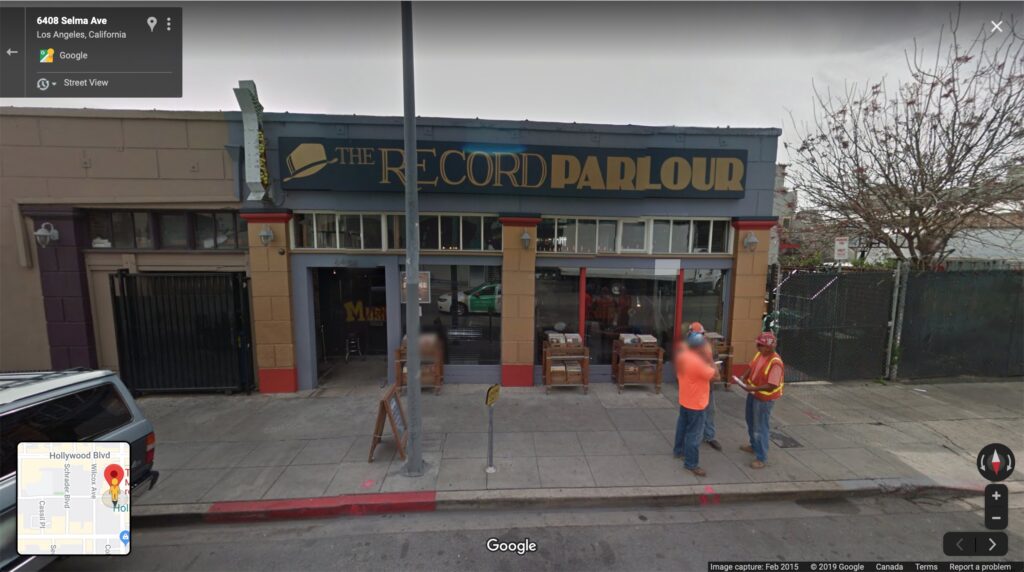 Suffers in comparison to Amoeba, which is just around the corner. I went in twice and didn't find anything of interest either time. Big jazz section — and, in general, lots and lots of records, all used — but the kind of place you find ten copies of all the worst 70s Kinks records and a million cheesy 70s jazz "two-fers." I didn't find anything exciting or original. The prices seemed high, too: they were selling the Dolphy Memorial Album and Mingus at Antibes for $30 each. Not my favourite atmosphere, with electric blues blasting both times, and a dude with long grey hair making orgasm faces to the beat.
10. Permanent Records (1816 Sunset Blvd, Los Angeles, CA 90026)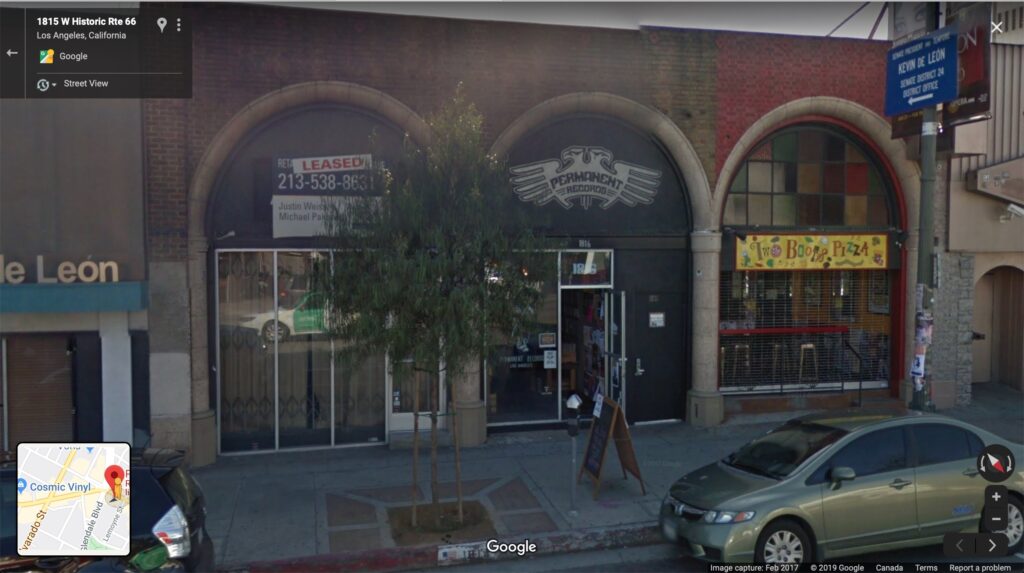 One of two Echo Park stores I visited while my partner was busy at the nearby Silver Lake flea market. Not a bad store, just nothing of interest to me, and not-particularly-good prices. Not much jazz: seems for focused on indie/punk/rock.
10. Cosmic Vinyl (2149 Sunset Blvd, Los Angeles, CA 90026)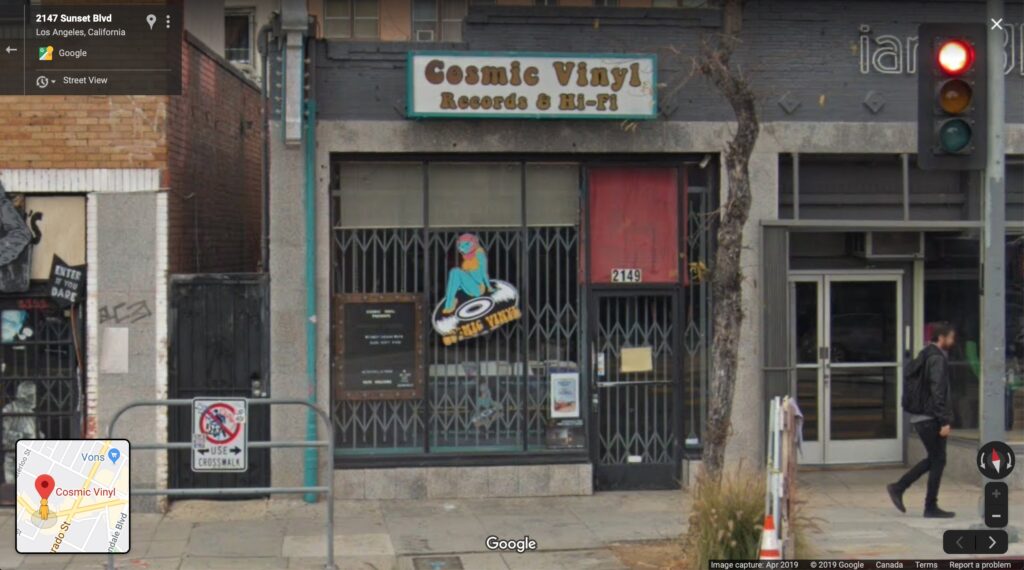 Just down the street from Permanent and a similar experience (call it a draw): seems like a cool store, but nothing of interest that day. More jazz than Permanent, but nothing very interesting. Seems like a classic rock shop primarily.
San Diego
As I mentioned, I actually lived here for two years. But my mind was on other things, and I never explored the used vinyl shops very carefully. I only had a few hours to give these a look on a very quick pass through town, but I did manage to check out three in my old hood.
1. Record City (3757 Sixth Ave, San Diego, CA 92103)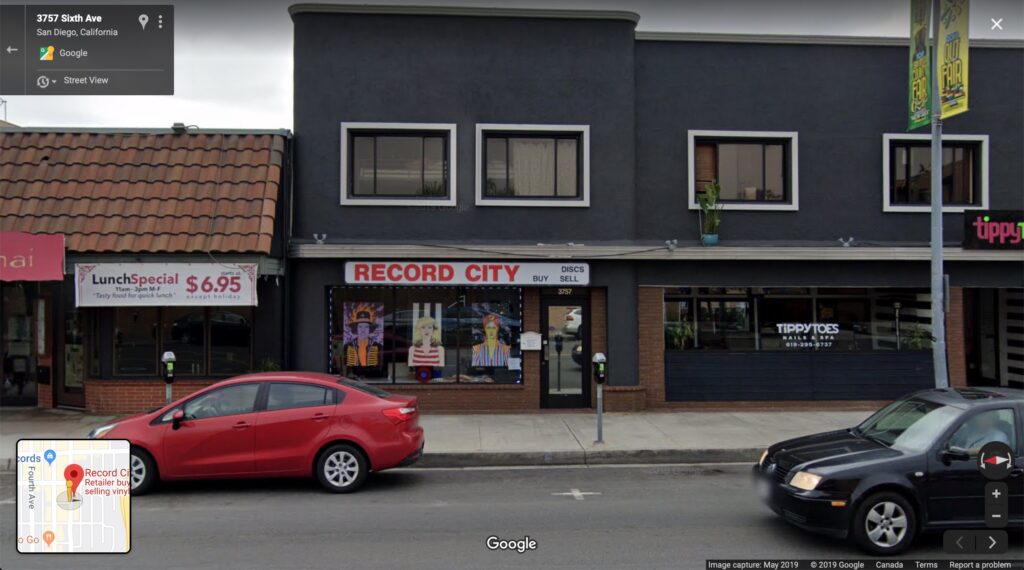 A quick browse through this spot just north of Balboa Park suggests it's the real deal. Excellent selection, nice curation, all vinyl in terrific shape, and very reasonable prices. There was lots of good jazz, but nothing I needed or wanted to buy.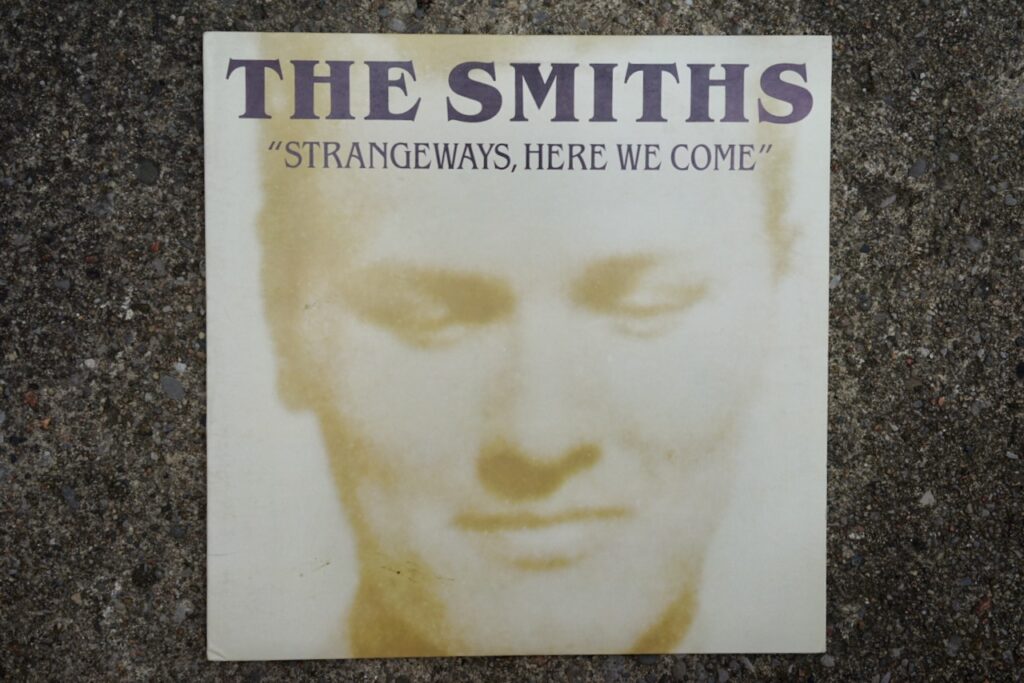 I did pick up one album missing from my collection: an original US Strangeways. (Now I can sell the shitty Rhino reissue that almost led me to sell my turntable.) It was priced at a very reasonable $30, with a further holiday discount down to $24. The owner was incredibly friendly and told me stories about all the Morrissey-associated guitarists who have visited the store (all of them, it seems, including Johnny Marr).
2. Folk Arts Rare Records (3072 El Cajon Blvd, San Diego, CA 92104)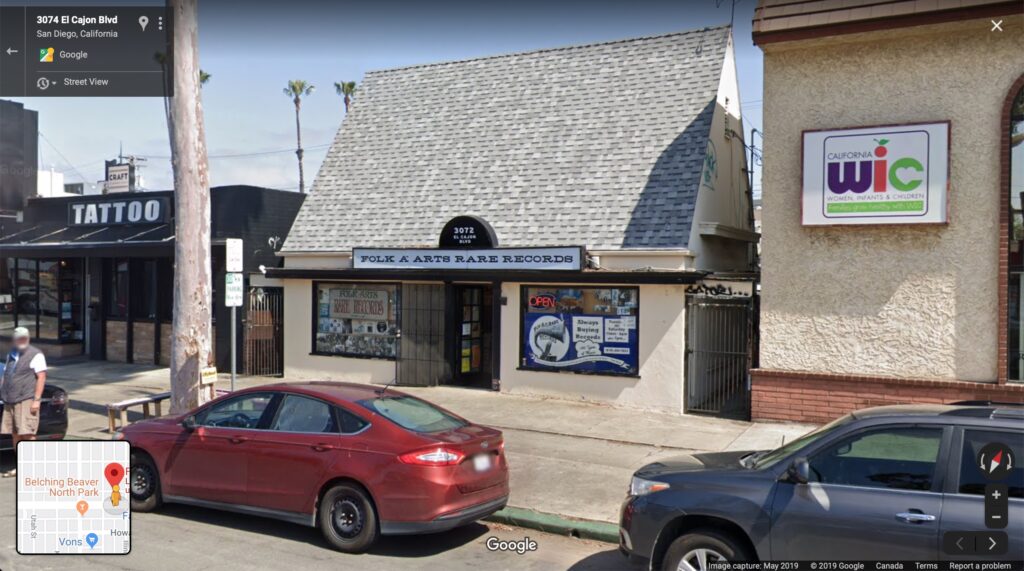 Just down the street from my hotel (the wonderful Lafayette, which is amazing on its own and has the further merit of being near Bruno's Pizzeria, the best Neapolitan pizza outside of Naples), this is a place I passed all the time on the way to work in my San Diego days but never went into. I only had about 15 minutes to explore this time, but it definitely looks fantastic. I found a few Hollywood-era Blue Notes at semi-reasonable prices but nothing I needed. I would have liked to spend a couple of hours in here. Next time…
3. Taaang! Records (3834 Fifth Ave, San Diego, CA 92103)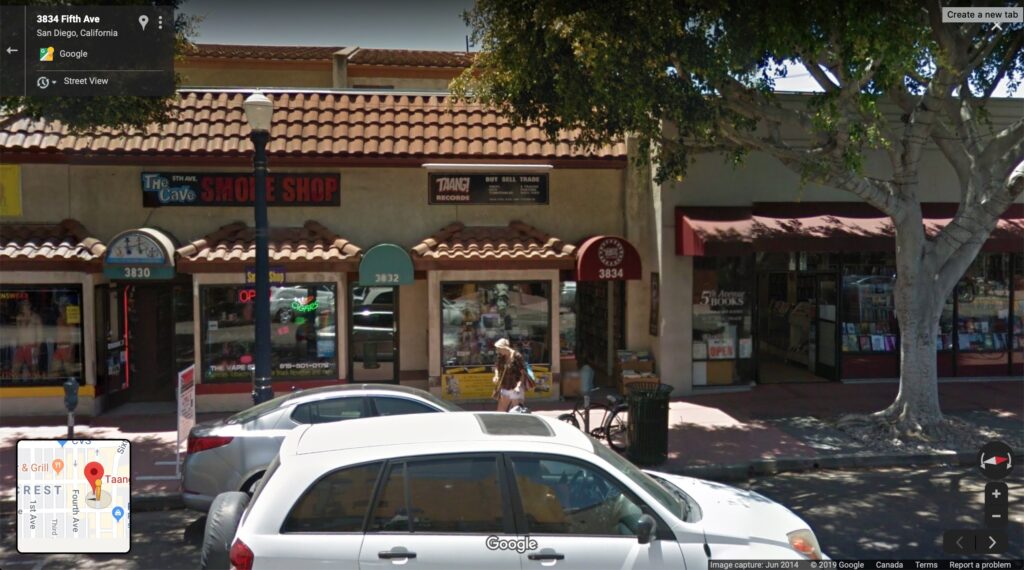 A block away from Record City in space, miles away in quality. Yes, they have lots of stuff, and I'm sure punk collectors would be in heaven. But the prices are absurd — witness the $75 Queen is Dead, a more common record than the Strangeways I got a few doors down for $24…
Palm Springs
After my 10 days in LA (and right before going to San Diego — apologies for the modernist chronology of this post) I headed to the desert. I love Palm Springs for the amazing houses, the beautiful light, the massive pink mountain jumping straight out of the flats. I also really enjoy the vintage shopping — lots of cool old clothes and knickknacks, deposited by the (sorry to say) masses of departed retirees. I had, however, never tried looking for vinyl. Given my newfound obsession with 60s jazz, I got pretty excited about the idea of retired millionaires bringing their extensive record collections to the desert and then expiring, their relatives left to donate them to local thrift stores…
1. Finders Thrift and Vinyl (77955 Calle Tampico, La Quinta, CA 92253)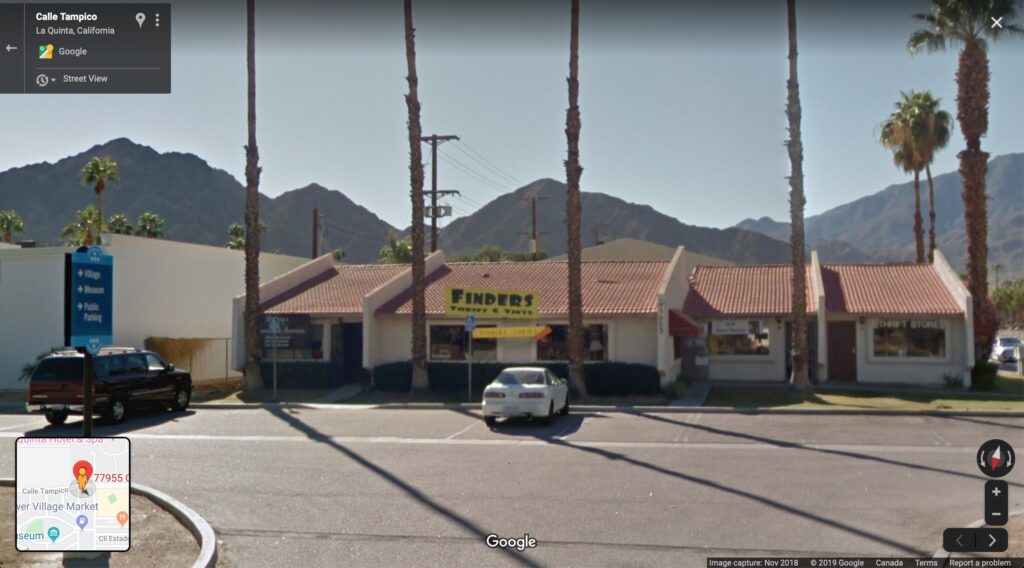 The implicit defensiveness of this thrift store's name was thrilling: "Hell no I'm not giving these original Blue Notes back to you! Finders keepers!" And it did, as it turned out, have some good stuff. But the best stuff was in horrible condition, and everything was overpriced.
Original mono Mingus Dynasty! Original mono 'Round About Midnight! $30 and $35 respectively, scratched to hell? Right.
VG/VG+ original Columbia late-60s/early-70s Miles? Sure, but not at $35-45 each.
On the plus side, there was an honest-to-goodness shrunken head for sale, something I've never seen before. But the hassle to get it across the border…
2. Sunny Dunes Antiques Mall (507 E Sunny Dunes Rd, Palm Springs, CA 92264)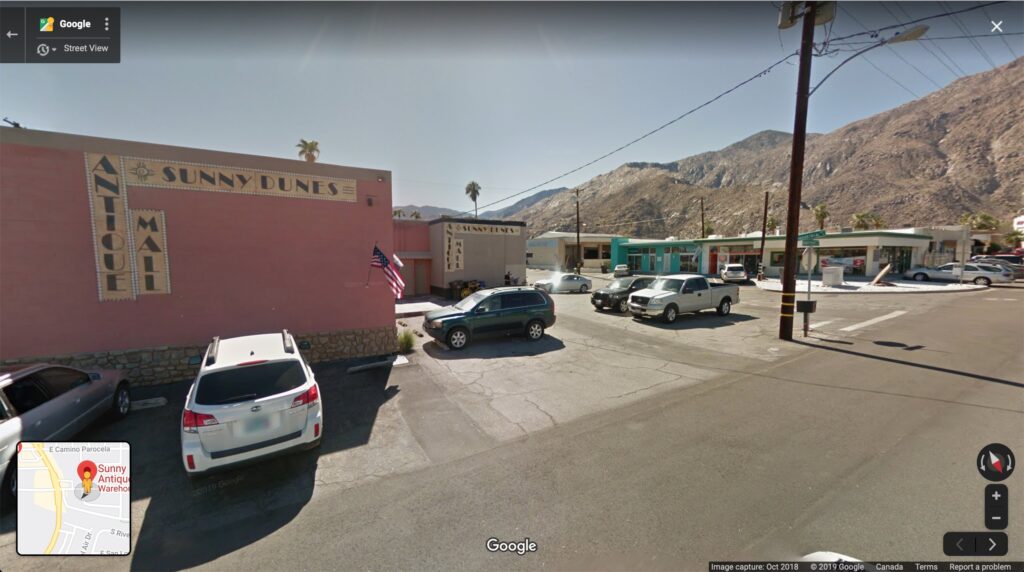 This is one of our favourite spots for cheap, kitschy antiques — Garfield glasses, Simpsons salt-and-pepper shakers, Trolls, that kind of thing. It's a massive space, with individual retailers occupying their own little corners. Many of these have some vinyl for sale, which I'd glanced at in the past without finding anything of much merit — Tijuana brass, Sinatra reissues, Elvis reissues, etc. That was definitely the case again this time — 99.99% of the records in there are absolute junk — though I did find one thing to buy.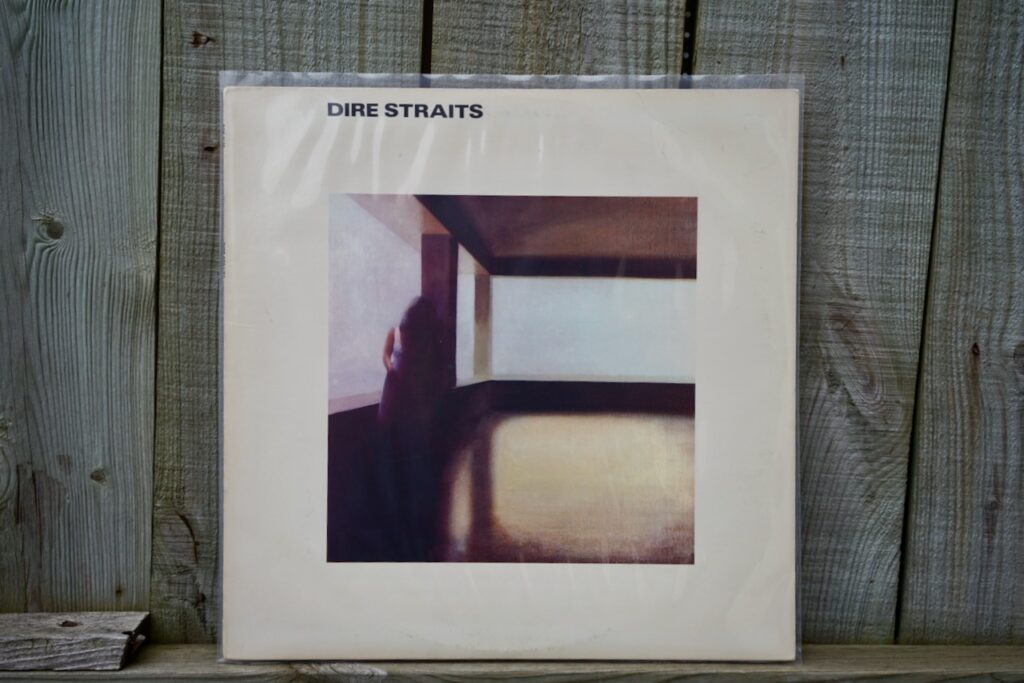 I'm not much of a Dire Straits fan, but this is a record I always hear audiophiles referring to online, so I thought I'd pick up a copy if I came across one cheap. Lo' and behold, there were two copies in the antiques mall, one for $8 and one for $5. I bought the $5 one. After a cleaning, it sounds pretty much perfect. And, yep, it's a nicely produced record.
3. Record Alley (72840 Hwy 111, Palm Desert, CA 92260)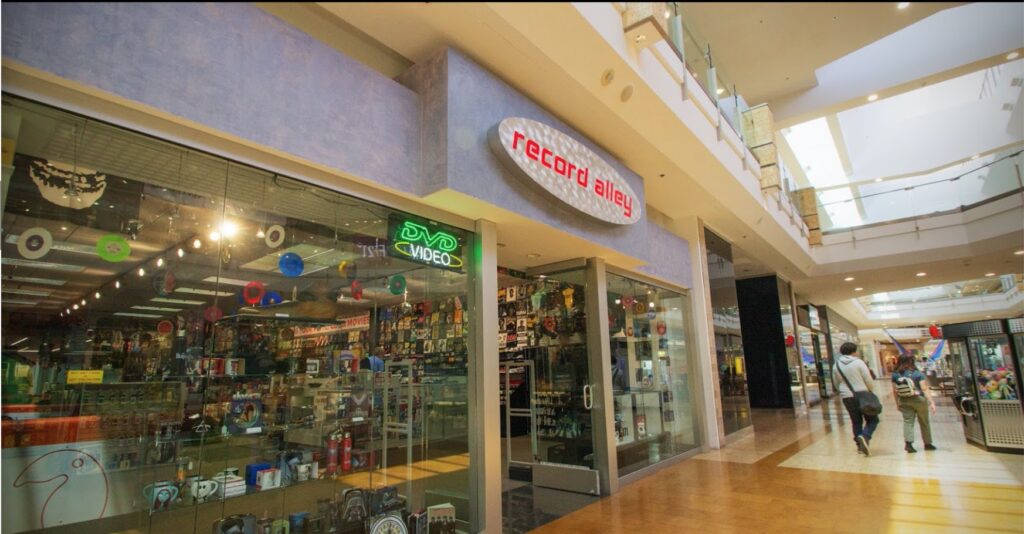 Yelp reviews suggested that this 90s-style record store in a 90s-style mall was — despite all appearances — the best record store in the area. Indeed, one reviewer said this is the place that the families of the wealthy deceased unload their collections. Entering the horrible Westfield Mall, I was skeptical but hopeful. Alas, my hopes were immediately dashed. There was nothing even remotely decent here. Also, the organization system — "Good vinyl," "Better vinyl," "Best vinyl" — made no sense, as it was all equally terrible (80s soft rock, 80s top 40, 80s reissues, 80s 80s 80s). It seems this place is kept afloat by selling rock n' roll t-shirts. Maybe they were just picked through before Christmas, but it's very hard to imagine any good records showing up here.
4. Palm Springs Vinyl Records (220 N Palm Canyon Dr, Palm Springs, California)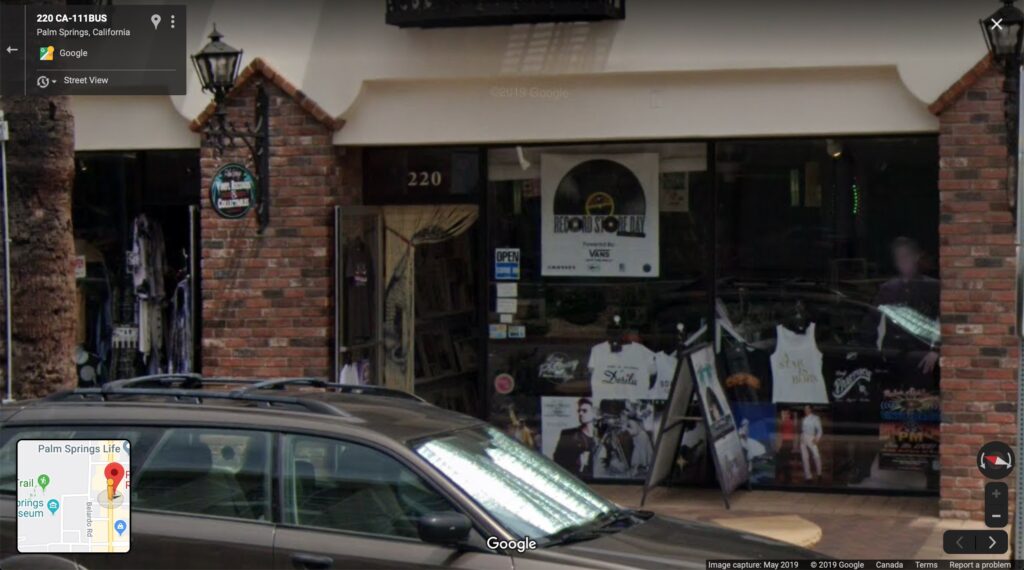 Bad as Record Alley was, Palm Springs Vinyl Records was considerably worse. Tons and tons and tons and tons of worthless 80s records priced from $25–50. Massive Elvis section — about 1/4 of all the records they had. I have a hard time imagining this place has ever sold a record. Kept afloat by selling vintage movie poster reprints to wealthy, bored, agèd tourists killing time on Palm Springs's main drag.
Grisly way to end this post, but so it goes…