Everyone wants a room of their own to decorate according to their taste, fill with their favourite stuff, hang out in, work. But probably especially fans of The Beach Boys and Virginia Woolf like me.
As described in my fragmentary first post, the first thing I started obsessing over when we bought our house was decorating my office — the tiny "bedroom" at the back of the house (it could maybe fit a crib). My priorities, in reverse order: plants, pictures, furniture, stereo.
This was definitely the first room in the house to be complete. I spent the first few weeks in our house drilling holes in brick, screwing in drywall anchors, scouring Craigslist for 50s/60s Danish teak furniture, and trolling schiit.com. The result is my beloved room, my favourite place on earth. Here's a tour.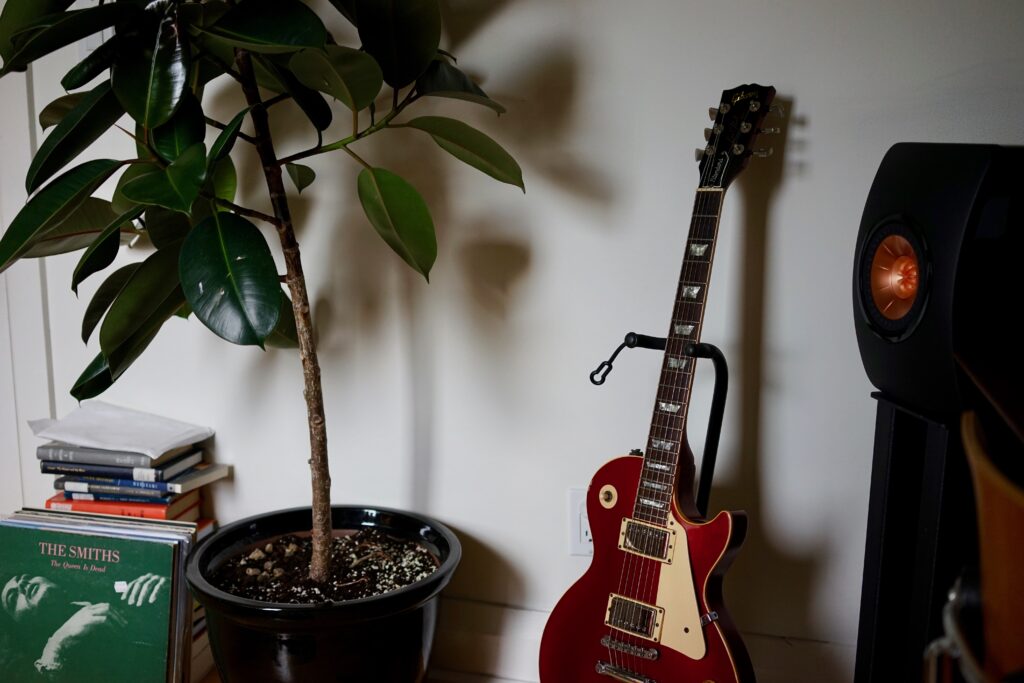 I have a lot of guitars. Eventually I will add a gallery to this blog with a page for each of them. I like to keep one in my office, especially if it's pretty. There's my 1984 Gibson Les Paul Standard in rare opaque Candy Apple Red metallic finish — the exact guitar that Johnny Marr played on that album over there, The Queen in Dead. I love Johnny Marr. You can also see my rubber plant and one of my KEF LS50s.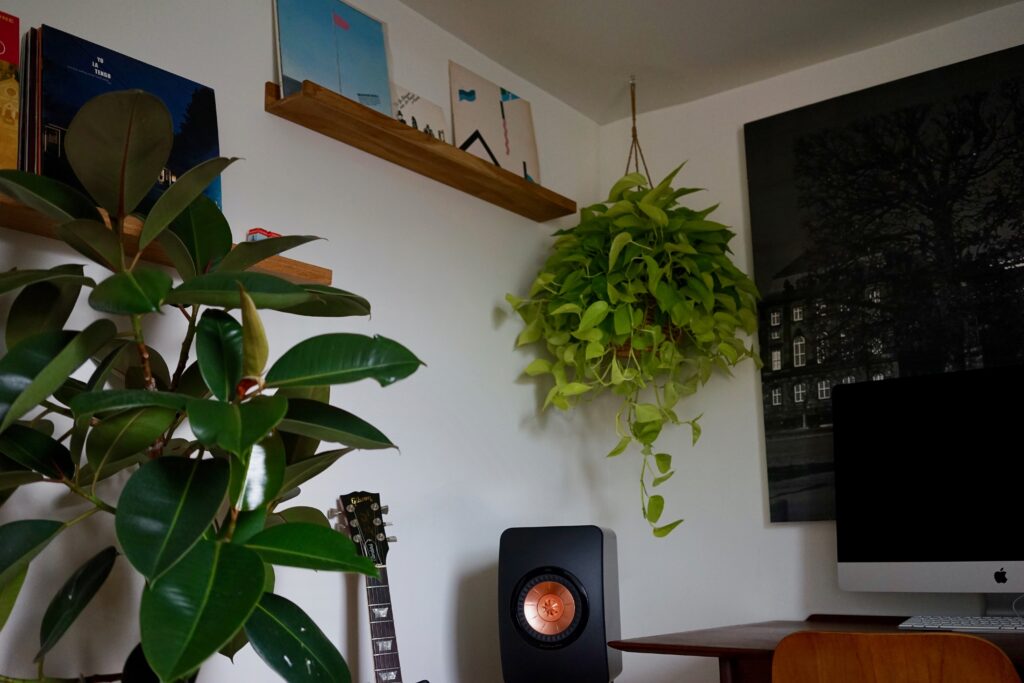 Some treasures mounted on oak picture shelves: first pressings of Wire's Pink Flag and 154 (my favourite album cover ever, and also an excellent album, though I hate the opening track), the Go-Betweens' début 7-inch (the coolest record in my collection), and some Yo La Tengo records I'm listening to right now…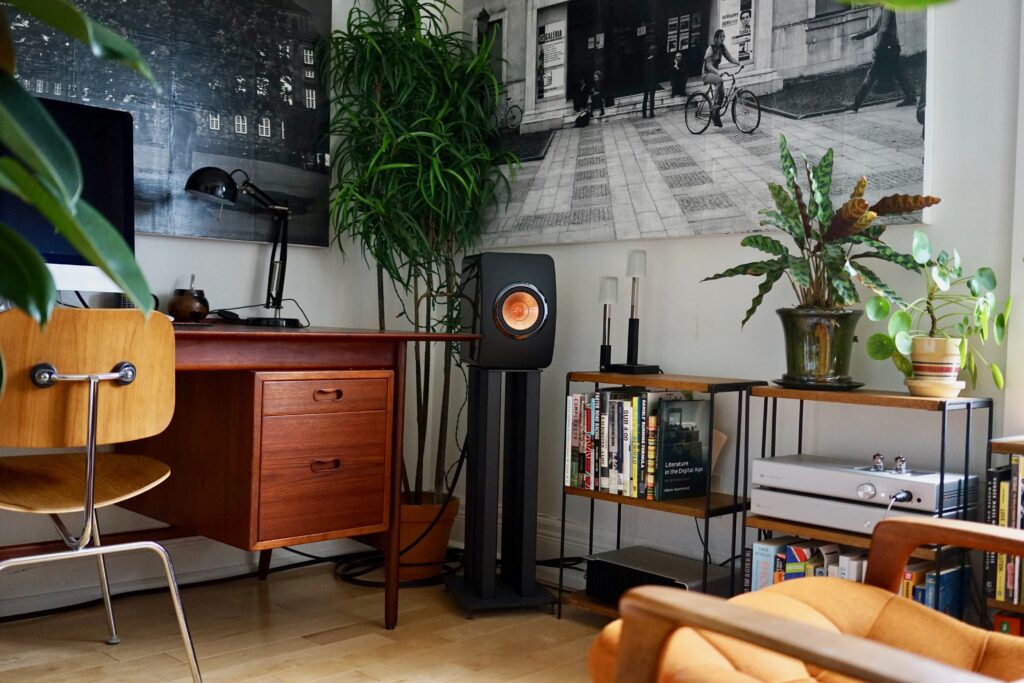 My Arne Vodder & Anton Borg for Vamo desk (Kijiji find) and Hermann Miller chair (gift from friend). Some old canvases I made — for the way they look, and also for the way they absorb vibrations in a very boxy room. A fake plant found on the street, there again to absorb vibrations — fake, because there's not enough light in that corner to sustain life.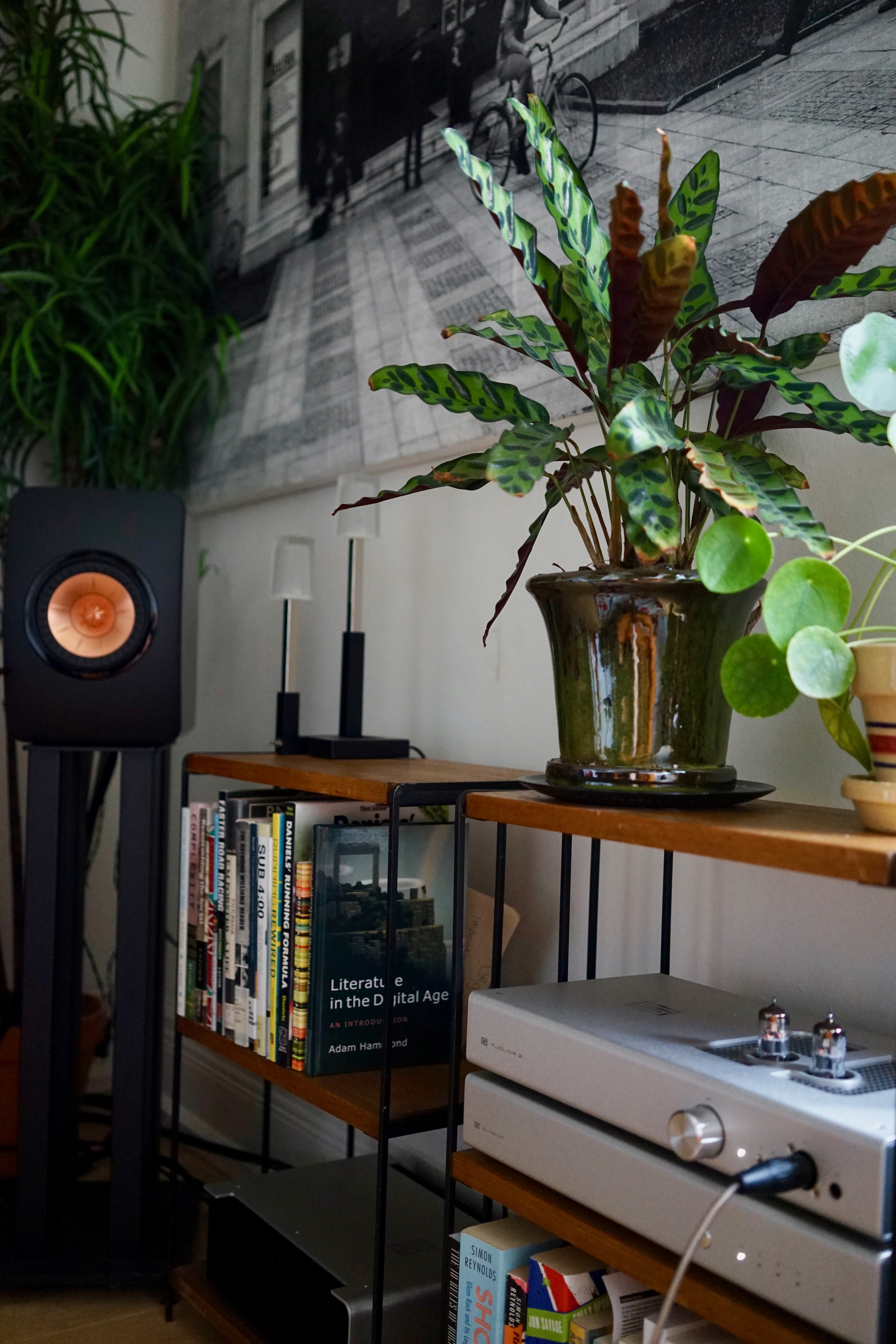 Hi-fi related: KEF LS50s on massive beautiful Target stands filled with kitty litter, a Schiit Vidar amp, my Mjolnir 2/Gungnir Multibit DAC. With the LS50s' bass ports plugged and my chair centered between the speakers, the loudspeaker sound is pretty excellent for such a tiny boxy room.
Hmm, that green book there looks really interesting…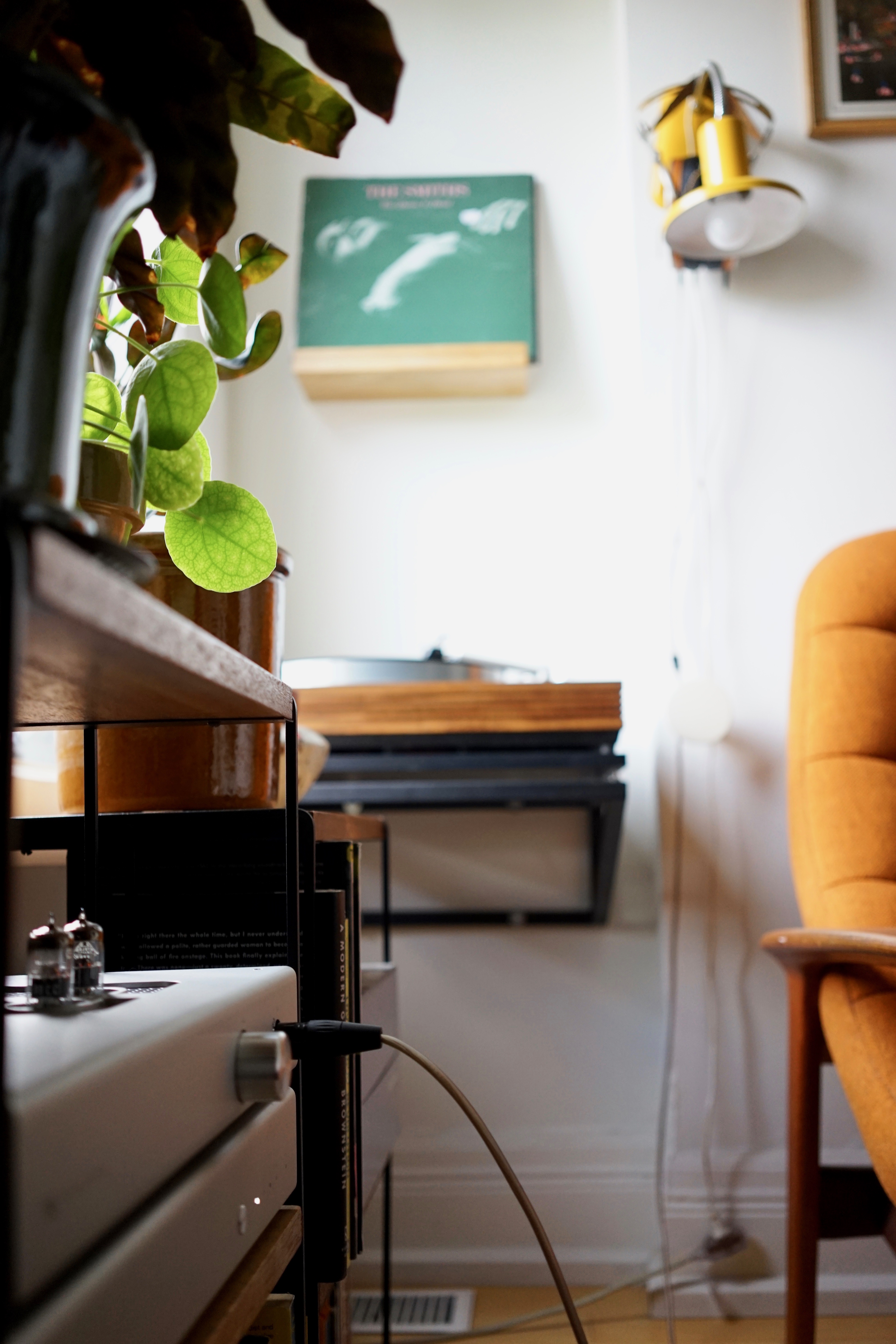 But this is the hi-fi side I'm really excited about. My preferred source, a mid-1980s LP12; my headphone amp, the Schiit Mjolnir 2 with the astoundingly great Telefunken E88CC tubes it came to me with when I bought it used. I'm always skeptical about stuff like "tube rolling," but the Telefunkens definitely sounded better than the solid state "LISST" tubes or the stock NOS tubes — detailed but with that little extra bit of texture I'm always looking for in my analog gear… (Sadly, the Telefunkens are now ridiculously expensive and hard to find. But apparently mine will last 10,000 hours?)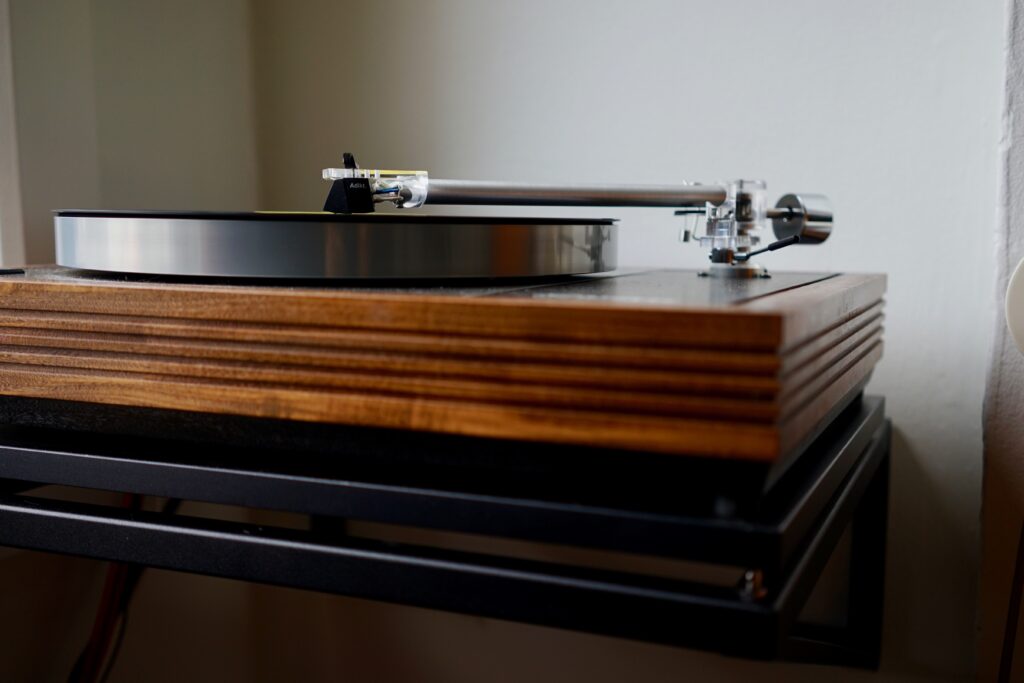 There's my LP12. In 2017, I had Gary Dilliott of Better Music upgrade it to a Cirkus bearing and install the Roksan Nima unipivot tonearm with a Linn Adikt cartridge. That whole debacle will be the subject of a future post. It was a very expensive upgrade but it's a great sounding table. It sits atop a Tiger Paw VulKan shelf, which is mounted directly into the brick wall behind it. I cannot say how happy it makes me to finally have a perfectly level, perfectly isolated support for my turntable.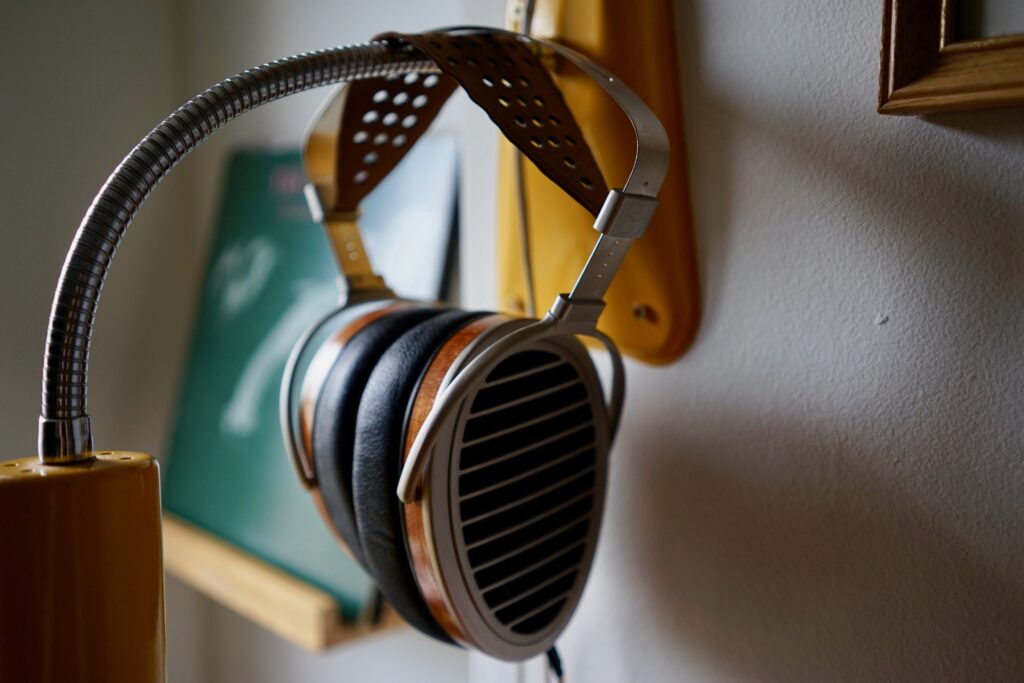 These are my Hifiman HE-1000v2 headphones. I would probably have bought these just for how they look — how are people not more obsessed with these insanely gorgeous headphones? — but they are also the most comfortable, best-sounding headphones I've tried. I briefly had some Audeze LCD-3Fs; although I loved their midrange flavour for voices and brass, they were just too heavy and uncomfortable. I got these HE-1000v2s by buying some used HE-1000v1s locally and then doing the upgrade. If I had the chance to do it over, I'd just stick with the v1s. I'm not very tempted by the new SEs.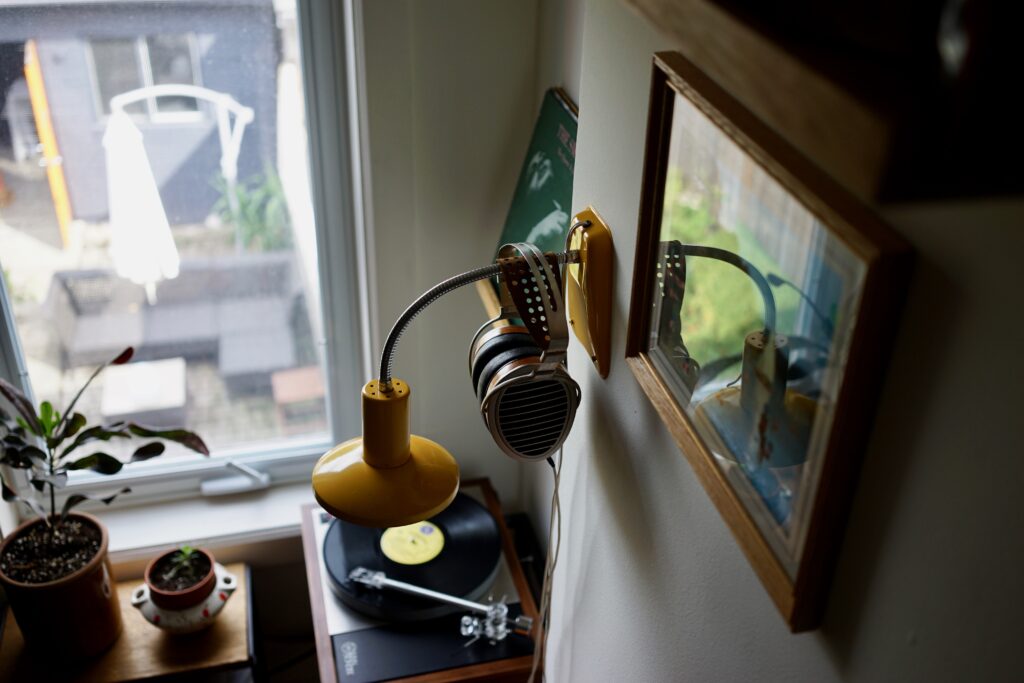 I hang my headphones on this incredible vintage lamp, which I found for $5 in a junk store in Fonthill. I love the shade of yellow.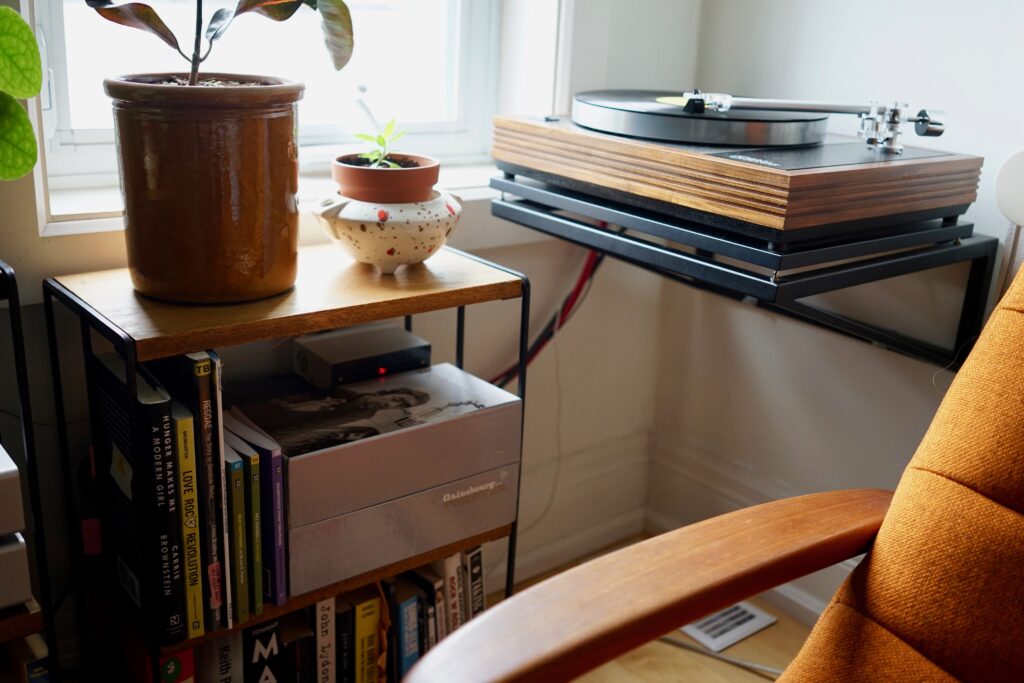 The LP12 goes into a Dynavector P75 mark I phono preamp that I've had for 10 or 15 years. I got it used on Canuckaudiomart when I wanted to try out an MC cart. I've always wanted to try a Dynavector cartridge with it, but they're always been a bit too expensive for me. But I'll be trying one out soon… Stay tuned.
The P75 is sitting on a Mose Hercules II power supply. I bought it when my Valhalla board crapped out a few weeks after I bought my LP12 (every recorded I listened to suddenly sounded like Loveless). Apparently I was one of the first 10 customers for the Mose.
Note the Serge Gainsbourg CD box set in front of the Mose. I truly love Serge Gainsbourg.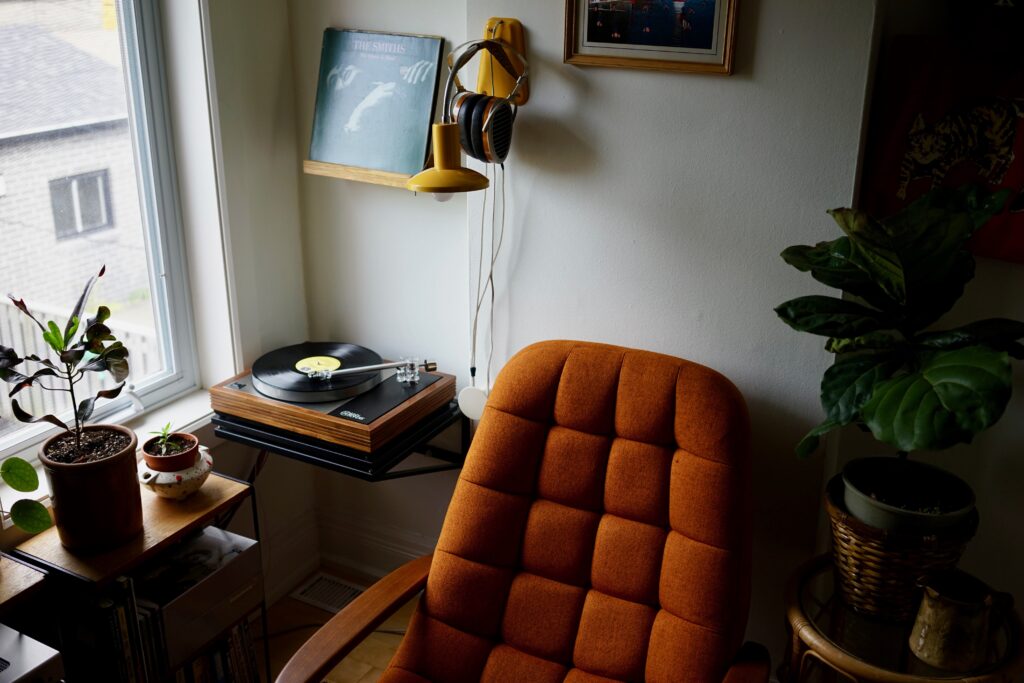 That's where I sit and listen to records. It's a midcentury Canadian-made Huber scoop chair — incredibly comfortable and also very beautiful (I love the shade of orange). If you look carefully, you'll see a tote bag featuring the cover of one of my favourite records of all time, Yasuaki Shimizu's Kakashi (it doesn't hurt that the cover is an adorable cat that looks exactly like Marta's parents' kitty).