Best Pressing Shootout: The Velvet Underground and Nico (1967 German First Pressing vs. 2000 Reissue)
Well, this is an exciting one — quite plausibly the coolest record ever. It needs no introduction. And will receive none.
The pressings
My friend Jared kindly lent me his pristine, like legitimately Near Mint, 1967 German first pressing. The banana has been peeled, and Mr. Emerson does not appear on the rear cover — but it's the pressing Nico's friends back home would have been buying.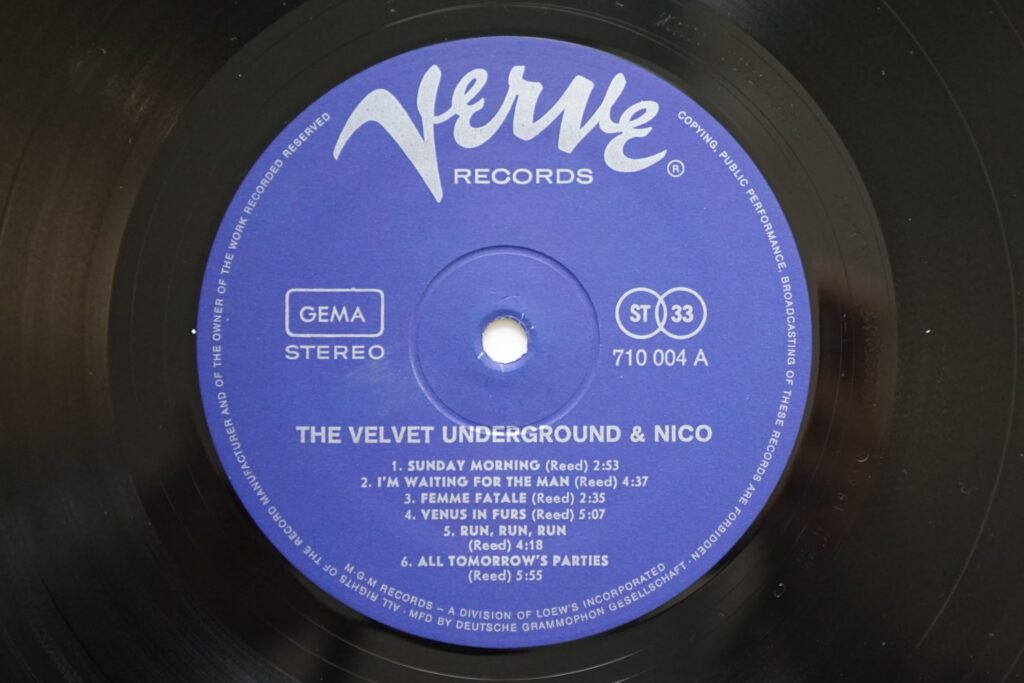 The cover is printed in the US, though ze Germans have covered up the catalogue number with a sticker.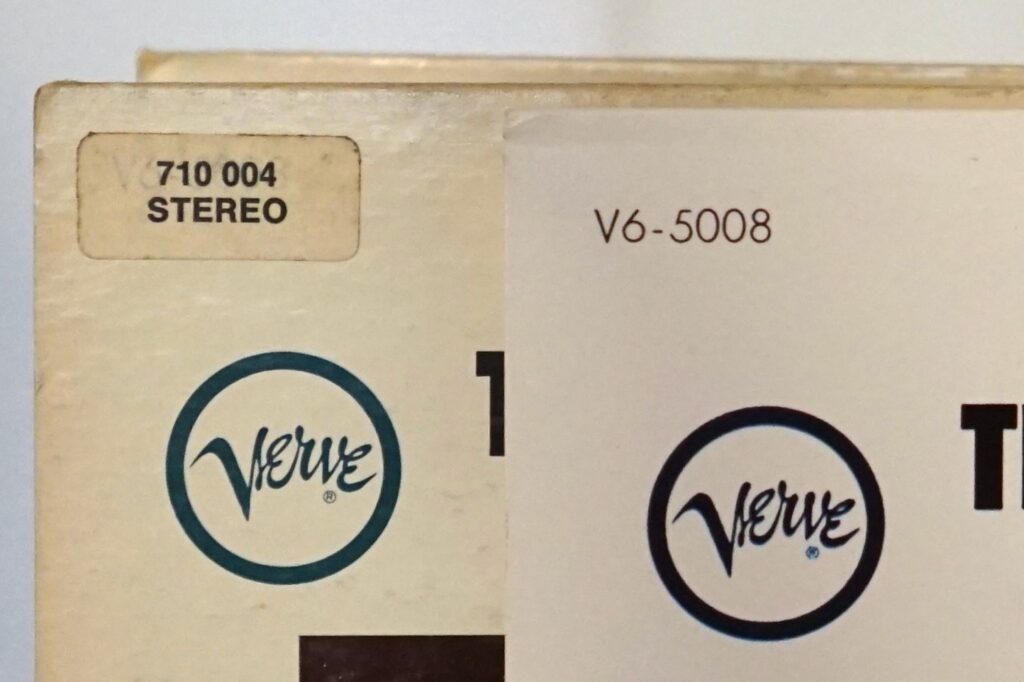 Ze Germans were clearly super into stickers in general in 1967. If you squint, you can see another one here, green, for the record shop where this bad boy was snapped up. (Okay, it was purchased in the Netherlands. The Dutch clearly love stickers too.)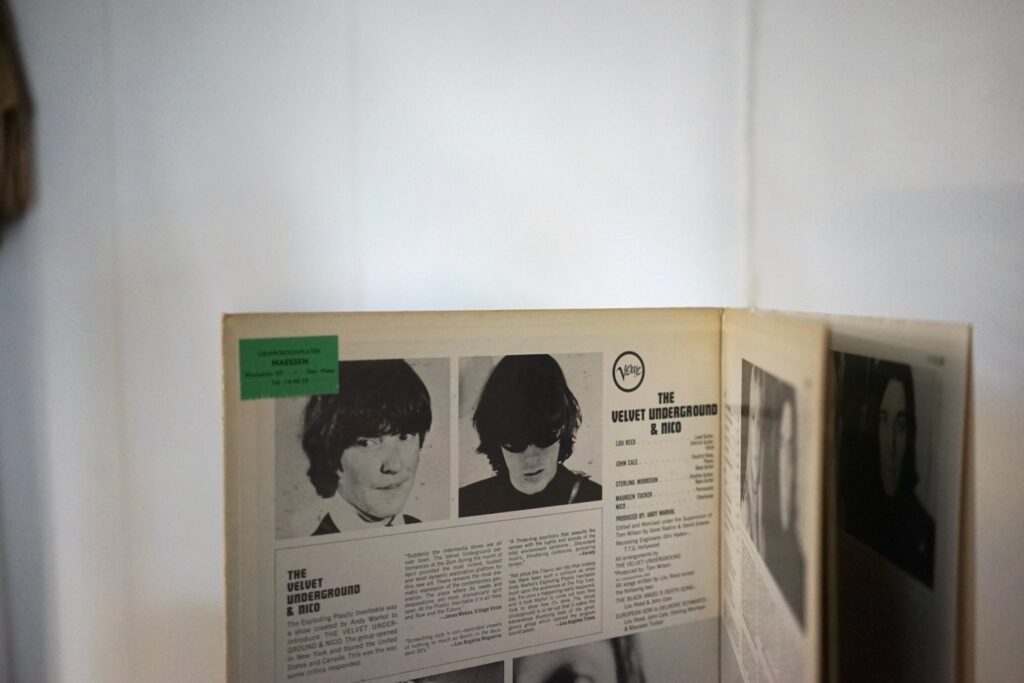 Here I've saved the German pressing the shame revealing its lack of the Emerson rear cover. Covered up here with my 2000 reissue.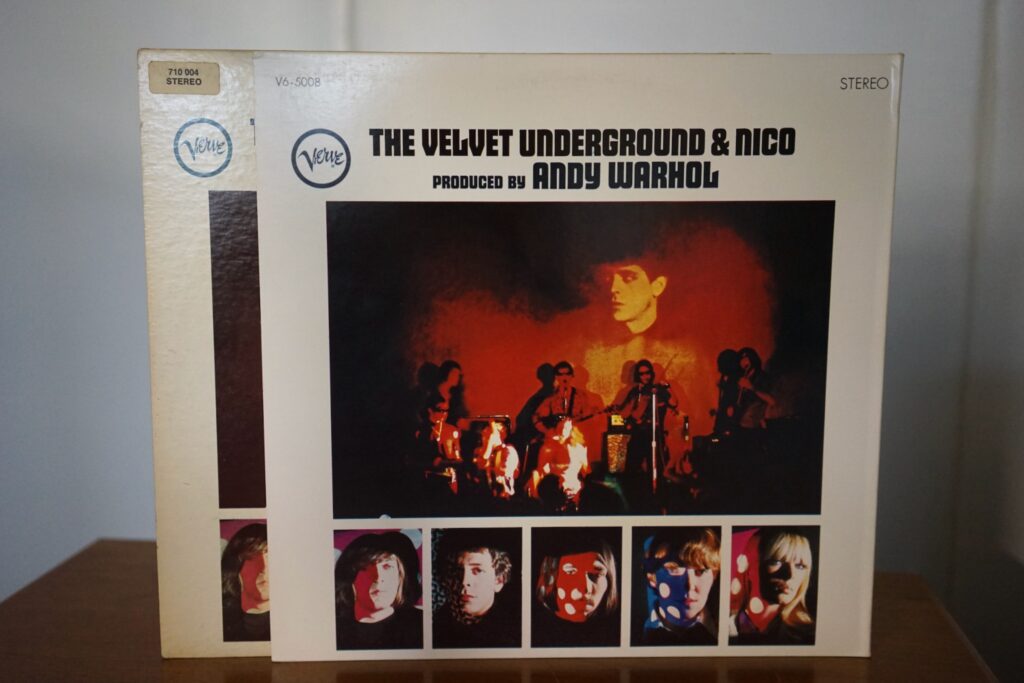 The year 2000 was when I graduated from high school and around when I started collecting vinyl. I distinctly remember buying this record, because it was in the very first batch of records I bought, mail order from Scratch Records in Vancouver. I bought this record, the two other best VU records (I still don't really think of Loaded as a "real" VU album) and, as I recall, a bunch of White Stripes.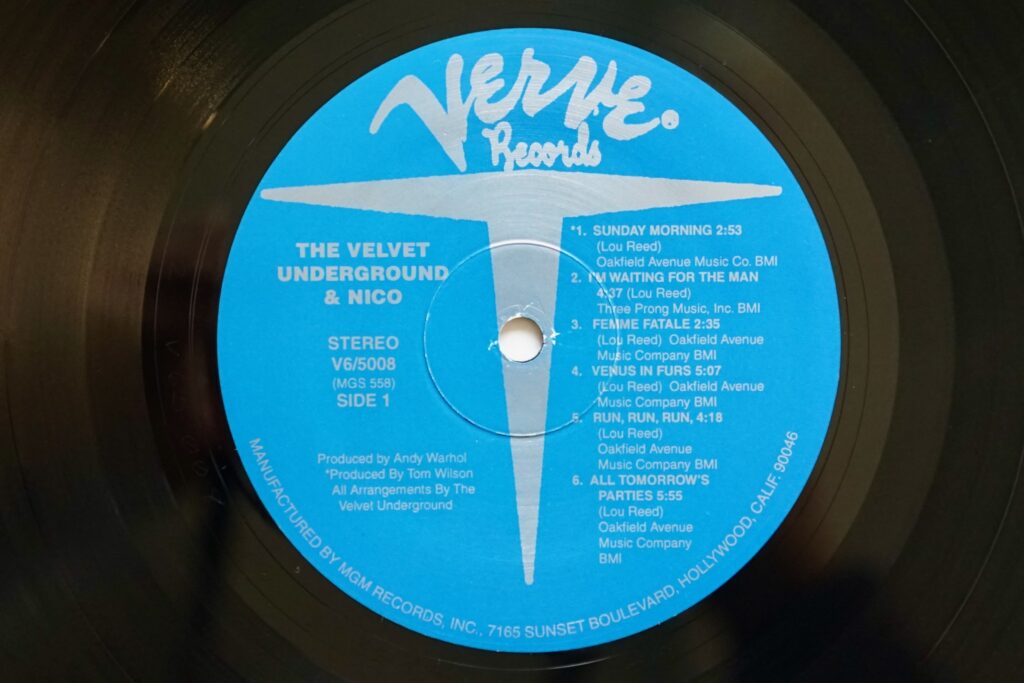 Silly young me, I was easily swayed in these days by anything that said "180g Audiophile Vinyl". Many of these late 90s/early 2000s heavy vinyl records have turned out to sound pretty meh, others pretty great. Let's see which category this one belongs to!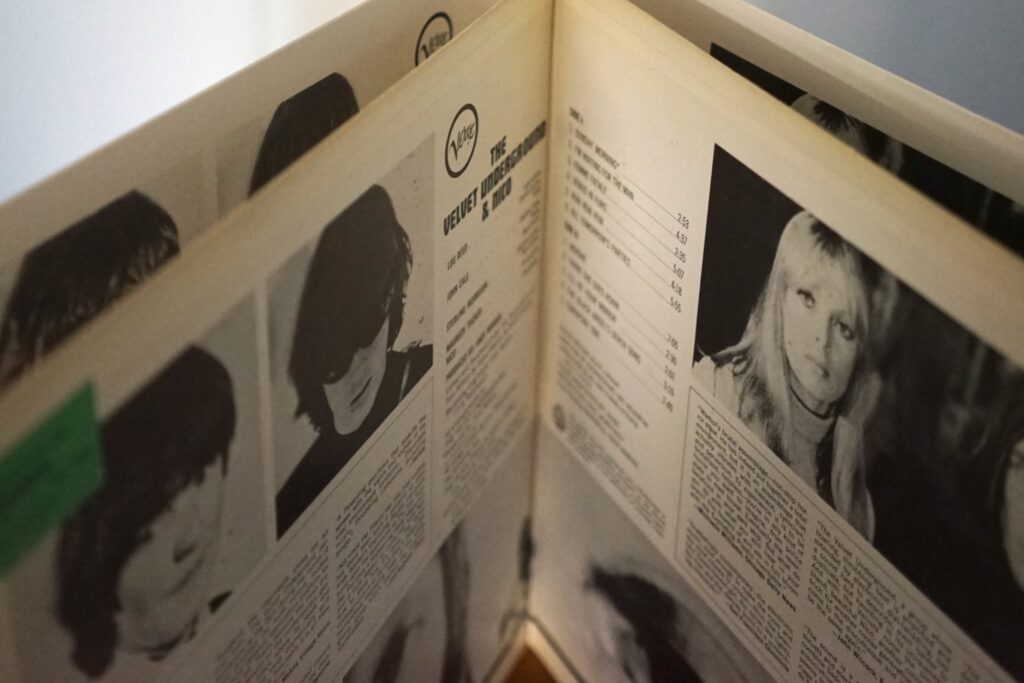 The Verdict
Answer: the 2000 pressing is great, and so is the German first pressing! Both, indeed, sound a lot better than I remember this record sounding. (For those not devoted to this blog, I've put together my first truly spectacular hifi over the last year or so.)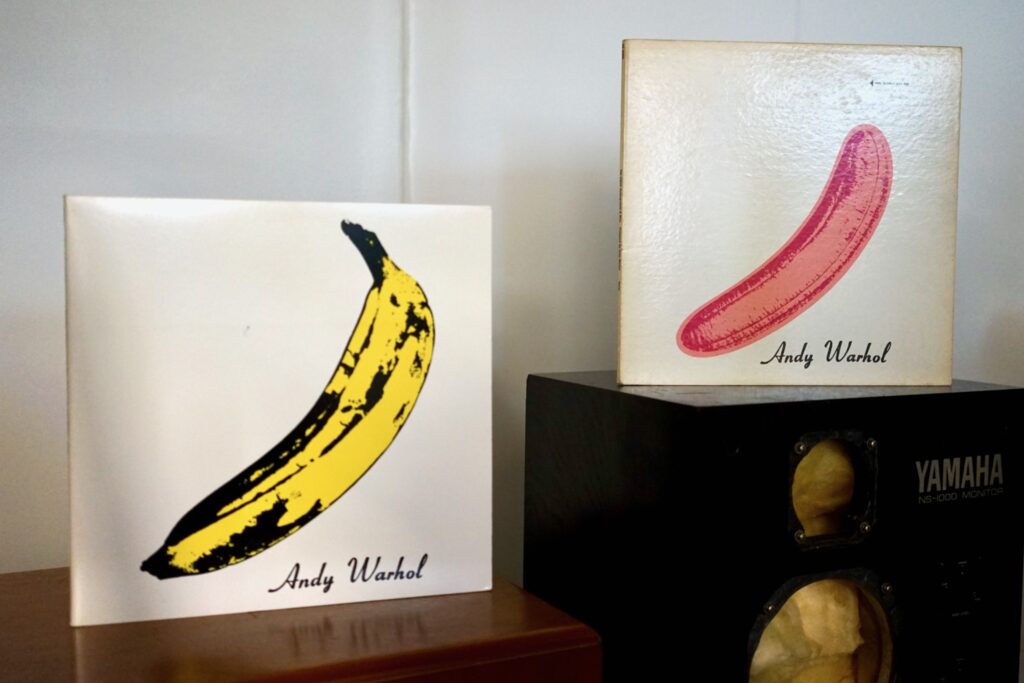 I think of it as pretty "lo-fi," which is true of tracks like "Run Run Run" — but not of tracks like "Sunday Morning." Shouldn't be a surprise, that one: I am going through a huge Bob Dylan obsession at the moment, and came across the fascinating fact that Tom Wilson — famous producer of lots of Dylan's best 60s Columbia records — produced the first VU records, and took a particularly hands-on approach to "Sunday Morning."
Anyway, both very good — and both very similar! The 2000 reissue is a bit sharper and harder, which can be nice at times and in some songs, with certain instruments or voices "popping" more nicely out of the soundstage. The German first pressing has a slightly wider soundstage and is a little softer, more delicate, and mellower, but still with lots of texture and insight. Given the choice, I'd go with the German first. But the 2000 is great, too, and I bet it cost me $12.
Listening notes
Side 1 German. "Sunday Morning": Not exactly hifi but does sound very good, especially the… xylophone or whatever. Lou's vocals fun to follow in and out of reverb haze. "Waiting for My Man" is also better than I expected it to sound. Remains nice and sharp throughout this side. "Venus is Furs" is especially nice with the cymbals/shakers on the right and Lou's voice really sharply focused in the centre. "Run Run Run" sounds very rough and foggy — but probably on purpose, and, well, obviously, it works!
Side 2 2000. "Heroin" sounds pretty amazing (appropriately?), really sharp and focused on Lou's vocals. Nico's vocals on "I'll Be Your Mirror" are big and centred and clean — very good. "European Son" is great sounding, lively, round bass with a really well situated vocal, and then the garbage can crash in the centre is a cool effect. The bass is the sonic highlight of this very busy track, Definitely a totally adequate pressing. If I didn't have a borrowed 1967 pressing sitting in the room with me I wouldn't even be curious — way better than I thought this album would sound!
"Sunday Morning"
"Sunday Morning" is the one track that was really properly produced, by Tom Wilson no less, so that's the shootout track.
2000. Pretty angelic vocal from Lou there, with lovely presence and 3D quality. Everything else is pretty sharp and distinct without being, like, "Wow." A B+ or an A- or something.
German. Just a little bit wider and more delicate. A bit smoother and softer, but still with lots of detail, just less harsh. This is especially nice on the vocals when they go reverby, and on the xylophone, because it hurts the right ear a bit less. Bass line a little easier to follow here too, a bit more present.
Back to 2000. I think the vocals "pop" a bit better here, are a bit better defined in the soundstage, but the presentation is indeed just a touch too sharp. I very slightly prefer the German original, but this 2000 reissue is absolutely adequate and there is very, very little to separate them.
"European Son"
Quick "European Son" comparison on the… European pressing. I think the bass line might be slightly less exciting here, might "pop" a bit less, though the less harsh profile again is sort of nice, I like it just a touch more. Great pressing, no doubt. Might be a bit more "depth" in the soundstage, too.